Elite Sportsbook Review
US Sports Bettors Accepted
Elite Sportsbook Review
With a name like Elite Sportsbook, you would think this Iowa-based sports betting site would be among the best in its respective states.

Sadly, however, this is not the case. Though Elite Sportsbook does well to serve customers in Iowa and Colorado with coverage of the major North American professional and college sports, there isn't anything here that puts this sportsbook ahead of the competition. The quality of odds is standard, the design is simple but distracting in spots, and the site loses major points for offering fewer betting markets across most sports than just about any major sportsbook.
Here's a closer look at Elite Sportsbook, and why it might make for a good backup sportsbook but probably shouldn't be your primary option:

Elite Sportsbook Quick Facts
| | |
| --- | --- |
| 🏅 Rating | C- |
| 🏢 Founded | 2019 |
| 🇺🇸 # of States | Two (CO, IN) |
| 🎰 Casino | ✅ Yes |
| ₿ Cryptocurrency | ❌ No |
| 📱 Mobile Apps | ✅ Yes (iOS, Android) |
Elite Sportsbook Locations
Elite Sportsbook is legal and regulated in the following states:
It isn't clear whether Elite Sportsbook will be expanding to other states or regions in the foreseeable future.

Sports Leagues to Bet On
Elite Sportsbook settles into the comfortable middle of U.S. sports betting sites when it comes to the number of sports it covers. Those just looking for the basics are going to be satisfied (at least in terms of being able to place standard bets), while those who like a little more variety in their sports menus are better off elsewhere.

Here's how Elite Sportsbook serves U.S. customers in the sports they bet on most:

NFL Betting
There is no shortage of markets for NFL fans to bet on at Elite Sportsbook. From plenty of team and player props for each individual matchup, there's also a large futures market for everything from player awards, receiving yards, rushing yards, and outrights. Elite Sportsbook's quality of odds are average here, though they're slower than most to get their player props markets up.

NBA Betting
Fans of the hardcourt are well served at Elite Sportsbook. Outside of the traditional spread, moneyline, and total markets, there are also player props and game props to consider such as first-half bets for the NBA. You won't find nearly as many betting markets here as with industry front-runners like FanDuel, DraftKings or PointsBet, which is disappointing.

College Football
Bettors can wager on most FBS Division I college football games at Elite Sportsbook, from the major programs to the more obscure schools. But don't expect to be greeted by a wide variety of secondary markets; you'll find just over a dozen for the overwhelming majority of matchups, and even fewer for the rest. This lack of selection is a red flag.

College Basketball
Similar to their college football offerings, bettors can be assured that they'll be able to wager on some major college basketball games – with a larger selection of matchups during March Madness. But if you thought the pickings were slim on the college football side, you're going to be even more let down by Elite Sportsbooks near-complete lack of non-ATS markets.

NHL Betting
Winter sports fanatics love their hockey, so you'll find plenty of options to bet on the NHL at Elite Sportsbook. Strangely, this is one area where Elite actually comes through with a solid – if not exactly "elite" – collection of secondary markets, including player props. These props are two-way markets, as well, which is a significant feather in this sportsbook's cap.

MLB Betting
Elite Sportsbook offers standard options for customers to bet on MLB. Unfortunately, the story is largely the same here: the number of additional markets is far too small, especially when it comes to player props. And if you're only offering industry-standard quality of odds (as is the case with Elite Sportsbook), there isn't much to compel users to stick around.

Other Sports Leagues
Elite Sportsbook's list of secondary sports is nothing special, but it does sate the appetite of players looking for other popular markets. The list includes golf, soccer, tennis, MMA, boxing, auto racing, international basketball and baseball, table tennis, CFL and WNBA.

Online Betting Experience
Website Experience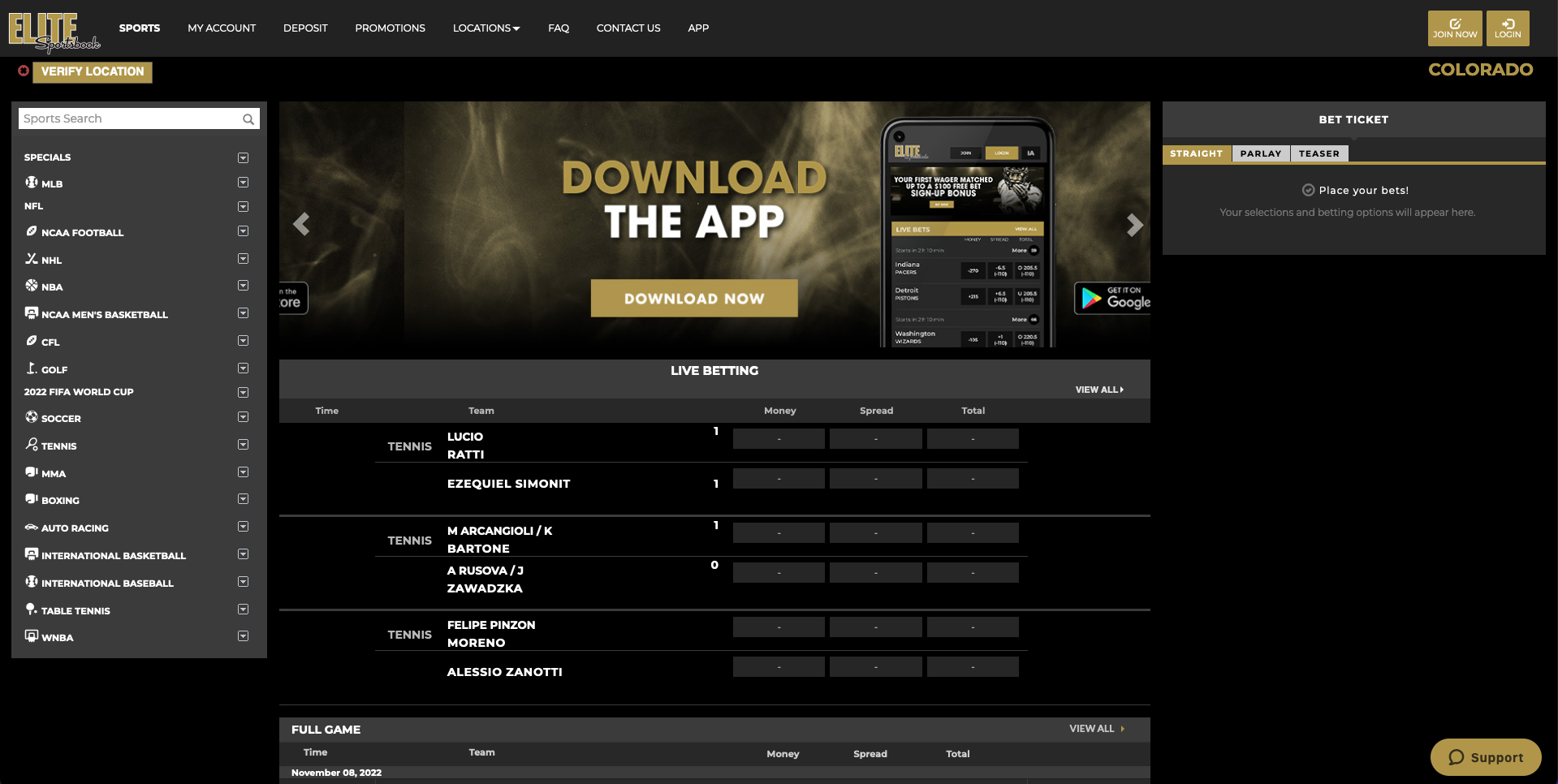 Elite Sportsbook users will find a rather simplistic design on the web version, featuring the standard menu-bet screen-bet ticket layout from left to right. It's easy enough to find what you're looking for, and I like how you can access sport sub-menus directly from the main left-hand menu rather than having to navigate those sub-menus from the main screen.

There is, however, one glaring issue with Elite's web layout. The decision to not only use a small font for the on-page odds, but to use a white-on-gold color combination that can be hard on the eyes, is a curious one. It's a shame, too, because the white-on-black design that predominates the rest of the site looks great.
Choosing a different colour background and making the odds a few type points bigger would go a long way toward improving what is an otherwise decent, functional design.

Mobile Betting and Betting App
Elite Sportsbook's app is available on both Google Play and the App Store.

The setup here is mostly similar to that of the desktop version, though players will be pleased to know that the app uses white-on-black designs for the odds. You'll still encounter some white-on-gold in the menus, but it isn't quite as egregious there.

Live Betting
There is no dedicated Live Betting menu on the site – rather, Elite Sportsbook lists every live betting option in the middle of the main screen. The odds update quickly enough, though you have the option of refreshing the live odds anytime if you just can't wait.

There is no live streaming option available at Elite Sportsbook, which is a bummer.

Casino, Poker, & Other Gaming Options
Elite Sportsbook doesn't provide a casino or gaming option for bettors due to only operating in states where online gaming is prohibited.

It's hard to say whether that will change when (or if) Elite ever makes its way into one of the states where online casino gambling is permitted.

Elite Sportsbook History
Elite Sportsbook's history centers around co-owners Bob and Ruth Kehl, who made a name for themselves in Iowa by securing the first riverboat gambling license in the state in 1990.
The Kehls have opened a handful of additional casinos in Iowa since then, including Saint Joe Frontier Casino, Catfish Bend Casino and the Mississippi Belle II. They would go on to take ownership of Elite Casino Resorts LLC (which operated several casinos itself), paving the way for the creation of Elite Sportsbook.
The online sports betting site launched in Iowa in 2019, and entered Colorado the following year.

Customer Ratings & Reputation
App reviews certainly aren't everything, but they don't help Elite Sportsbook's cause here.

Elite boasts a dismal 2.4-star rating out of five stars on the App Store, though there are just a handful of reviews registered. Common complaints include slow withdrawal processing times and limitations on where customers can use their bonuses.
Things are measurably on Google Play, where Elite Sportsbook has a rating of 3.2 based on just 20 reviews. The most notable concern here is the inability for players to parlay certain props wagers, or to combine sports when building a teaser card.
Between these consumer issues, a major shortage of markets across most sports and occasionally demanding bonus requirements, Elite Sportsbook has some work to do to endear itself to bettors who have better options elsewhere.

Customer Service
If you're looking for an area in which Elite Sportsbook excels, it's in customer service. I had no trouble getting through to a CS representative both via phone and live chat, and had my questions answered quickly and satisfactorily.

Elite Sportsbook provides a standard offering of customer service options, but having a 24/7 live chat is a big plus. The email option is predictably slower, but well within the industry standards with regard to reply time (1-2 days on average).

One potential area of improvement: the site's FAQ page. It doesn't offer many categories when compared with competitors like BetMGM or Caesars, and for some reason uses a dark font on an even darker background which makes the questions rather hard to see. You need to make better color choices, Elite!

Elite Sportsbook Contact
Elite Sportsbook Legal Betting
Elite Sportsbook is regulated by the Colorado Gaming Association and the Iowa Racing and Gaming Commission, respectively.

Responsible Gambling
The legal age for sports betting in most states is 21+. This is subject to regional regulation. Please play responsibly. Elite Sportsbook complies with the rules laid down by the gaming commissions listed above in their respective states.
Here are a few resources to help ensure you are gambling responsibly.
Why Choose Elite Sportsbook?
Elite Sportsbook is an acceptable secondary option for casual bettors who want average odds and aren't interested in large betting markets for each sport.

For experienced bettors or those who enjoy vast props markets and secondary bet chances provided by many other sports betting sites, Elite has some work to do. There isn't enough bonus or promo incentive, or decent enough odds, to compel players to accept fewer betting markets and available sports to bet on than the industry norm.

Add in a litany of smaller but still meaningful issues, and Elite Sportsbook doesn't quite reach the heights of its rather ambitious moniker.

Bet Now
Banking
Accepted Currencies
Methods of Deposit
Min:

$10
Max:

N/A
Fee:

Free

Min:

$10
Max:

N/A
Fee:

Free

Min:

$10
Max:

N/A
Fee:

Free

Min:

$10
Max:

N/A
Fee:

Free

Min:

$10
Max:

N/A
Fee:

Free
Methods of Withdrawal

Most withdrawal requests are processed within 72 hours. If you sign up for Play+ online, you will be sent your card in the mail in about 7 business days upon your first successful withdrawal or deposit.

Checks can be requested in the withdrawal options online under "Cash" and a special request must be entered saying "Check Request." Once requested, processing will begin which usually carries a 5-6 week processing time.