Sky Ute SportsBook
US Sports Bettors Not Accepted
Bonuses
Odds for all major sports.
Sky Ute SportsBook does not currently have a welcome bonus for new customers.
Sky Ute SportsBook Review
With the COVID-19 pandemic in its early stages the Southern Ute Tribe in Ignacio, Colorado made history by entering the state's online sports betting market with the Sky Ute SportsBook app in June of 2020. As owners of the Sky Ute Casino, the tribe teamed up with UsBookmaking to develop a sports betting product.
Naturally, it was a difficult time to operate a sportsbook as many major leagues ceased operations during the pandemic. However, they endured and are still offering a more intimate betting experience to its users when compared to larger books with deeper pockets.
Here's a look at what Sky Ute SportsBook has to offer with its no-nonsense betting options and interface for both new and experienced sports bettors.
Sky Ute SportsBook Locations
Sky Ute SportsBook is an extension of the Sky Ute Casino Resort in Colorado. Sports betting is not offered physically within the casino, so the Sky Ute SportsBook mobile app is the only way users can place sports bets.
Sports Leagues to Bet On
NFL Betting
You can find the full slate of games offered for NFL betting each week. Lines are competitively priced as you would find them on any of the major national sportsbooks such as FanDuel. However, favorites are priced on the higher side than their more popular competitors.
All of the standard bets are available including Moneylines, spreads, and Over/Unders. Prop bet selections are limited and not always available. For instance, on a full slate of NFL games, only the basic options were available per game. But, for Monday Night Football, a few props opened. I was able to access receiving, passing, and rushing yard props as well as team totals, margin of victory, and first to 10 points.
NBA Betting
In order to stay competitive in the market, Sky Ute SportsBook offers all the expected bets for the NBA in season. Although, as with the rest of the sports offerings on the site, the depth of bets leaves me wanting more options in the prop department.
College Football
You can expect to find all of the FBS action during the college football season. All of the basic bets are available including ML, point spreads, and O/U. Spread lines are competitive and not overly juiced. Likewise, ML odds are in line with their larger competitors and sometimes even better. I would however like to see the addition of a more robust offering of game props.
College Basketball
College hoops are a major market and bettors will find plenty of action on the app on which to bet. Don't expect to find individual player props though, as it is not legal to bet on player props at the NCAA level in Colorado.
NHL Betting
With the Colorado Avalanche in the state, betting on the NHL is a must. Thankfully, the app offers the ability to bet on all the action from across the league. Basic props are available as well which adds a bit of flavor to the basic outright bets.
MLB Betting
Sky Ute SportsBooks offers a full slate of MLB games every day during the regular season with chances to bet on ML, run lines, and game totals. Despite having a few game props such as ML bets on the first five innings, and first to two runs, I found myself wanting for a few more options.
Futures betting is available for baseball, however, you will not have every team available to you for a championship bet.
Other Sports Leagues
On top of the more popular sports leagues, Sky Ute SportsBook also offers NASCAR, MMA, boxing, and soccer. Futures bets are available for NASCAR with decent odds to win various races.
Online Betting Experience
Website Experience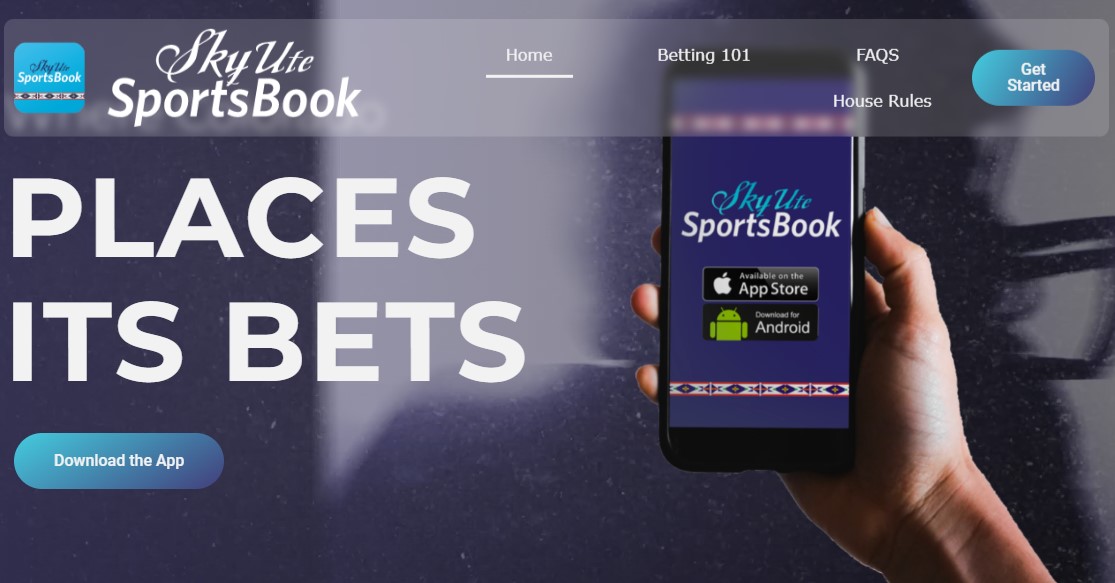 The Sky Ute SportsBook homepage is simply a landing page with the intention of you downloading their mobile app. Click-throughs are available in the form of an FAQ page, a terms and conditions page, and a crash course in basic betting practices.
Mobile Betting and Betting App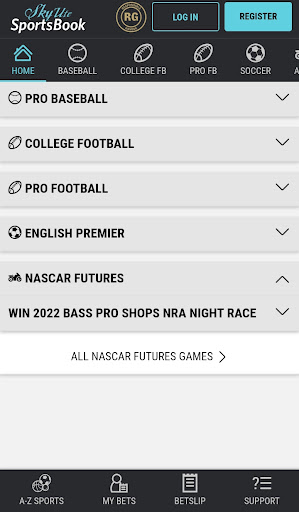 Currently, the only place to access the Sky Ute SportsBook is via their mobile app which is available for both iPhone and Android. I was unable to locate the app via the Google Play Store. Instead, I had to download it directly from their website. It will be up to you if you feel comfortable accepting the risk of installing an unapproved app. You can, though, find it on the App Store if you are an iPhone user.
The app is clean and user-friendly. As soon as you open the app you are given lines for upcoming events for the day. Navigating between sports is simple with options listed above the odds and can also be found in the alphabetical tab anchored at the bottom of the screen.
Without the huge budget of its national competitors, this app has been developed with the least amount of graphic design possible. This could appeal to those who find multiple graphics, logos, and the likes a nuisance.
One of the better selling points of the app in general is the lack of banner ads or distracting pop-ups. Users get a straightforward platform with menus that are not confusing or deceiving. You are never too far from the action in this case.
While having fewer options lends itself to a more simple betting experience, it also means there are fewer overall options for betting in general. Navigating this app is easy, but, that comes at a cost of not as many bets to choose from versus many of the more prominent sportsbooks.
Live Betting
There are no options to place live bets on the app which puts it well behind in terms of appeal for the more serious bettors.
Casino, Poker, & Other Gaming Options
The Sky Ute SportsBook app does not offer an online casino as online casino gambling and online poker is not legal in the state. Unfortunately, there does not look to be any movement towards allowing casino games or poker online for real money any time soon in Colorado.
Sky Ute SportsBook History
The Sky Ute Casino is one of two tribally owned casinos in the state. They launched in June 2020 despite the absence of many sports due to the pandemic. Partnered with U.S. Bookmaking, Sky Ute SportsBook represents Colorado's first tribal-owned sportsbook. At the time, they also became the first Native American tribe outside of Nevada to launch a sportsbook app available statewide.
Customer Ratings & Reputation
Several online reviews of the Sky Ute SportsBook app speak to the disappointment from its limited capabilities. These are not just tied to betting options, but the need to deposit funds through Play+, a third-party service which is used for several other online casinos.
Customer Service
Support is available to users between the hours of 10 a.m. and 10 p.m. MST. You can also get a response when leaving an app review. Several negative reviews have been answered with direct contact information for someone who can address your issues.
Users are unable to connect with customer service directly via the app. Clicking the support tab gives you the option to view the privacy policy, terms of use, and the Sky Ute Casino webpage. There is a contact page on the website which allows you to fill out a contact form to submit.
Sky Ute SportsBook Contact
There is no phone support, or in-person support despite the sportsbook being linked to a physical casino. If you are unable to find a solution through the website, there is a mailing address for you to send in your complaints.
Sky Ute SportsBook Legal Betting
In Colorado, Sky Ute SportsBook is regulated by the Colorado Division of Gaming. Players must be 21+ to register.
Responsible Gambling
Sky Ute SportsBook complies with the rules laid down by the regulating bodies in Colorado and is committed to making sure players gamble responsibly.
Here are a few resources to help ensure you are gambling responsibly.
Why Choose Sky Ute SportsBook?
Outside of the desire to keep your money in-state and fade the more nationally recognized sportsbooks, there is not much incentive for Colorado bettors to place their bets on this app. With the lack of bonuses and unique betting offers, Sky Ute SportsBook offers nothing more than a simple, transactional user experience.
The presence of so many larger, more established sportsbooks in the state makes it difficult to compete and the Sky Ute SportsBook minimalistic approach is proof. It does provide enough of the basic betting options to function as a true sportsbook, but it still lacks many of the betting options that make betting more fun such as a more robust prop betting market. I am also not thrilled with the idea of having to go through a third-party service to transfer funds to and from my wallet
Lastly, the app also asks you to provide your full social security number which makes many people — myself included — uncomfortable. There are better options for bettors in the state of Colorado than Sky Ute SportsBook.
Bet Now
Banking
Accepted Currencies
Methods of Deposit

Min:

$25
Max:

N/A
Fee:

FREE
Play+ is the only way for you to deposit money at Sky Ute SportsBook.
Methods of Withdrawal

Play+ is also the only way for you to withdraw money from your Sky Ute SportsBook account. You'll have the option to move your money to either a bank card or directly to your account.