Prophet Exchange Review
US Sports Bettors Not Accepted
Bonuses
Risk-free Bet of Up To $250
New users can receive up to a $250 bonus if their initial bet on Prophet Exchange loses. Winning bets will be paid out as normal.
Terms and conditions apply
Prophet Exchange Welcome Bonus: $250 Risk-free Bet
Prophet Exchange offers a fairly generous risk-free bet of up to $250 for new customers. Deposit and place a bet of up to $250. If it loses, you'll receive a bonus equal to the amount of that first losing bet. There's no minimum odds requirement for this risk-free bet, which isn't always the case. Bonus will be awarded within 24 hours.
Prophet Exchange Review
Prophet Exchange is a mobile sports betting app that has partnered with Caesars Sportsbook to create the first legal peer-to-peer betting platform in the United States. One of the most unique sports betting experiences on the market, Prophet Exchange attempts to eliminate the house edge by allowing the user to bet against other users — not the house.
It's a unique sports betting platform, so find out if Prophet Exchange is right for you with our full review below.
Prophet Exchange Locations
The platform is currently available exclusively in New Jersey, and hopes to be launching in other states at some point in 2023.
Sports Leagues to Bet On
Modeled similarly to most other sports betting platforms, Prophet Exchange shows its available sport offerings in the middle of the screen – currently comprising NFL, College Football and MLB, though it will also include NBA, NCAA Basketball and NHL markets once those sports start up later this year.
NFL Betting
As it is a betting exchange, Prophet Exchange only offers Moneyline, Spread, and Total plays for the NFL. What's interesting compared to other more popular operators like DraftKings Sportsbook and FanDuel sportsbook is you can see the amount of money wagered on each market. You can even bet on NFL futures, but it's limited to if the Kansas City Chiefs, Philadelphia Eagles, and Buffalo Bills will win the Super Bowl.
Prophet Exchange has also partnered with former New York Giant and Super Bowl Champion Victor Cruz as its celebrity spokesperson and business associate. In addition to his partnership with the company, Cruz placed the platform's inaugural bets back in August, cashing in on the Giants +5.5 and on the ML (+230) in Week 1 of the 2022 season against the Tennessee Titans.
NBA Betting
Prophet Exchange offers NBA ML, spread, and totals for each game. Just like every other sport, Spread and total bets are booked at even money while ML bets can fluctuate, typically five to 10 cents one way or the other.
College Football
In the NCAA Football marketplace, Prophet Exchange offers a limited market with a focus on Power Five institutions. Most games with lopsided spreads are not featured. The three major markets (ML, spread, and totals) are the only sides available.
College Basketball
For NCAA Basketball, Prophet Exchange offers the same three betting markets on nearly all power-five games as well as most mid-major contests as well.
NHL Betting
Prophet Exchange offers ML, puck line, and total bets for NHL games. Keep a sharp eye on those New Jersey Devils, New York Rangers, and New York Islanders lines to see if you can catch any homer fans a little overconfident in their teams.
MLB Betting
Like the NFL, the MLB markets are limited to just three available bets: ML, Run Line, and spread wagers. However, run line wagers are typically more difficult to find matching bettors for.
Other Sports Leagues
Prophet Exchange has mentioned its plans to expand into more diverse sports markets as the product grows, but for now bettors are limited to the four major professional sports leagues, college football and college basketball
Online Betting Experience
Though the product just launched in late-August, Prophet Exchange already passes the eye test as a functional, easy-to-operate portal. It's intuitive and user-friendly, and its accompanying website (prophetbettingexchange.com) has a robust education section for those new to sports betting or looking to learn more about the sports betting exchange model.
Website Experience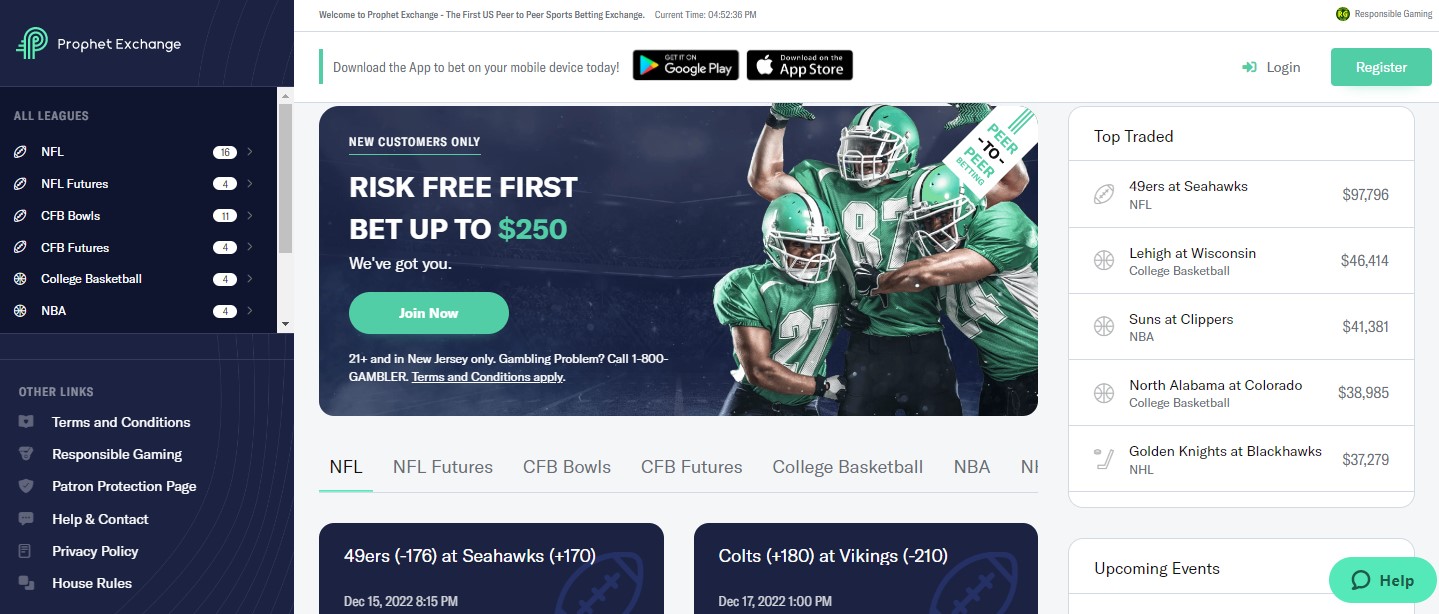 The desktop website is clean and well-organized. The games tabs are large and easy to read and navigate through while the layout is relatively simple and user-friendly. Direct navigation to each sport is available on the left side with a banner ad to download the mobile app at the top and a large prompt for a deposit bonus in the middle. Finally, the color scheme is an appealing white with green and a hint of blue, which is very easy on the eyes.
Once you navigate into a selected game, the website displays the available markets, bets, and liquidity available at each number. Once a bet is selected, the wager is opened on the right side of the screen allowing the user to manipulate odds to their liking. If a bet isn't matched by other users, the bettor who requested the line is credited the full amount back into their account.
Mobile Betting and Betting App
The mobile app is modeled similarly to the website — simple, user-friendly, and easy to navigate. Nearly a mirror image of the website, the Prophet Exchange app makes it easy to select a wager that's been placed or requested and submit a wager that can be taken by other users on the platform.
Though it may leave some wanting more from an aesthetic standpoint, the simplicity of layout and easy-to-understand functionality of the app far outweigh any shortcomings visually.
Live Betting
Prophet Exchange allows live bets to be placed. However, with the speed at which lines move especially in sports like football and basketball, users must be vigilant when seeking live action. If users aren't actively tracking their live bet requests, they could be on the hook for a bad number.
On the flip side, users could jump on offered bets they see that prove advantageous if they're quick enough.
Casino, Poker, & Other Gaming Options
At this time, Prophet Sportsbook Exchange does not offer any alternative gaming options other than sports betting.
Prophet Exchange History
Prophet Exchange was founded in New Jersey by Dean Sisun and Jake Benzaquen but didn't begin to pick up steam until July of 2021 when the company announced a partnership with Caesars.
In June 2022, Prophet Exchange announced a trio of key hires, snagging former Caesars senior software engineer Matt Stolarz as director of technical product and former Caesars software engineer Zhifeng Shi as Director of Software Engineering. Prophet also lured away Casey Halpern from Action Network to serve as Director of Social Media and Content. The three hires indicated significant company growth leading up to its impending launch before the 2022 football season.
Prophet Exchange finally launched its long-awaited web and mobile betting platform in August 2022, becoming the first peer-to-peer betting exchange in the United States.
Customer Ratings & Reputation
With over 50 reviews on the Apple Store and Google Play store, the Prophet Exchange mobile app has already developed a solid reputation among its users. Of all the reviews, all but one of them gave a 5-star review.
The overwhelmingly positive response came from users who raved mostly about the betting exchange business model, but some praised the user interface and app layout as well.
Customer Service
While using the mobile app, it only takes two clicks to find a direct phone number to customer service, which operates from 10 a.m. to 12 a.m. Eastern Time every day. A call to the customer service line puts the user in contact with a real support person right away and the representative I spoke with was informative and friendly. though he didn't know the answer to all of my questions off-hand, he was able to get me an answer within two minutes while I was still on the line.
In addition, the live chat feature on the "Help & Contact" page also connects you to a real-live support person. In my experience, I was chatting with the same customer support agent that I spoke to on the phone less than 30 seconds after submitting my query.
Prophet Exchange Contact
Prophet Exchange Legal Betting
The New Jersey Division of Game Enforcement monitors Prophet Exchange in regions where it is legal to operate.
Responsible Gambling
The legal age for sports betting in New Jersey is 21+. Please play responsibly. Caesars complies with the rules laid down by the regulating bodies in the states in which it operates.
Here are a few resources to help ensure you are gambling responsibly.
Why Choose Prophet Exchange?
With only two sports betting exchange platforms available in the United States currently, Prophet Exchange's only direct competitor is Sporttrade — and compared to them, this feels like the superior product. Prophet has a much more user-friendly interface and functionality that appears more familiar to sports bettors whereas Sporttrade feels more comparable to a stock trading app at first glance.
The only real drawbacks to Prophet Exchange is its current scale and availability. Currently, Prophet is only taking bets in New Jersey with imminent plans to launch in Indiana. The company claims to be pursuing expansion into other states as well. Prophet currently only offers markets on spread, ML, and total wagers. If and when the platform adds game props like team totals and player props, it could be a major disruptor in the sports betting field.
Bet Now
Banking
Accepted Currencies
Methods of Deposit
Min:

$5
Max:

N/A
Fee:

FREE

Min:

$5
Max:

N/A
Fee:

FREE

Min:

$5
Max:

N/A
Fee:

FREE
Cash is only accepted at Harrah's Casino in Atlantic City.
Methods of Withdrawal


Cash withdrawals are only available at Harrah's Casino in Atlantic City.