Texans vs. Dolphins Week 9 Picks: More Problems for Houston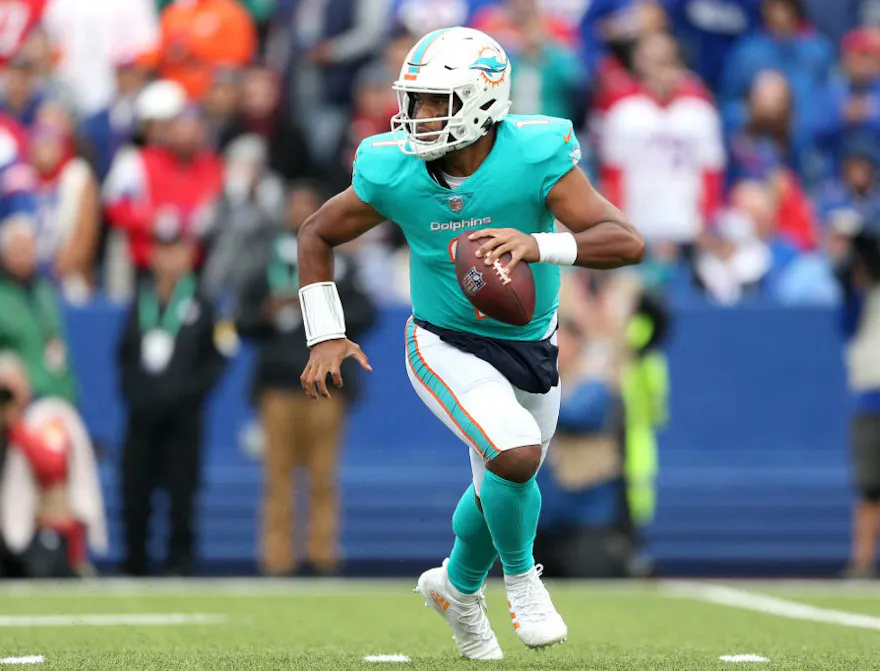 Two 1-7 teams collide when Miami hosts Houston in Week 9. Our Texans and Dolphins picks explain why we're backing Miami in a low-scoring game.
The Houston Texans and Miami Dolphins are in an interesting situation after being involved in trade talks all year regarding embattled quarterback Deshaun Watson. Miami wanted the star passer, but the Texans wouldn't give him away despite his legal situation. Now these teams face off on Sunday as two of the worst teams in the NFL.
Miami's standing at 1-7 is especially shocking after it broke out in 2020 and further invested into the roster. The Dolphins have clearly underachieved and there's speculation the entire regime could be flushed after 2021 if this trainwreck continues. Losing to Houston, also 1-7 straight up, cannot happen.
Here are my picks and predictions for the NFL Week 9 matchup between the Texans and Dolphins (odds via DraftKings; pick confidence based on a 1-to-5-star scale).
Texans vs. Dolphins Game Info
Date/Time: Sunday, November 7, 2021 at 1 p.m. ETTV: CBSLocation: Hard Rock Stadium, Miami Gardens, FLWeather: 78 degrees, partially cloudy
Texans vs. Dolphins Odds Analysis
This line opened at Miami -7 and has gone down in our favor to 6.5. Miami's dysfunction is fueling this, and it's completely fair to wonder how the Dolphins will respond after a series of embarrassing reports came out about their desire to get a new quarterback. The Texans are undermanned but have covered in half their games thus far, going 4-4 against the spread and they also have a 4-4 Over/Under mark.
Tyrod Taylor being back as a steadying force can help Houston tremendously. Rookie Davis Mills may still rotate in, though, giving Miami the chance to capitalize with turnovers and build a quick lead. The SBR consensus is showing that bettors are heavily backing Houston and the Over, but that's not where I'm going in my Texans and Dolphins picks for Week 9.
Texans vs. Dolphins Betting Picks
Miami -6.5 (-115) (??)Under 46.5 (-110) (???)
SEE ALSO: Week 9 Parlay Picks
Texans vs. Dolphins Betting Predictions
Miami -6.5 (-110)
Make no mistake about it: This Week 9 matchup in Miami features two bad teams. It's easy to see why Houston is bad — they have poor roster construction and lack playmakers on both sides of the ball. But it's not so simple for Miami and is really inexcusable.
This offense finally showed signs of life against Atlanta but has done little else for the majority of the season. The Dolphins have all of the playmaking talent needed to be competitive but their trench play has disappointed. It's hard to win when playmakers are marginalized to this degree.
Houston's offense has struggled as much as its defense, though. I can't see how even Taylor's return will be enough to punish the Dolphins' struggling but talented defense. They've been getting creamed over the last month for good reason.
Miami won't make it pretty but it should absolutely win by a touchdown at home against the second-worst team in the NFL.
Under 46.5 (-110)
Though we're backing the Dolphins on the spread, I have no faith that they will score a lot. Houston theoretically has just one dangerous playmaker Miami needs to worry about in speedster Brandin Cooks. The rest of their roster is sorely lacking, giving Miami mismatches to exploit.
Both teams are 4-4 O/U on the season, but this game is far more likely to go Under than seeing an Over cash. Tua Tagovailoa and the Dolphins offense would either need to have a season-changing effort where they tally 35 or more points, or Miami would need to make Tyrod look like Josh Allen. I don't foresee either happening.
I'm projecting a 24-10 win for Miami.
SEE ALSO: Packers vs. Chiefs Week 9 Picks
Picks made on 11/02/2021 at 11:17 p.m. ET.