Champions League Best Bets for Matchday 4: Matchups, Odds, Picks, Predictions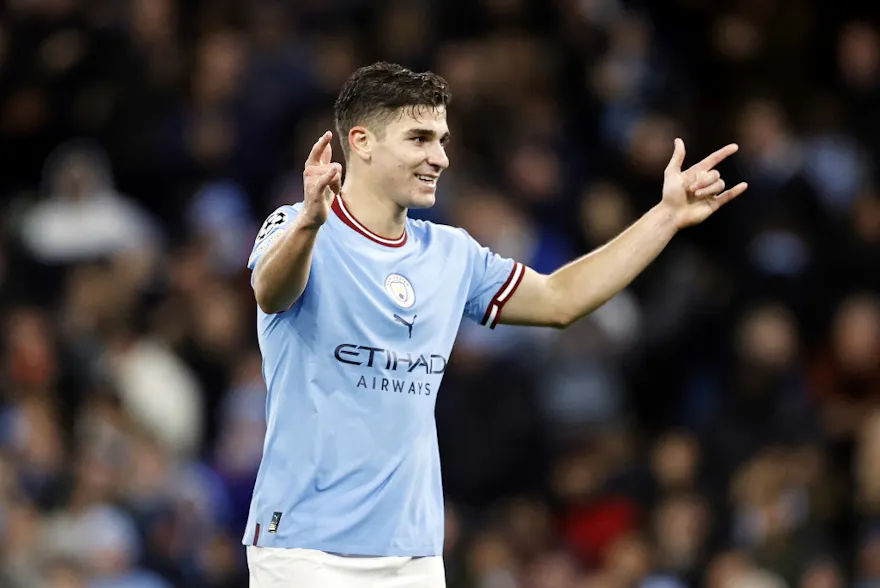 The Champions League is back after just a week. Big matches across Europe are set to decide qualification to the knock-out stages as we offer up our Champions League Matchday 4 best bets.
FC Barcelona vs. Inter Milan and AC Milan vs. Chelsea are the blockbusters, but many other clashes will set pulses racing for millions of fans and bettors.
Here are our best bets ahead of Champions League Matchday 4 (odds via DraftKings Sportsbook and FanDuel Sportsbook; pick confidence based on a 1-to-5-star scale).
Champions League Matchday 4 Best Matches and Odds
(odds via FanDuel)
FC Barcelona (-250) vs. Inter Milano (+600)
AC Milan (+210) vs Chelsea (+135)
Paris Saint Germain (-210) vs. Benfica (+500)
Atletico Madrid (-250) vs. Brugge (+650)
Champions League Matchday 4 Best Bets
Moneyline: Tottenham (-190 via DraftKings) vs. Eintracht Frankfurt ★★★
Spread: Bayern Munich -2 (+115 via FanDuel) vs. Viktoria Plzen ★★★
Total: Leverkusen vs. Porto Over 2.5 (-130 via FanDuel) ★★★★
Upset: Dinamo Zagreb not to lose vs. RB Salzburg (-195 via FanDuel) ★★★
Prop bet: Manchester City to score in both halves vs. FC Copenhagen (-195 via FanDuel) ★★★★
Parlay: Julian Alvarez to score and Manchester City to win vs. Copenhagen (-120 via DraftKings) ★★★
Champions League Matchday 4 Picks
Moneyline: Tottenham (-190)
Group D is as open as possible right now, but any step in the wrong direction could easily shift fortunes. Tottenham and Frankfurt are tied on four points apiece, two behind Sporting Lisbon, and one ahead of Marseille.
Spurs need to prove their maturity and deliver in front of a team that showed its limits over the weekend. Eintracht lost 3-0 against Bochum in Bundesliga play on Saturday. Bochum had won just one point over their previous eight outings in the German league and sit at the bottom of the table. Frankfurt's problems were exposed flagrantly just days after the Europa League winners held Tottenham to a 0-0 draw in the first leg of their encounter.
The morale in the Frankfurt locker room was surely hit after playing Bochum, so Tottenham are expected to profit and keep the three points in London.
Spread: Bayern Munich -2 (+115)
Bayern had fun in last week's Champions League action, trashing Viktoria 5-0 in Munich. The Germans can't let victory slip in the return leg either. With Barcelona and Inter as part of the same Champions League group, Bayern don't want complications going forward and should show their authority when they face Plzen on Wednesday.
The Bavarians are yet to concede in Group C, despite already facing the likes of Barcelona and Inter once. Bayern sit on a plus-9 goal differential compared to Plzen's minus-11 (1-12).
Total: Leverkusen-Porto Over 2.5 (-130)
Brugge are the surprising leaders in Group B, six points ahead of anyone else, but things are far from settled even regarding the first position in this group. Leverkusen are fresh from changing managers. New head coach, former Real Madrid, Bayern, and Liverpool midfielder Xabi Alonso, marked his debut with a 4-0 Bundesliga win over Schalke on Saturday.
Moods have changed at BayArena and it should be visible in the clash against Porto. Both teams must win this game to stand a real chance of qualifying, so we are expected to witness an open, spectacular football show in Leverkusen.
Upset: Dinamo Zagreb not to lose (-195)
Salzburg had a tough time at home against Dinamo last week, beating them just 1-0 thanks to a converted penalty in the second half. Unlike previous years, Dinamo is well placed after three matches, sitting just two points behind Salzburg in Group E. At home, they beat Chelsea 1-0 this season, so their force mustn't be underestimated by any opponent. Dinamo will know after confronting Salzburg in Zagreb if they can bid on continuing their continental journey or not.
Prop bet: Manchester City to score in both halves (-195)
City were untroubled last week, when FC Copenhagen traveled to Manchester to face the English champions. It finished 5-0. City are going to take the return leg seriously, there's no doubt about that. Even though changes are expected in the starting 11, the attacking players at Guardiola's disposal are hungry enough to make Copenhagen suffer again. City scored in both halves in five of their last six matches.
Parlay: Alvarez to Score and Manchester City to win (-120)
Regarded as one of the most talented Argentinean players of his generation, Julian Alvarez has been limited to just one first-team appearance in the Premier League and one in the Champions League this season.
City's amount of attacking talent has limited his playing time, with Guardiola having to choose between many sparkling players up front. Alvarez's sole Champions League first 11 call came against Copenhagen, when he contributed to City's 5-0 win with a goal. Combined with a City win in Copenhagen, Alvarez to score should turn out to be a smart choice for bettors.
Where to Bet on Champions League Picks
Here are our top-rated sportsbooks:
Champions League odds and best bets from 10/10/2022 at 3:32 p.m. ET.