Titans vs. Jaguars NFL Week 5 Picks and Predictions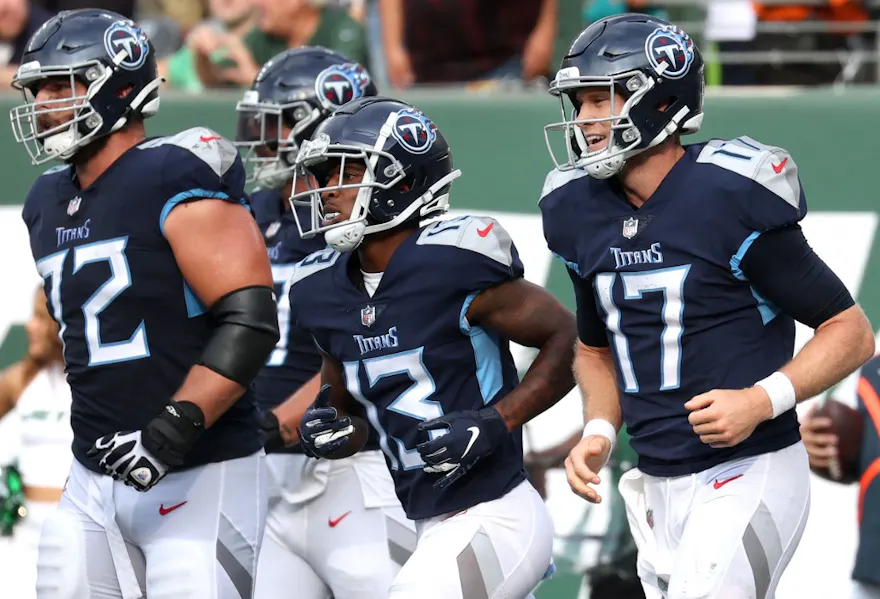 It looks like the sharps have the Jacksonville Jaguars in their Week 5 NFL picks. Can they beat the Tennessee Titans this Sunday?
Tennessee Titans vs. Jacksonville Jaguars
Sunday, October 10, 2021 - 01:00 PM EDT at TIAA Bank Field
The long knives are out for Urban Meyer. The head coach of the Jacksonville Jaguars has borne the brunt of criticism for his team's slow start – they're 0-4 SU and 1-3 ATS heading into Week 5 – and now Meyer is in hot water for what he's done off the field. Last Friday, following their 24-21 loss to the Cincinnati Bengals (–7.5 at home), Meyer was filmed at his Pint House restaurant in nearby Columbus, getting a little up close and personal with someone other than his wife. Giggity-giggity.
https://youtu.be/NAxI5lMy-k8
If this is a low point for the Jaguars franchise, they must be the right NFL pick for Sunday's matchup with the Tennessee Titans (2-2 SU and ATS). That's how it works, right – buy low, sell high? Jacksonville are 4-point home dogs at , and the consensus reports show 78 percent of bettors are willing to take a three-hour tour on the S.S. Meyer.
What could possibly go wrong?
Know Your Ficken
Three things come to mind: offense, defense, and special teams. The Jaguars rank near the bottom of the league in the first two categories, placing No. 27 and No. 30 on the updated efficiency charts at Football Outsiders. Special teams have been delightfully mediocre in comparison at No. 18 overall, although much of that value is contained in Jamal Agnew's 109-yard missed field-goal return in Week 3. Jacksonville were supposed to suck this year, though.
The Titans, not so much; they opened as viable +2500 Super Bowl outsiders on the NFL odds board at (visit our Sportsbook Review) but have since fallen to +4000, with the league's No. 24-ranked offense and No. 26-ranked defense.
https://twitter.com/NFL/status/1443590206087520267?s=20
They're also a very poor No. 25 overall on special teams, and they've already used two place-kickers and two punters this year. That doesn't include PK Sam Ficken (groin), who was supposed to be their No. 1 guy after Tennessee plucked him off the New York Jets waiver wire during training camp.
Viral Marketing
It would obviously give us more confidence taking the Jags if the computers were on our side. Jeff Sagarin's are; his projections at The USA Today only have Tennessee winning by 1.06 points. However, FiveThirtyEight have Titans –5.5 on their kayfabe NFL lines. They seem to be more willing to forgive Tennessee's recent play, and maybe they're right; COVID-19 did throw a wrench at them before the season started. But losing to the Jets (+5.5 at home) in Week 4? There's no vaccine for that. The Titans face pretty much the same situation in Week 5.
Trevor Lawrence #16 of the Jacksonville Jaguars. Andy Lyons/Getty Images/AFP
For your NFL pick, we're not going to recommend a large bet on this matchup, especially with two non-public teams in action – that would raise alarm bells at those sportsbooks who use the "European" model to decide which customers are worthy of their services. But a small bet on Jacksonville ATS should look innocuous enough. Shop smart, and may the prolate spheroid be with you.
NFL Pick: (visit our Sportsbook Review)
*The pick reflects the line at the moment the writer made the play, the odds at the beginning of this article show the live line movement. Since the lines might vary, don't forget to refer back to our live odds.