UFC Vegas 40: Aspen Ladd vs. Norma Dumont Main Event Picks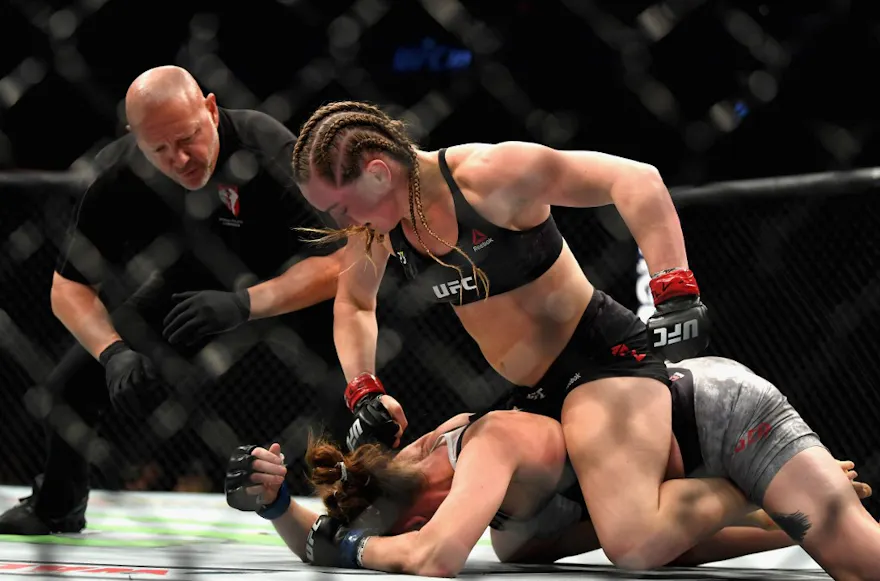 The Ultimate Fighting Championship has a jam-packed schedule and this Saturday we are getting what should be a very entertaining featherweight fight between Aspen Ladd and Norma Dumont. Here's a complete preview, including updated UFC odds and our betting pick.
Aspen Ladd vs. Norma Dumont
Featherweight Main Event Bout
Saturday, October 16, 2021 - 10:05 PM EDT at the UFC Apex in Las Vegas
In the main event of the evening, Aspen Ladd steps in on short notice against Norma Dumont. Ladd is replacing former UFC Women's bantamweight champion Holly Holm, who will miss the fight because of a knee injury. UFC Vegas 40 takes place at the UFC Apex in Las Vegas. With plenty of betting lines and markets currently available, let's attempt to find some value for our UFC picks on Saturday's main event.
Aspen Ladd. Ethan Miller/Getty Images/AFP
Aspen Ladd
Introduction, Background and UFC Career
Aspen Ladd will return to the octagon after her concerning bantamweight weight cut from UFC Vegas 38. Almost two weeks have passed and Ladd evidently accepted the weight cutting issues she had and now she'll compete as a featherweight, which will help her beat the scales.
Ladd has been considered a promising UFC prospect since her debut in 2017. She had an undefeated record before her arrival to the promotion and she has an impressive 4-1 record in the UFC. Germaine de Randamie beat her via TKO in the first round at UFC Fight Night 155 on July 13th, 2019 but her skillset has been unmatchable in the rest of her fights and she got back on track with a TKO in the third round against Yana Kunitskaya at UFC on ESPN 7 on December 7th, 2019.
While Ladd hasn't entered the octagon in almost two years, this isn't a red flag since no injury caused it and because of her young age. Ladd's skill level has likely risen in the last two years. I'm expecting a more complete version of her on Saturday.
Born:March 1st, 1995Age:26Country:United StatesHeight:5'6?Weight:135 lbsReach:66?Stance:OrthodoxAssociation:MMAGOLDFight TeamClass:BantamweightRecord:9-1
Stats
Method of VictorySignificant StrikesTakedowns6 wins by KO/TKO5.22 Landed75% Accuracy1 win by Submission4.84 Absorbed66% Defended2 wins by Decisionhttps://twitter.com/TheSchmozone/status/1396263638604738562
Norma Dumont
Introduction, Background and UFC Career
Norma Dumont was a champion in Sanda – a Chinese form of kickboxing, before beginning her MMA journey. A professional mixed martial artist since 2016, the Brazilian went 4-0 in the mixed martial arts regional scene of her country before the UFC signed her in 2020.
Dumont is now 6-1 in her career and she's won her last two fights. Megan Anderson knocked her out in the first round in her UFC debut at UFC Fight Night 169 on February 29th, 2020 but she bounced back with decision wins against Ashlee Evans-Smith and Felicia Spencer. In her last fight, the 31-year-old won a split decision against Spencer at UFC Vegas 27 on May 22nd.
Born:October 1st, 1990Age:31Country:BrazilHeight:5'7?Weight:145 lbsReach:67?Stance:OrthodoxAssociation:Team RulesClass:FeatherweightRecord:6-1
Stats
Method of VictorySignificant StrikesTakedowns0 wins by KO/TKO4.98 Landed40% Accuracy4 wins by Submission2.86 Absorbed100% Defended2 wins by Decisionhttps://youtu.be/aDWWPbiext8
Prediction
Dumont did suffer a vicious knockout against Megan Anderson but her striking can be the key to victory against Ladd. She used her footwork and grappling defense while putting on a striking clinic against Felicia Spencer and she has to replicate that effort against Ladd. Dumont will have the reach advantage, so she has to keep a distance and rely on her kickboxing.
Ladd's strength is when she's at the top position of a grounded opponent. Ladd's brutal ground and pound offense has helped her finish many opponents and it can help her against a well-rounded kickboxer like Dumont. As mentioned before, Ladd's skillset must have evolved in the last two years and I get why she's a slight favorite at the best sportsbooks. Dumont has just three fights in the UFC and Ladd is by far the opponent with a more diverse set of striking skills to compromise her.
UFC Pick: Aspen Ladd -136
*The pick reflects the line at the moment the writer made the play, the odds at the beginning of this article show the live line movement. Since the lines might vary, don't forget to refer back to our live odds.