UFC Vegas 39: Mackenzie Dern vs. Marina Rodriguez Recap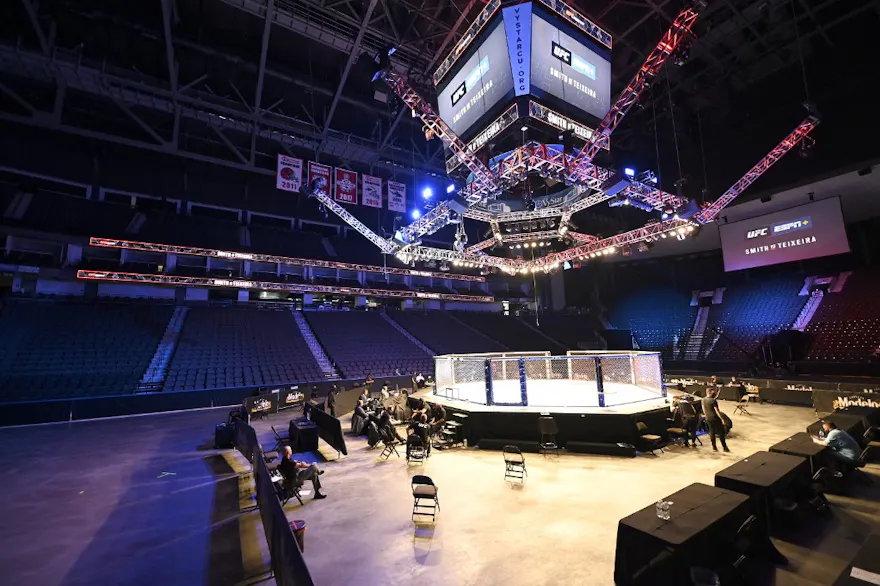 UFC Vegas 39: Dern vs. Rodriguez was a fun event for sure. Only two dogs won overall on the card, including the main event. Read below for my recap of the main event, Mackenzie Dern vs. Marina Rodriguez.
UFC Women's Strawweight: Mackenzie Dern vs. Marina Rodriguez
This main event was one of my most favorite fights because both Dern and Rodriguez are some of my favorite fighters to watch.
The closing UFC Odds from your Top Sportsbooks were Mackenzie Dern -172 and Marina Rodriguez +145.
In my UFC Prediction, I envision Dern dominating on the ground and winning either by submission or at the scorecards from her ground control, so I took Dern straight up at -172 via BetOnline (Visit our BetOnline Review). I knew I had to be cautious of the resilient Marina Rodriguez, and she did prove her value at the scorecards.
In the first round, both ladies started off calm, reading their opponent. Rodriguez landed first with a calf kick, and Dern was trying to get inside the distance. Rodriguez landed some nice counters until Dern pushed her into the clinch. Rodriguez escaped, and great striking exchanges back and forth between the two, but as the horn sounded, Rodriguez landed a big knee to Dern's body.
The second round, you can see Dern was trying to tie up Rodriguez, but she just couldn't. But finally, she gets Rodriguez to the ground with 4 minutes left in the round - Rodriguez is in trouble if she can't escape. Dern was attempting an armbar with her legs! She adjusted to full mount and was laying down heavy shots. Rodriguez was trying to use the fence to get up but she could not get away from Dern. This was a great round for Dern.
The third round starts and you can see Rodriguez slowing down a bit due to that previous round, but she was still landing some great strikes. Dern appeared aggressive in this round - I'm sure that previous round hyped her up a bit. Anyway, Rodriguez landed heavy hits and combos on Dern's body. Dern was able to get a body lock until Rodriguez laid down hammer fists before the horn sounded.
In this fourth round, Dern knew she needed to get this fight to the ground or this fight is no longer hers. Rodriguez landed a low shot early in this round which caused a stop in action. Once resumed, Rodriguez landed a heavy right and leg kick; she three in some nice knees to the body and was making it extremely difficult for Dern to get inside range. Rodriguez stuffed a takedown and was beating up Dern on the feet. Towards the last minutes of this round, Dern picked up her pace in her striking, trying to land big shots, but Rodriguez returned with some heavy combos of her own to the body and head of Dern. Dern then fucked under a strike and took Rodriguez down to the mat. She was in full mount pouring down punches, aiming for that harm bar again, but the horn sounded.
Finally, the fifth round. Dern really needed to get the finish if she wanted to win this fight, but she could not get inside range to take down Rodriguez. Dern almost got the fight to the ground, but Rodriguez stuffed yet again another takedown. Overall, Rodriguez was landing strike after strike - a big left hand, knees - until the horn sounded, gaining one of the biggest wins of her career so far. Marina Rodriguez won via unanimous decision.
It was very clear that Rodriguez learned from her previous losses against BJJ artists, and worked on her takedown defense. This was a wonderful fight, but this should alert Dern to work even more on her striking. Relying solely on her grappling can't always win a fight. I am very excited for the futures of both these women inside the UFC.
Closing Remarks and What's Next?
All of the dog-winners on this card were: Mariya Agapova (+150) and Marina Rodriguez (+145).
Up next in the UFC, we have an okay card in UFC Vegas 40: Aspen Ladd vs. Norma Dumont on Saturday, October 16th at the UFC Apex in Las Vegas. Although I'm not extremely excited for this main event, there are still some good fights to look forward to: Sijara Eubanks vs. Luana Carolina, Jim Miller vs. Erick Gonzalez, Andrei Arlovski vs. Carlos Felipe, and more!
Stay tuned to our UFC Picks and Prediction show on SBR's YouTube Channel with David Manyun and our special guests - they share with you all their top picks and predictions for the entire main card.