UFC 279 Jingliang vs. Ferguson MMA Odds, Picks: Can 'El Cucuy' Get Back to Winning Ways?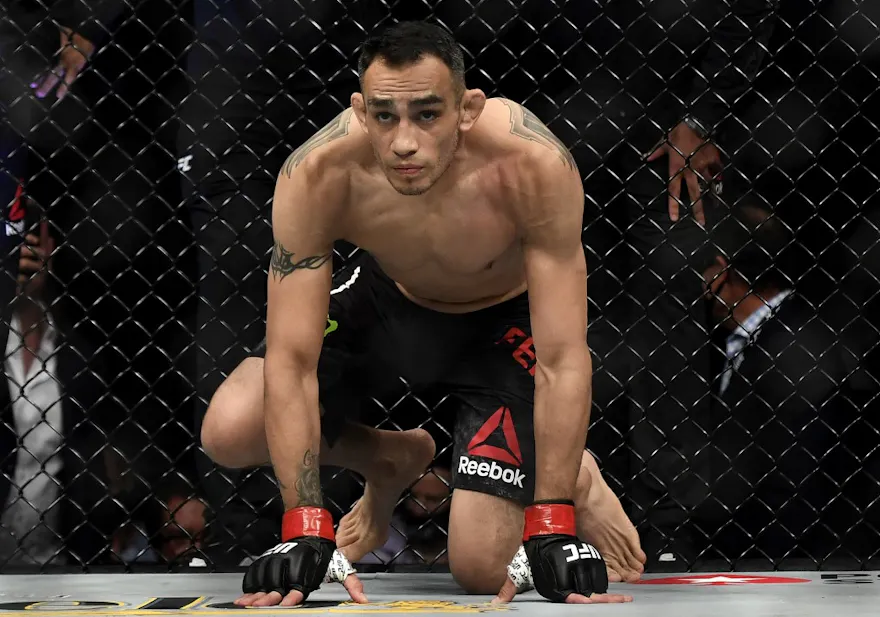 Tony Ferguson will try to reinvent himself at welterweight when he throws hands with Jingliang Li in the co-main event of UFC 279 on Saturday night. Read on for our Jingliang-Ferguson picks and predictions.
UPDATE: This fight has canceled as Tony Ferguson will now fight Nate Diaz in the main event and Li Jingliang will fight Daniel Rodriguez.
Already in the twilight of his career, Ferguson is looking to halt the longest losing streak of his storied MMA campaign. A terrifying Tasmanian devil-esque cloud of fists, elbows, and shins, Ferguson fell victim to a devastating Michael Chandler front kick in his last trip to the Octagon, pushing his streak of futility to four fights.
Unlike Ferguson, Jingliang heads into this bout fresh off a victory. "The Leech" got himself back into the win column at a Fight Night event in July, flooring Muslim Salikhov with a thundering right hand before polishing him off with some brutal elbows.
Now that we've set the table, here are my top picks for the UFC 279 bout between Jingliang Li and Tony Ferguson (odds via FanDuel Sportsbook and DraftKings Sportsbook; pick confidence based on a 1-to-5-star scale).
Jingliang vs. Ferguson Fight Info
Date/Time: Saturday, Sept. 10, 10 PM ET (Main Card)
TV: ESPN +, PPV
Location: T-Mobile Arena, Las Vegas, NV
Jingliang vs. Ferguson Picks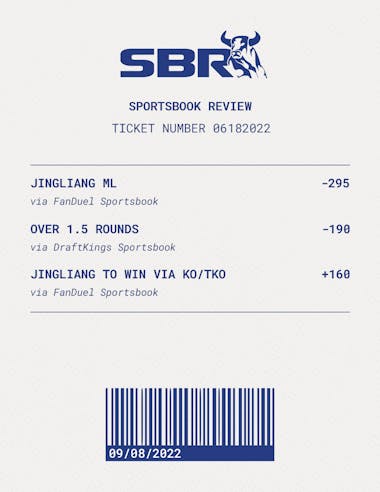 Jingliang-Ferguson ML Pick
Jingliang (-295) ★★★★
Historically, I'd be all in on "El Cucuy," but there just isn't a lot of tread left on Ferguson's tires. Once one of the most feared and creative lightweights on the planet, Ferguson has moved up to welterweight and changed training camps in the hope that he'll reignite his floundering career.
The 38-year-old has dropped four fights in a row and has taken considerable punishment doing so, losing two of those bouts via KO/TKO while being completely dominated in the other two.
Jingliang isn't exactly a world-beater, but he's got enough juice to triumph over this desiccated husk version of Ferguson. If he can avoid engaging in long grappling exchanges, or Ferguson's oft-ridiculous bursts of creative ultraviolence, this is Jingliang's fight to lose.
Possessing genuine knockout power (10 KOs/TKOs in 19 career victories), Jingliang has to catch Ferguson's failing chin only once to completely change the complexion of the fight.
If this was Ferguson in his prime, he likely runs roughshod over Jingliang. Unfortunately, for "El Cucuy," his prime has passed him by.
Check out the latest comprehensive and most trusted Sportsbook Reviews by SBR.
Jingliang vs. Ferguson O/U Pick
Over 1.5 Rounds (-190) ★★★★
For as shopworn as Ferguson is at this point, he's still impossibly tough. The last time he was finished in the opening round of a fight was in 2009, years before his UFC debut. He's carved a violent path through the lightweight division, crafting one of the finest resumes in the weight class' history.
Quite simply, Ferguson is not easy to finish, and if Jingliang is to pull it off on Saturday night, he'll likely have to pile up the punishment first.
I'd back this fight to make it to the third round.
Jingliang vs. Ferguson Winning Method Pick
Jingliang to win via KO/TKO (+160) ★★★★
I just can't shake the visual of Chandler brutally finding Ferguson's off-switch with a scintillating front kick. It was a masterful knockout, and, though I don't expect Jingliang to deliver anything that spectacular, I'm anticipating a similar result.
Ferguson has fought in some absolute wars, and his once-iron chin is starting to crack. Jingliang doesn't have the resume of Ferguson's previous opponents, but he does hit hard, and that might be enough to carry him to victory.
"El Cucuy" has been finished by strikes twice in his past four fights, and all four of Jingliang's most recent victories are of the KO/TKO variety.
I know that it isn't always that simple, but Jingliang's technical shortcomings in the grappling department can be solved by completely melting Ferguson's jaw.
Where to Bet on Jingliang vs. Ferguson Picks
Here are our top-rated sportsbooks:
Jingliang-Ferguson picks made 9/8/2022 at 1:31 p.m. ET