Premier League Props & Best Bets: Schedule, Odds for Matchday 37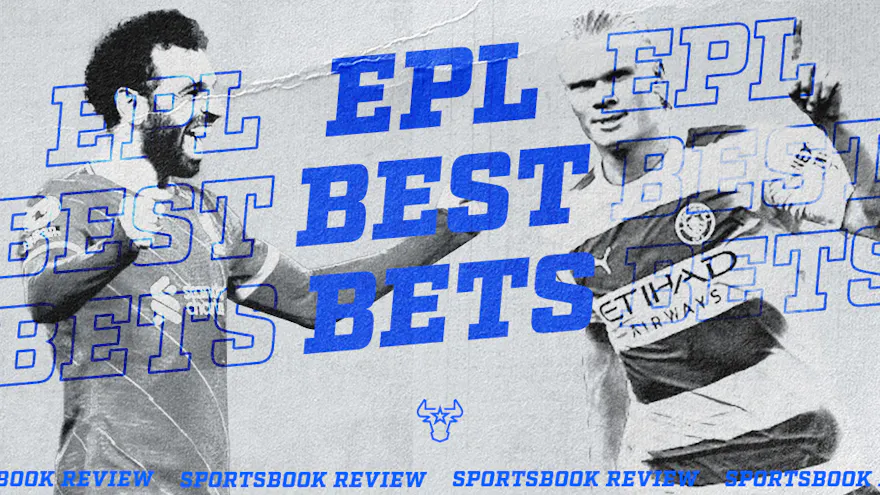 It's a massive game week for many of the Premier League's best and worst clubs, as battles for the top four and safety wage on. The title race may be over, but there's still plenty of drama on tap. Check out our Premier League props and best bets for Matchday 37 based on the best EPL odds.
It appears the fight for the top four will come down to the final two weeks of the season, as Liverpool, Manchester United, and Newcastle continue to jockey for position.
Meanwhile, Southampton are officially relegated at the bottom of the table, leaving only Leicester and Leeds with a chance to escape the drop. Everton and Nottingham Forest face a very small margin for error with two matches remaining if they hope to be playing in the Premier League next season.
And finally, if it wasn't already clear, the title race is over. Arsenal have crumbled at the end after a promising campaign, opening the door for Manchester City to capture their third straight Premier League crown. City will officially secure the league with a win at home against Chelsea this week.
Here are our Premier League props and best bets for Matchday 37 (odds via PointsBet, FanDuel, and DraftKings; Pick confidence is based on a 1-to-5-star scale).
Premier League schedule and odds for Matchday 37
(odds via DraftKings)
Spurs (-115) vs. Brentford (+300)
Liverpool (-205) vs. Aston Villa (+500)
Bournemouth (+500) vs. Manchester United (-200)
Fulham (+145) vs. Crystal Palace (+195)
Wolves (+175) vs. Everton (+160)
Nottingham Forest (+425) vs. Arsenal (-175)
West Ham (+140) vs. Leeds (+185)
Brighton (-450) vs. Southampton (+1100)
Manchester City (-390) vs. Chelsea (+950)
Newcastle (-260) vs. Leicester (+550)
Brighton (+270) vs. Manchester City (-115)
Manchester United (-155) vs. Chelsea (+370)
Check out our top soccer picks.
Preakness promo: FanDuel Preakness Stakes promo: Get up to $20 back
Premier League best bets for Matchday 37
Moneyline: Nottingham Forest double chance (+145 via PointsBet) vs. Arsenal ⭐⭐⭐
Parlay: West Ham double chance + both teams to score (+120 via PointsBet) vs. Leeds ⭐⭐⭐
Parlay: Manchester City ML (-380) vs. Chelsea + Brighton double chance (-110) vs. Manchester City (+141 via DraftKings) ⭐⭐⭐
Parlay: Manchester United ML + both teams to score: no (+206 via FanDuel) vs. Chelsea ⭐⭐⭐⭐
Not intended for use in MA
Affiliate Disclosure: Sportsbook Review may receive advertising commissions for visits to a sportsbook
Check out our best Champions League odds and Women's World Cup odds.
Premier League top picks
Moneyline: Nottingham Forest double chance vs. Arsenal (+145 via PointsBet) ⭐⭐⭐
Well, it was a solid attempt, Arsenal. The Gunners really appeared as though they were going to end Manchester City's reign of terror over the Premier League. Unfortunately, they ran out of gas down the stretch. With City all but securing the league and Arsenal coming off a 3-0 thrashing from Brighton at home, the Gunners' spirits will be at a season low.
Meanwhile, Nottingham Forest are fighting for survival, and gutting out a 2-2 draw at Chelsea last week was a big step toward achieving that goal. That was only the fifth time all season Forest have taken a point from an away match. Now they head back home, where Forest have played some really impressive football this campaign.
Forest have taken 1.50 points per home match compared to just 0.39 in away games. They also own a positive goal differential at home, and they'll need to once again put together a strong performance in this match.
I bet on Forest to win or draw at Chelsea last week for the same reason I am now: Desperation often brings out the best in Premier League clubs. Pair that with a strong record at home and Arsenal being in the mud, and it makes for a good case to go back to the well.
This would be a four-star bet if Forest were facing weaker competition. The Gunners are the Premier League's best away side, and you never really know which Arsenal team you're going to get in recent weeks.
Among our best sports betting apps, DraftKings and FanDuel offer this bet at +140, while BetMGM and Caesars are slightly shorter at +135.
Parlay: West Ham double chance + both teams to score vs. Leeds (+120 via PointsBet) ⭐⭐⭐
This is West Ham's final home match of the season, and though they could likely avoid relegation even with two losses, the squad will secure safety with at least a draw.
The Hammers are coming off a massive result in the Europa Conference League, booking their ticket to the final with a spirited 1-0 away win. That will provide the home side and its supporters with additional energy for this affair.
Beyond West Ham being motivated to stay up and put on one last strong performance in front of their supporters, the data also backs a Hammers result.
Leeds are the second-worst away side in the league this season, taking only 0.50 points per away match. They've conceded the fourth-most goals in that setting while allowing the most goals overall in the league. West Ham haven't been world-beaters at home, but they do own a positive xGD.
I've hedged slightly with the double chance because Leeds absolutely need a result from this match, while West Ham could survive without one. However, I back the Hammers to take at least a draw under the aforementioned circumstances.
In terms of both teams scoring, Leeds have scored their fair share of goals in enemy territory, despite the club's abysmal away record. Their 21 goals and 21.3 xG in away matches both rank firmly in the middle of the pack, while West Ham have been relatively leaky at home.
It's always hard to really know what any club will do as the Premier League season reaches its conclusion, making this another three-star bet.
Only theScore Bet's +123 offering (for Ontario bettors) tops PointsBet's +120 price. DraftKings and FanDuel are at +115 for this parlay among our best sportsbooks, while Caesars doesn't allow you to parlay these two props.
Parlay: Manchester City ML (-380) vs. Chelsea + Brighton double chance (-110) vs. Manchester City (+141 via DraftKings) ⭐⭐⭐
This is a bit of a weird one, but hear me out.
First, Manchester City are three points away from clinching the Premier League title for the third straight season. Their first match this week against Chelsea represents a perfect opportunity to do so.
In front of their home supporters, City will surely thrash a pathetic Chelsea side just begging for the campaign to end. Look at various goalscorer props for that match, as the moneyline is cooked. Keep an eye on the City starting XI, and feel free to bet on any of Phil Foden, Ilkay Gundogan, Riyad Mahrez, or Julian Alvarez to score, should they start.
Now, to the second leg of this parlay. If City win on Sunday as expected, that's it. Sure, they want to finish the season strong, but with the FA Cup final and Champions League final on the horizon, manager Pep Guardiola will almost definitely rest all of his starters for the club's second match this week, an away affair against Brighton.
The reason why I've gone with Brighton to win or draw rather than their moneyline is, well, City's reserves could still very well march into the American Express Community Stadium and spank the Seagulls.
Brighton aren't in good or bad form, really. The only thing we can take from their last few games is they're in no form at all. They lost 5-1 at home to 17th-place Everton before heading to the Emirates for a wildly unexpected 3-0 win over Arsenal. Newcastle then shellacked Brighton 4-1 in a match during which the Seagulls were never even remotely a threat to win.
I understand if there are too many moving parts to this bet for some people, which is why it's another three-star pick. The probability of the first leg happening is just too high, though, and we can't ignore the likelihood of the second leg hitting as a result.
Parlay: Manchester United ML + both teams to score: no (+206 via FanDuel) vs. Chelsea ⭐⭐⭐⭐
If you're thinking this is another emotional hedge, then you're only somewhat right. Yes, I want to see United lose so Liverpool can make the top four. However, this also happens to be my best bet of the bunch.
Chelsea are a joke. They've taken only four points from their last five matches and could very well finish this season as low as 15th place.
Meanwhile, after two poorly timed losses to Brighton and West Ham, United bounced back last game with a 2-0 triumph over a very scrappy Wolves side. United continue to serve as one of the league's best home clubs. Their 2.47 points per home match rank second, and their eight goals conceded at home are easily the fewest in the league, as second-ranked Newcastle have allowed nearly twice as many.
This is the second match of the week for both sides. Chelsea have the aforementioned away match at City, and United first play at Bournemouth. However, the latter plays its initial match on Saturday, while Chelsea will take their licks the day after. That means the Blues will get one fewer day to rest for this game, giving the home side yet another advantage (as if it needed it).
United need every possible point from their final three matches with Liverpool breathing down their neck, and there are multiple reasons we should see them dispatch Chelsea in impressive fashion. With the late-season narrative matching the data, this is a four-star bet.
Among our best sports betting sites, FanDuel is one of the only options that offers this parlay far in advance. DraftKings is unlikely to offer SGPs on this match until both teams complete the first game of the week.
Premier League Matchday 37 best bets made 5/19/2023 at 9:00 a.m. ET.
(21+. Gambling Problem? Call 1-800-GAMBLER)
* Bonuses not applicable in Ontario.
Related pages