Premier League Props & Best Bets: Schedule, Odds for Matchday 34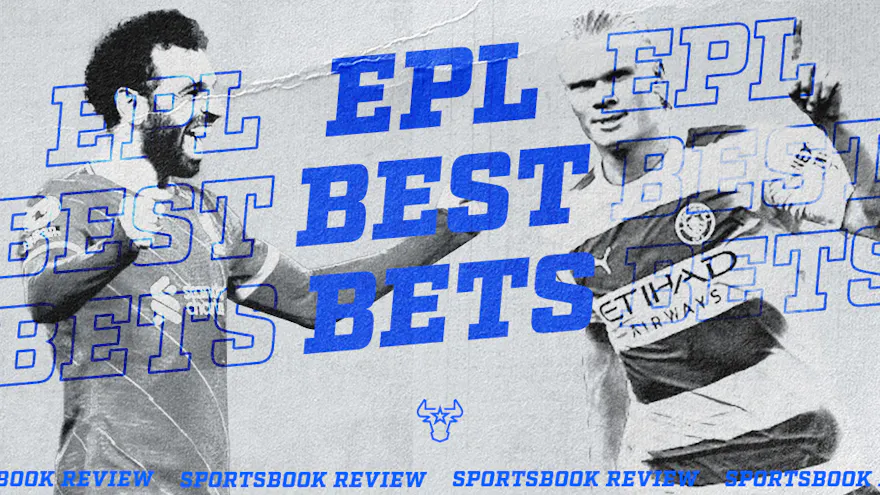 We have 13 matches on tap in the Premier League this game week, with powerhouses Manchester City, Liverpool, and Manchester United each playing twice. Check out our Premier League props and best bets for Matchday 34 based on the best EPL odds.
According to our best sports betting sites, the Premier League title race is essentially decided.
Manchester City are just two points back of Arsenal following their resounding 4-1 win on Wednesday at the Etihad. However, despite the fact that they're still in second, City are massive favorites to win the league, as they have two games in hand on their suddenly lifeless title challengers.
With much still to play for at both ends of the table, the Premier League has once again offered us a larger-than-usual schedule, and I think it's time we stare the madness directly in the eyes.
In the words of Michael Keaton's Batman, "now you wanna get nuts, come on, let's get nuts."
Here are our Premier League props and best bets for Matchday 34 (odds via DraftKings, FanDuel, BetMGM, and PointsBet; pick confidence is based on a 1-to-5-star scale).
Premier League schedule and odds for Matchday 34
(odds via DraftKings)
Brighton (-220) vs. Wolves (+600)
Brentford (-145) vs. Nottingham Forest (+425)
Fulham (+1200) vs. Manchester City (-450)
Newcastle (-360) vs. Southampton (+1000)
Manchester United (-130) vs. Aston Villa (+350)
Bournemouth (+155) vs. Leeds (+180)
Liverpool (-200) vs. Tottenham (+475)
Leicester (+105) vs. Everton (+285)
Arsenal (-155) vs. Chelsea (+390)
Liverpool (-275) vs. Fulham (+650)
Manchester City (-425) vs. West Ham (+1000)
Brighton (+115) vs. Manchester United (+215)
Check out our top soccer picks.
Premier League best bets for Matchday 34
Moneyline parlay: Liverpool (-175) vs. Spurs + Liverpool (-275) vs. Fulham (+114 via DraftKings) ⭐⭐⭐
Team prop parlay: Manchester City Over 1.5 goals (-294) vs. Fulham + Manchester City Over 1.5 goals (-333) vs. West Ham (-135 via BetMGM) ⭐⭐⭐⭐⭐
Moneyline: Manchester United (+210 via FanDuel) vs. Brighton ⭐⭐⭐
Team prop: Newcastle clean sheet (-115 via PointsBet) vs. Southampton ⭐⭐⭐⭐
Not intended for use in MA
Affiliate Disclosure: Sportsbook Review may receive advertising commissions for visits to a sportsbook
Check out our best Champions League odds and Women's World Cup odds.
Premier League top picks
Moneyline parlay: Liverpool ML vs. Spurs + Liverpool ML vs. Fulham (+114 via DraftKings) ⭐⭐⭐
Amid a season plagued by injuries and inconsistent play, following back-to-back embarrassing defeats on Matchday 27 and 29, Liverpool went on to take 26 points from their final 10 matches to finish third in the Premier League in 2020-21.
Now, during a similarly underwhelming campaign, following a lackluster display against Bournemouth on Matchday 27 and a 4-1 spanking by Manchester City on Matchday 29, Liverpool are once again looking to pull off the seemingly impossible. They've taken 11 points from five matches since the implosion at the Etihad, and they sit just seven points back of fourth-place Manchester United. Is history set to repeat itself?
Both these matches will be played at Anfield, where Liverpool have looked like a legitimate top club this season. They've taken 2.27 points per home match - the fourth-most in the league - compared to just 1.12 in away games. Their 33.6 expected goals at home are the third-most, and their plus-26 goal differential at home is second-best.
Roberto Firmino appears to be the only prominent player dealing with an injury, but Cody Gakpo, Diogo Jota, Luis Diaz, and Darwin Nunez provide more than enough depth up top alongside Mohamed Salah.
Meanwhile, Spurs are on their third manager of the season and just barely salvaged a 2-2 draw at home to United (a result that actually helped Liverpool) following two hilariously bad defeats.
With little to play for at this stage in the campaign, Fulham are somewhat of a wild card, but their minus-11.1 xGD in away matches speaks volumes for their chances at Anfield.
DraftKings is one of the few best sportsbooks that allows us to parlay multiple moneyline bets for the same team, and its odds are the best among those that do so.
Team prop parlay: Manchester City Over 1.5 goals vs. Fulham + Manchester City Over 1.5 goals vs. West Ham (-135 via BetMGM) ⭐⭐⭐⭐⭐
This is essentially a bet on Manchester City to win both of their matches this week, but we're getting about 40 cents worth of value by betting on the two goal props rather than the moneyline odds.
City have scored more than one goal in 21 of their 31 Premier League matches this season, including both of these reverse fixtures. They've scored a league-best 82 goals, and they also have the most expected goals with 66.0. They're also one of the few sides that have scored fewer goals than it has expected goals in away matches, so some positive regression could be on the horizon - not that City really need much of it.
I say this is essentially a bet on City to win because they've bizarrely conceded a goal in eight of their last 10 matches, so they'll need multiple goals to win if that trend continues (I'm sure it will, since I continue to roster City goalkeeper Ederson in fantasy soccer).
I considered betting on Erling Haaland to score a goal in each match, but none of our best sports betting sites have his odds listed for the second game. However, I'm intrigued by that bet and will continue checking for the goalscorer market vs. West Ham ahead of the first game against Fulham.
At this point, it almost feels like a foregone conclusion that City are going to snatch glory from Arsenal and win the league for the third straight season. Their absurd run of form will continue with two more bludgeonings this week.
Moneyline: Manchester United ML vs. Brighton (+210 via FanDuel) ⭐⭐⭐
This is some real-deal emotional hedging, as any and all United victories at this point spell disaster for Liverpool's chances to sneak into the top four. However, there is some data to back up this pick.
Brighton have had a very strong season, but they've been significantly more impressive in away matches. Their 1.56 points per away match are the fourth-most in the league, and that number represents just a .15 drop from their average number of points in home matches. That's the smallest gap of any club in the top 10, underscoring both how dominant they've been away from home but also how underwhelming they've performed within the confines of The American Express Community Stadium.
Additionally, though both clubs will be playing their fourth match in 12 days when they do battle on May 4, United are better equipped to handle such a demanding schedule. Brighton have relied heavily on their impressive midfield quartet of Solly March, Pascal Gross, Kaoru Mitoma, and Alexis Mac Allister for most of the season, but they appear to be finally slowing down following an impressive extended spell.
Meanwhile, United have recently welcomed back Christian Eriksen, Casemiro, and Anthony Martial, taking some pressure off the club's midfield and attacking groups amid this beefy run of fixtures.
Brighton seem to have sold out for FA Cup glory, with a brutal loss to Nottingham Forest perhaps serving as the first indication of some fatigue. Following a match first with an annoying Wolves side, I don't love the Seagulls' chances in this rematch of last week's FA Cup semifinal showdown.
Team prop: Newcastle clean sheet vs. Southampton (-115 via PointsBet) ⭐⭐⭐⭐'
Those who wrote off Newcastle's late-season push in 2021-22 as something of a fluke have egg all over their face now. The Magpies sit third in the league on 62 points, and they should comfortably finish in the top four. Newcastle's performances at home have been especially impressive, as they've allowed the second-fewest goals in home matches at 10, and their 12.9 xGA at home also serve as the second-fewest.
Meanwhile, Southampton have been perhaps the league's most pitiful side in terms of away scoring. They rank third-last with 12 away goals - I guess that's a win? - but sit dead last with 12.7 xG.
The biggest issue plaguing Southampton is the fact that their season could very well be over. At this point, they're destined for relegation. The Saints sit six points back of 17th-place Nottingham Forest with just five matches to play, and they've taken just six points from their last 10 games.
My only reservation is that Newcastle will go up by three or four goals, take their foot off the gas, and concede. That same situation just played out in their last match away to Everton. However, in front of their raucous supporters at St James' Park, I expect them to play their relentless brand of football for all 90 minutes.
Premier League Matchday 34 best bets made 4/28/2023 at 2:30 p.m. ET.
(21+. Gambling Problem? Call 1-800-GAMBLER)
* Bonuses not applicable in Ontario.
Related pages