Premier League Odds & Best Bets This Week: Schedule, Picks for Matchday 29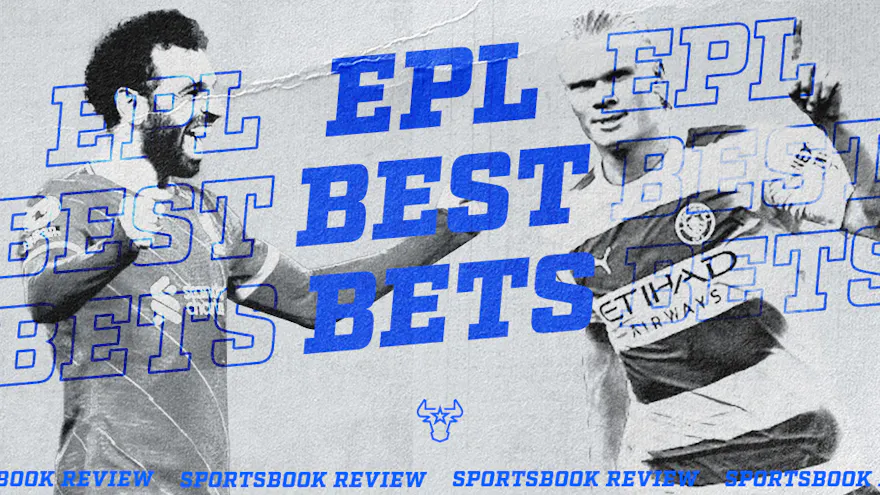 Cover your eyes, FPL managers. Matchday 29 in the Premier League brings with it another wacky schedule, with a handful of teams playing twice. However, pain for fantasy players means more opportunities for bettors. Check out our best bets for Matchday 29 based on the best EPL odds.
We have another irregular game week, brought to you by the winter World Cup. For the fourth time in the last five matchdays, there will be more or less than the traditional 10 games. This week, we have a whopping 16 matches, with 12 clubs playing twice.
Arsenal sit 8 points clear of Manchester City atop the Premier League table, and the Gunners will look for 3 points at home to Leeds. Meanwhile, City host Liverpool in a clash of the two most recent league winners.
Here are our best Premier League bets for Matchday 29 (odds via PointsBet, FanDuel Sportsbook, and BetMGM; pick confidence based on a 1-to-5-star scale).
Check out our top soccer picks.
Premier League schedule and odds for Matchday 29
(odds via DraftKings)
Monday, April 3:
Everton (+245) vs. Spurs (+115)
Tuesday, April 4:
Leeds (-120) vs. Nottingham Forest (+340)
Bournemouth (+475) vs. Brighton (-175)
Leicester (+140) vs. Aston Villa (+190)
Chelsea (+160) vs. Liverpool (+160)
Wednesday, April 5:
West Ham (+200) vs. Newcastle (+130)
Manchester United (-165) vs. Brentford (+400)
Premier League best bets for Matchday 29
Parlay: Manchester United ML + both teams to score (+210 via FanDuel) vs. Brentford ⭐⭐⭐
Moneyline: Liverpool double chance (+140 via PointsBet) vs. Manchester City ⭐⭐
Parlay: Arsenal -1 + Martin Odegaard to have two-plus shots (+135 via FanDuel) vs. Leeds ⭐⭐⭐⭐
Moneyline: Newcastle (+140 via BetMGM) vs. Manchester United ⭐⭐⭐
Check out our best Champions League odds.
Premier League top picks
Parlay: Manchester United ML + both teams to score vs. Brentford (+210 via FanDuel) ⭐⭐⭐
We're looking to profit off Manchester United twice this game week, though this time we're backing the Red Devils.
United have been one of the best home sides in the Premier League this season, taking the third-most points per home match at 2.31. Their plus-16 goal differential at Old Trafford is also the fourth-best mark, a far cry from their atrocious minus-12 in away matches.
Besides that track record, desperation will play a role in this match. United have failed to score in three straight matches, so they'll likely push for an early goal on Wednesday. Brentford are around the middle of the pack in terms of goals allowed and xGA away from home, and they're coming off a match in which they conceded thrice at Brighton.
Additionally, with Spurs playing Monday and Newcastle also playing again on Wednesday, United will very likely need all three points vs. Brentford to keep pace with their fellow top-four hopefuls. The likes of Brighton, Liverpool, and this Brentford side are also breathing down their necks for that Champions League spot.
The only argument against the second leg of the parlay is United's excellent defensive record at home, though I'm betting against it for a couple of reasons.
First, United have conceded a league-best eight goals at home, but their 13.1 xGA represents the biggest gulf in those numbers across the Premier League - a 5.1 goal difference between the actual number and expected number. Therefore, some regression is in order, especially since I expect United to play a more open brand of football in their attempt to finally score.
Secondly, Brentford are a feisty away side. Their 19.1 away xG are the sixth-most in the league, as are their 18 goals scored in that setting. They also just scored three in that aforementioned match at Brighton, who owned - and still do, even after that lackluster performance - one of the best defensive records at home this season.
I'm not expecting a ton of goals, but there's a reason why most sports betting sites are pricing Over 2.5 goals at -140 or shorter.
Moneyline: Liverpool double chance vs. Manchester City (+140 via PointsBet) ⭐⭐
We're getting to the point in the Premier League season when we have to factor in more than just pure statistical data (of which we have plenty) when making our picks. With fewer than 10 game weeks remaining in the campaign, some clubs have much more to play for in the Premier League than others.
Liverpool are one of those clubs, as they sit 7 points back of Spurs - with two games in hand - for fourth in the league. Liverpool are officially eliminated from the Champions League, meaning they have only their remaining Premier League matches to focus on.
Meanwhile, Manchester City sit 8 points back of a high-flying Arsenal side with a game in hand. However, they're the consensus favorites to win the Champions League, a title that's eluded the club since its transformation into a European giant. City have, however, won four of the last five Premier League titles, and their motivation to win a third straight championship has been called into question at various times throughout the campaign.
With Arsenal soaring and City's massive Champions League showdown against Bayern Munich only 10 days after this match (and with Erling Haaland dealing with a knock), Liverpool will certainly be the hungrier team on Saturday. City are also still involved in the FA Cup, putting even more soccer on their plate.
The reverse fixture ended in a 1-0 victory for Liverpool at Anfield. The Reds finished that match with 2.1 expected goals, the most any team has managed against City in the Premier League this season.
If this match took place at the beginning of February, I'd likely bet on City to win by more than two goals. However, Liverpool are in much better form now, taking 13 points from their last six matches and managing a plus-12 goal differential. They lost their last match to Bournemouth despite managing a plus-0.8 expected goal differential.
With two weeks since their last game and only fourth place in the Premier League to play for, look for a motivated Liverpool to take it to City in the weekend's headliner.
Parlay: Arsenal -1 + Martin Odegaard 2+ shots (+135 via FanDuel) ⭐⭐⭐⭐
Arsenal are looking for their first Premier League title since their historic "Invincibles" campaign in 2003-04. They may have tasted defeat this season, but the Gunners have still been wildly impressive.
They've taken 69 points from 28 matches and would finish with 93 points if they continue to produce results at this rate. Despite going unbeaten during their last title-winning campaign, Arsenal finished with just 90 points in 2003-04.
Of Arsenal's 22 wins this season, 14 have come by multiple goals. They've also won six straight matches, managing a plus-14 goal differential in those. Meanwhile, Leeds are in the bottom half of the league in both goal differential and xGD, and they've taken just 7 points from their last five matches.
For the second leg of our parlay, we have midfielder Martin Odegaard to record two or more shots (remember, we're betting on total shots and not shots on target). Odegaard is tied for fifth in the Premier League with 76 total shots this season, pacing Arsenal in the category. He ranks in the 98th percentile among midfielders with 2.66 total shots per 90 minutes. He's managed two or more shots in eight of his last 10 Premier League matches, and he recorded four in the reverse fixture at Leeds.
Moneyline: Newcastle ML vs. Manchester United (+140 via BetMGM) ⭐⭐⭐
In a battle between the third- and fifth-place teams, Manchester United will visit St. James' Park and take on Newcastle. United are ahead of Newcastle in the table by three points, but the circumstances of this match have me ready to back the lower side.
Newcastle have been one of the most dominant home teams in the Premier League this season. Their nine goals conceded rank joint-second and their 11.5 expected goals against are second only to Manchester City's mark.
If there's one knock on the Magpies - at home and in general - it's their relative lack of goals, but that's changed recently with the return of striker Alexander Isak. The big man has three goals in his last two games, both of which ended in 2-1 victories for Newcastle. With how stout Newcastle are at the back, they really need only one goal to walk out of St. James' with three points.
Meanwhile, United have been impressive overall this campaign but less so away from Old Trafford. United have the fourth-best goal differential and fifth-best expected goal differential at home, but they're right in the middle of the pack when it comes to those metrics in away matches.
Both clubs have struggled for form in recent weeks, though Newcastle are coming off those aforementioned two victories while United followed their 7-0 annihilation by Liverpool with a disappointing 0-0 draw against lowly Southampton.
United have managed to take the fifth-most points in away matches despite their underwhelming goal metrics, so some normalization is in order. Back one of the best home sides in the Premier League at plus money.
Premier League Matchday 29 best bets made 3/29/2023 at 10:30 a.m. ET.
(21+. Gambling Problem? Call 1-800-GAMBLER)
* Bonuses not applicable in Ontario.
Related pages