Top Premier League Matchday 35 Picks: Could There Be Drama at Both Ends of the Table?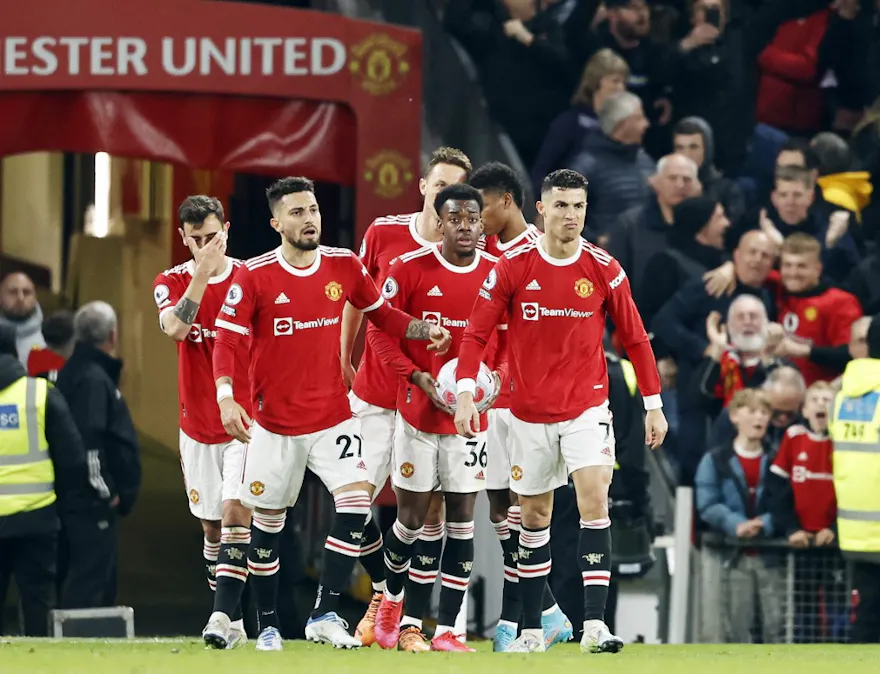 There's no time to rest for nearly half of the Premier League's teams, as both ends of the table feature hotly contested battles for position. Check out our Premier League Matchday 35 picks for a look at the action.
Matchday 34 featured further disappointment for a handful of teams desperately needing three points.
In a match between two clubs jockeying for the final Champions League spot, Arsenal continued their strong play at home by defeating Manchester United. Their cause was further aided by both Spurs' draw at Brentford and West Ham's loss at Chelsea. Arsenal now sit two points clear of their closest rivals in fourth place.
At the other end of the table, despite their best efforts to drain every ounce of life out of the game, Everton still failed to capture a point at Anfield. Meanwhile, in perhaps the biggest result of the weekend, Burnley defeated Wolves to move two points clear of the Toffees.
With only four matchweeks remaining, every point matters.
Here are my top Premier League Matchday 35 picks and predictions (odds via DraftKings Sportsbook, FanDuel Sportsbook, and BetMGM; pick confidence is based on a 1-to-5-star scale).
SEE ALSO: 2022 World Cup Draw
Premier League Matchday 35 Picks
Burnley or draw + Under 2.5 (+145 via DraftKings)?????Manchester United + Over 2.5 (+140 via FanDuel)????Everton 0.5 (+120 via DraftKings)???Tottenham + Under 3.5 (+135 via DraftKings)???Newcastle or draw + Under 3.5 (+290 via DraftKings)???
SEE ALSO: Top Serie A Matchday 35 Picks: One Last Twist In Title Race?
Premier League Matchday 35 Predictions
Burnley or draw + Under 2.5 (+145)
Burnley (3-1-1 last five): 1-7-8 away record (0.63 points per game), 13 away goals (13.5 expected goals) to 25 away goals against (26.1 expected goals against)Watford (1-0-4 last five): 2-1-13 home record (0.44 points per game), 15 home goals (16.3 xG) to 39 home goals against (29.4 xGA)
Generally, if you follow the numbers and trust the process, you should win more bets than you lose. But when it comes to the relegation battle during the final stretch of the Premier League season, you have to follow the narrative.
Watford are all but relegated following their expected destruction at the hands of Manchester City. Pride will take them only so far, as the players know they won't be donning this kit in the Premier League next season.
Meanwhile, Burnley have everything to play for. After controversially sacking Sean Dyche, the Clarets have taken seven points from their last three games. They've struggled mightily away from home this season, but Watford are still easily the worst home side in the Premier League. Burnley will manage to emerge from Vicarage Road with at least one point.
All three of Burnley's games since Dyche's exit have gone Under this total, and each team's general inability to score will make that a fourth on the trot.
Manchester United + Over 2.5 (+140)
Brentford (3-1-1 last five): 5-4-8 away record (1.12 points per game), 23 away goals (18.9 xG) to 30 away goals against (25.8 xGA)Manchester United (1-1-3 last five): 9-5-4 home record (1.78 points per game), 29 home goals (28.4 xG) to 22 home goals against (21.8 xGA)
United were played off the pitch in their midweek draw with Chelsea to the tune of a minus-1.5 expected goal differential. However, their ability to snatch a point from the match is a testament to the role Old Trafford plays. In what will be United's final home game of the Premier League season, you can expect a raucous crowd, and the players should respond accordingly.
For their part, Brentford are in sizzling form and have made a habit recently of frustrating the league's top sides. They crushed Chelsea to begin April before beating West Ham in their next match and drawing Spurs last weekend.
They should have no problem scoring at least one goal against a United defense that hasn't held a clean sheet since a 0-0 draw with Watford on Feb. 26. In fact, five of United's last eight league matches have sailed Over this number, while five of Brentford's last nine have done the same.
Despite the contrasting runs of form and Brentford's reputation for beating the big boys, United should emerge from their final home game of the season with the three points. The reverse fixture ended in a 3-1 United victory, and this game should feature a similar result.
Everton 0.5 (+115)
Chelsea (2-1-2 last five): 11-4-2 away record (2.18 points per game), 36 away goals (29.2 xG) to 10 away goals against (14.4 xGA)Everton (1-1-3 last five): 7-2-7 home record (1.44 points per game), 21 home goals (19.9 xG) to 20 home goals against (19.0 xGA)
It's now or never for Everton. The Toffees haven't played outside of England's top flight since returning from a very brief spell in the second tier in 1954. In fact, they're the second-longest-tenured club in the English top flight, holding such status longer than giants Liverpool, Manchester United, and Chelsea. They've spent only four total seasons outside of the first division, but the threat of relegation is all too real.
Now sitting two points back of Burnley (albeit with a game in hand), Everton desperately need at least a point from this massive fixture. It will be anything but straightforward, as Chelsea are the league's second-best away side. However, Everton have shown in their last three matches — particularly in the most recent one at Anfield — that they'll do anything it takes to exit with a point. They defeated United and drew Leicester, both at Goodison Park, before the Merseyside derby loss.
Meanwhile, Chelsea have little to play for with the season winding down. They've all but locked up a top-four spot but can do no better than the third-place position they presently occupy.
The reverse fixture finished 1-1 back on Dec. 16. With Goodison absolutely rocking on Sunday, Everton will emerge with at least one point.
Check out our top-rated sportsbooks here
Tottenham + Under 3.5 (+135)
Leicester (1-3-1 last five): 3-5-8 away record (0.88 points per game), 21 away goals (19.4 xG) to 31 away goals against (27.0 xGA)Spurs (3-1-1 last five): 10-1-5 home record (1.94 points per game), 31 home goals (29.1 xG) to 18 home goals against (17.6 xGA)
Spurs went from looking simply unstoppable to being blanked for 180 straight minutes in the blink of an eye. They outscored Brighton, West Ham, Newcastle, and Aston Villa by a combined 14-2 in four straight victories before losing 1-0 to that same Brighton side and playing to a scoreless draw at Brentford. Sitting two points back of Arsenal with a date with those Gunners looming in a couple of weeks, Tottenham absolutely need to recapture that earlier form and win this match.
Meanwhile, a usually free-flowing Leicester squad has become one of the tightest sides in England. The Foxes have played 10 straight league games Under this total and haven't scored more than two goals in a Premier League game since a 6-3 loss to Manchester City on Dec. 26. They'll make it much tougher on Spurs than in the reverse fixture, which resulted in a 3-2 Tottenham win.
Spurs are still the superior team, and they should bounce back following the aforementioned disappointing results. But don't expect it to be a comfortable victory.
Newcastle or draw + Under 3.5 (+285)
Liverpool (4-1-0 last five): 10-4-2 away record (2.13 points per game), 40 away goals (34.9 xG) to 15 away goals against (19.8 xGA)Newcastle (4-0-1 last five): 7-6-4 home record (1.59 points per game), 24 home goals (20.0 xG) to 26 home goals against (24.1 xGA)
Liverpool's final five Premier League matches will prove extremely tricky to navigate, with Champions League play and the FA Cup final jammed right in the middle of those fixtures. The first big test comes this weekend at St. James' Park, where Newcastle haven't dropped a single point since the January transfer window closed.
The Magpies have won six straight matches at home and have taken 32 points from their last 15 matches overall. That average of 2.13 points per game over the entire season would place Newcastle firmly in third in the Premier League, six points ahead of Chelsea.
Additionally, Liverpool's schedule is as congested as possible. They competed on the second day of Champions League play this past week and now get the early game on Saturday. Following this affair, they'll travel to Spain for their Champions League second-leg match with Villareal just three days later on May 3. It's a nightmare for a club in one of the tightest title races in recent memory, and if Liverpool are going to slip up, it could come in their trip up north.
Eleven of Newcastle's last 12 matches have gone Under this total. They have the necessary personnel to employ the same frustrating brand of anti-football Everton attempted to use in the Merseyside derby, but Newcastle also have the talent to emerge with at least a point.
Premier League Matchday 35 Parlay Picks
This week offers a tricky slate when picking outright winners, but this parlay combines a few of the safer favorites along with some relatively strong value picks.
Combined odds: Aston Villa (-256) + Southampton (+135) + Burnley (+175) + Manchester City (-333) + Spurs (-217) + Manchester United (-133) = +2983 (via BetMGM)
Where to Bet on Premier League Picks
Here are our top-rated sportsbooks:
FanDuel SportsbookCaesars SportsbookDraftKings SportsbookPointsBetBetMGM
SEE ALSO: All picks, odds, and sports betting news. Be sure to check out SportsbookReview.com's community forums and betting tools.
Premier League Matchday 35 picks made 4/29/2022 at 11:00 a.m. ET.