FanDuel Promo Code: Bet $5, Get $200 in Bonus Bets For USA vs. Italy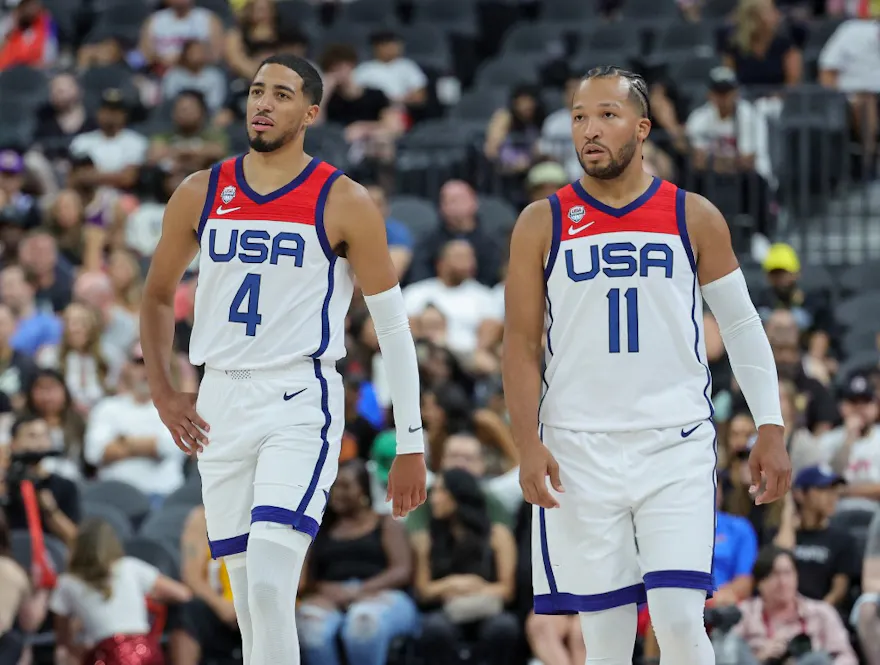 USA vs. Italy is set to get underway, and our FanDuel promo code offers new U.S. bettors $200 in bonus bets and $100 off of NFL Sunday Ticket!
Sign up for a new account at FanDuel, bet $5 and get $200 in bonus bets. You can also earn $100 off NFL Sunday Ticket! No promo code is needed, just click here!
FanDuel promo code for USA vs. Italy
The upcoming FIBA World Cup clash between the USA and Italy carries substantial importance, as both teams have advanced to the knockout stage with identical 4-1 records from group play. However, their recent performances paint a contrasting picture. Team USA endured a narrow defeat at the hands of Lithuania, while Italy confidently triumphed over Puerto Rico with a convincing 73-57 scoreline.
For the USA, their game plan revolves around key strategies aimed at limiting Italy's offensive rebounds and second-chance points. They also seek to diversify their scoring distribution, as their previous game against Lithuania saw Anthony Edwards leading with 35 points, while the remaining four starters combined for 31. Conversely, Italy aims to leverage its size advantage and adopt a slower pace to curtail the offensive opportunities of the athletically dominant USA squad.
The USA's loss to Lithuania was a hard-fought battle, with the American team staging a comeback in the second half and narrowing the gap to just four points in the closing moments. However, they missed a pivotal open 3-pointer that could have brought them within a single point. Despite facing a rebounding deficit and enduring a barrage of three-pointers from Lithuania, the USA maintained competitiveness until the final buzzer.
Italy's recent victory over Puerto Rico holds significance, albeit against a less formidable opponent. Italy boasted a +34 point differential in the group stage, while the USA showcased an impressive +109 differential. In terms of scoring, the USA has emerged as the top-scoring team in the tournament, averaging 101.4 points per game, while Italy's average of 80.8 points per game places them 20th in the rankings.
Given these factors, the favored choice in our USA vs. Italy preview appears to be the substantial spread, as Italy is not expected to excel in areas where the USA has demonstrated considerable strength.
Check out our best sports betting apps.
How the FanDuel promo code works
Though no FanDuel promo code is required to claim the bonus bets from the sportsbook, you will need to be a first-time FanDuel customer in an eligible state. Follow these steps below to redeem your sign-up bonus quickly and efficiently:
Click here. You will need to download the FanDuel app to use the offer, but no promo code is needed! (This promotion is not available in Ontario.)
Pick your state.
Follow the prompts and enter the necessary personal information: Your name, age, location, etc.
Make a first-time deposit of at least $5.
Place your first real-money wager at FanDuel Sportsbook on any live market during the time frame of the offer. If the bet loses, FanDuel will award you a bonus bet equal to the amount of the first wager up to $200, plus $100 off of NFL Sunday Ticket.
FanDuel Sportsbook features
FanDuel offers a number of great features.
Perhaps the first thing you will notice is its user-friendly interface, which makes it easy for both new and experienced bettors to navigate and place bets. The platform offers a seamless and intuitive design across its website and mobile app, ensuring a smooth betting experience.
FanDuel also provides a vast array of betting options, covering various sports and events. Users can find a comprehensive selection of betting markets for major sports leagues like the NFL, NBA, MLB, and NHL, as well as college sports, soccer, golf, tennis, and more. This extensive range of options allows users to find and bet on their preferred sports and events.
Third, and the most relevant, FanDuel Sportsbook strives to offer competitive odds and promotions to its users. The latter includes deposit bonuses, risk-free bets, and special offers tied to specific events.
Click here for the full FanDuel review.
Who can claim a FanDuel Sportsbook promo code?
This promo code is available to any new customer located in one of the following states:
(21+. Gambling Problem? Call 1-800-GAMBLER)
* Bonuses not applicable in Ontario.
Related pages