FanDuel Promo Code: Bet $5, Get $200 in Bonus Bets For Texas-Alabama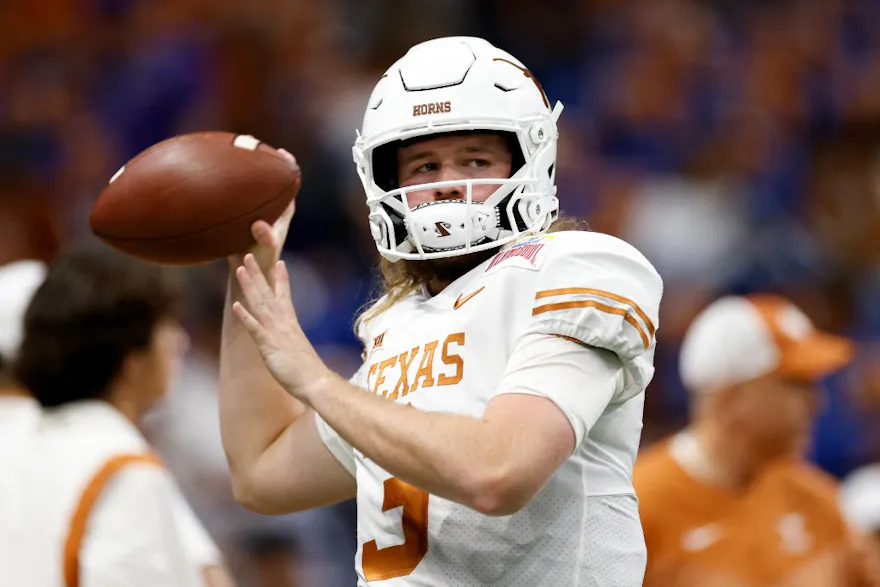 Texas-Alabama is set to get underway, and our FanDuel promo code offers new U.S. bettors $200 in bonus bets and $100 off of NFL Sunday Ticket!
Sign up for a new account at FanDuel, bet $5 and get $200 in bonus bets. You can also earn $100 off NFL Sunday Ticket! No promo code is needed, just click here!
FanDuel promo code for Texas-Alabama
The Crimson Tide clinched a thrilling victory in Austin with a last-minute field goal in 2022, leaving the Longhorns eager for redemption in Week 2. However, the upcoming matchup is shrouded in uncertainty as both teams grapple with the departure of key players to the NFL Draft. The question looms whether the Longhorns can engineer a surprise upset given the significant talent drain on both sides. For more, check out our Texas-Alabama prediction.
Week 1 for both teams seemed like a mere warm-up exercise as they effortlessly dispatched their opponents. The Crimson Tide made quick work of the Middle Tennessee Blue Raiders, while the Longhorns faced minimal resistance from the Rice Owls. Quarterbacks Quinn Ewers and Jalen Milroe were standout performers, each tossing three touchdowns to open the season. The real test, though, lies ahead as they confront formidable defenses in Week 2. The outcome of this weekend's clash will significantly impact the college football landscape, making it a pivotal moment for fans and analysts alike.
The Longhorns' quest for an upset hinges on their ability to navigate the challenges posed by the Crimson Tide, who are perennial powerhouses in college football. The departure of key players adds an extra layer of uncertainty to this showdown, as it remains to be seen how their replacements will perform under the spotlight. Meanwhile, the Crimson Tide, under Nick Saban's guidance, have consistently proven their mettle, and they are not a team to be underestimated.
As college football enthusiasts eagerly await Week 2, the performance of Ewers and Milroe against tougher defenses will be closely scrutinized. Their ability to replicate their Week 1 success will play a pivotal role in determining the outcome of this high-stakes clash. With the potential for surprises and upsets, this matchup promises to be a defining moment in the early stages of the college football season, offering fans a tantalizing taste of the drama and excitement to come.
Check out our best sports betting apps.
How the FanDuel promo code works
Though no FanDuel promo code is required to claim the bonus bets from the sportsbook, you will need to be a first-time FanDuel customer in an eligible state. Follow these steps below to redeem your sign-up bonus quickly and efficiently:
Click here. You will need to download the FanDuel app to use the offer, but no promo code is needed! (This promotion is not available in Ontario.)
Pick your state.
Follow the prompts and enter the necessary personal information: Your name, age, location, etc.
Make a first-time deposit of at least $5.
Place your first real-money wager at FanDuel Sportsbook on any live market during the time frame of the offer. If the bet loses, FanDuel will award you a bonus bet equal to the amount of the first wager up to $200, plus $100 off of NFL Sunday Ticket.
FanDuel Sportsbook features
FanDuel offers a number of great features.
Perhaps the first thing you will notice is its user-friendly interface, which makes it easy for both new and experienced bettors to navigate and place bets. The platform offers a seamless and intuitive design across its website and mobile app, ensuring a smooth betting experience.
FanDuel also provides a vast array of betting options, covering various sports and events. Users can find a comprehensive selection of betting markets for major sports leagues like the NFL, NBA, MLB, and NHL, as well as college sports, soccer, golf, tennis, and more. This extensive range of options allows users to find and bet on their preferred sports and events.
Third, and the most relevant, FanDuel Sportsbook strives to offer competitive odds and promotions to its users. The latter includes deposit bonuses, risk-free bets, and special offers tied to specific events.
Click here for the full FanDuel review.
Who can claim a FanDuel Sportsbook promo code?
This promo code is available to any new customer located in one of the following states:
(21+. Gambling Problem? Call 1-800-GAMBLER)
* Bonuses not applicable in Ontario.
Related pages