Caesars Promo Code: Bet $50, Get $250 in Bonus Bets For USA-Jordan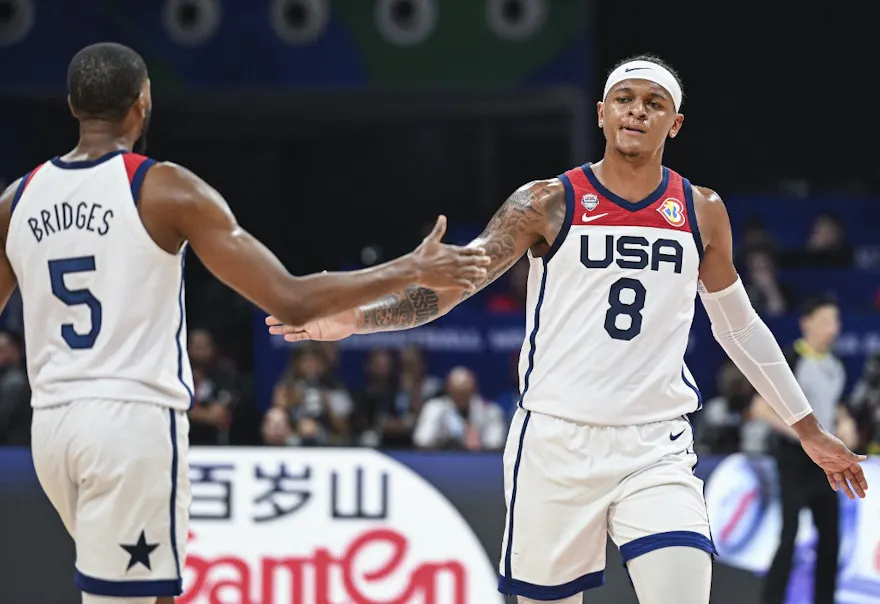 USA-Jordan is set to get underway, and new U.S. bettors can receive up to $250 in bonus bets with this Caesars promo code.
Sign up with Caesars, and you will qualify to receive up to $250 in bonus bets when you bet $50. Click here and use our exclusive Caesars promo code SBRBONUS1000!
Caesars promo code for USA-Jordan
In the impending game between USA Basketball and Jordan, the victory outcome strongly favors the American team, leaving little doubt about the winner. The main curiosity lies in the extent of the victory margin and the spectacular dunks that the USA team might deliver during the course of the game.
While the spotlight naturally falls on USA Basketball, it's worth directing attention towards Rondae Hollis-Jefferson in this matchup. The player, known for his time with the Arizona Wildcats, has showcased an impressive performance in the ongoing tournament. Averaging an impressive 31.5 points per game across the initial two matches of the FIBA World Cup, Hollis-Jefferson stands out as a notable performer. For more, check out our USA-Jordan prediction.
Anticipated as a lopsided encounter, the game's outcome is predicted to be a blowout. However, the focus shifts towards potential advantageous positions within the betting markets, indicating that even in a largely one-sided match, there might be opportunities for strategic bets or market insights. This insight suggests that beyond the expected result, there's potential to uncover nuances that could impact the betting landscape.
Check out our best sports betting apps.
How the Caesars promo code works
Follow these steps below to redeem your Caesars promo code quickly and efficiently:
New users in eligible states will be able to secure the sign-up bonus by clicking here when registering a new account with the sportsbook. Use our exclusive Caesars promo code SBRBONUS1000.
Enter your personal information to complete your new account (I.e. your name, age, location, etc.) The offer can be accessed on desktop or mobile.
New Caesars customers must make a minimum $10 initial deposit.
Make an initial wager on any sports market. If your wager loses, the sign-up bonus activates and Caesars will reimburse the stake. If your do-over bet wins, Caesars will pay out the winnings but will not return the stake.
Reimbursement is ineligible for withdrawal. Instead, new users must reinvest the full amount received into another wager (a bonus bet) and win before being able to withdraw any funds.
Caesars features
Caesars offers a number of features that make it enticing to new bettors.
First, it's backed by the well-established and reputable Caesars Entertainment Corporation. The company's long-standing presence in the gaming and hospitality industry instills confidence in users regarding the platform's reliability and trustworthiness.
Additionally, it offers a diverse range of sports and events from around the world, allowing users to find bets that align with their interests and knowledge.
Finally, Caesars is known for its user-friendly interface, making it easy for both novice and experienced bettors to navigate the platform. The intuitive design streamlines the betting process, enabling users to place wagers with ease.
Click here for the full Caesars review.
Who can claim a Caesars promo code?
This promo code is available to any new customer located in one of the following states:
(21+. Gambling Problem? Call 1-800-GAMBLER)
* Bonuses not applicable in Ontario.
Related pages