Caesars Promo Code: Get a Bonus Bet of Up to $1,000 For Steelers-Raiders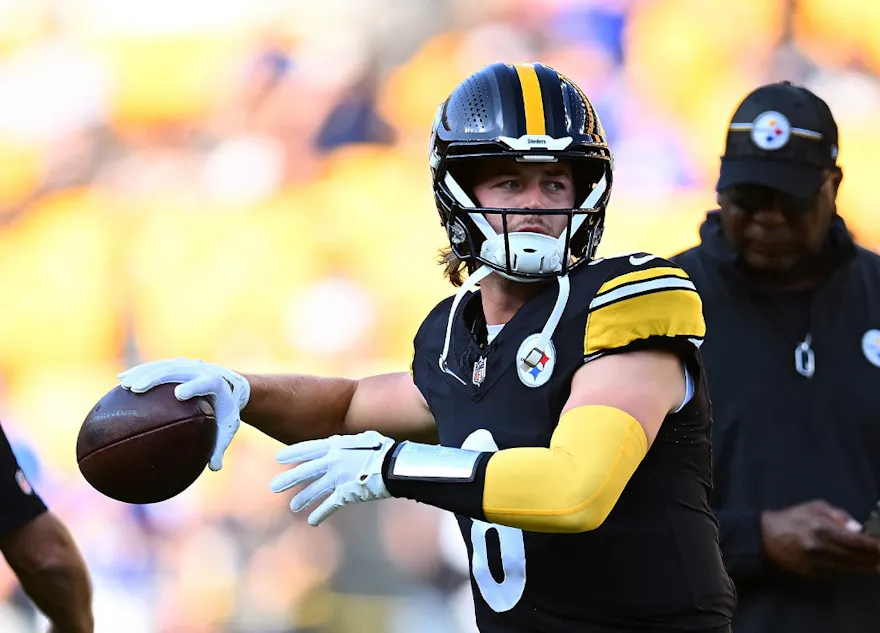 Steelers-Raiders is set to get underway, and new U.S. bettors can receive up to a $1,000 bonus bet with this Caesars promo code.
Sign up with Caesars, and you will qualify to receive up to a $1,000 bonus if your first bet fails. Click here and use our exclusive Caesars promo code SBRBONUS1000!
Caesars promo code for Steelers-Raiders
When the Pittsburgh Steelers face off against the Las Vegas Raiders on Sunday night, scoring points may prove to be a challenging task for both teams. Neither team has found a consistent offensive rhythm in the early part of the season. Pittsburgh, with a record of 1-1, has managed to score only 19 offensive points and has punted a staggering 13 times, a stark contrast to their 24 total first downs. Despite their offensive struggles, the Steelers clinched a 26-22 victory over the Cleveland Browns, thanks to crucial defensive touchdowns by Alex Highsmith and T.J. Watt.
On the other hand, the Raiders, also sitting at 1-1, are tied for the lowest points per game in the league, averaging just 13.5. Their star rusher, Josh Jacobs, has had a rough start to the season, recording a career-worst minus-2 rushing yards on nine attempts in a 38-10 loss to the Buffalo Bills. Jacobs, who led the NFL in rushing yards last season, has managed only 46 yards on 28 carries in two games, with a long gain of just 7 yards.
In their loss to the Bills, the Raiders struggled to maintain possession of the ball, running only 13 second-half offensive plays and 39 for the entire game, while the Bills controlled the clock for 40 minutes and 4 seconds. Despite the challenges, there's optimism within the Raiders camp about their potential for improvement.
The Raiders are adjusting to new quarterback Jimmy Garoppolo, and their offense ranks 30th in total yardage, averaging 250.5 yards per game. Garoppolo has had his share of struggles, with 385 passing yards, three touchdowns, and three interceptions, acknowledging the need for significant improvement.
The Steelers, meanwhile, find themselves in a similar predicament, ranking 31st in total offense with an average of 247.0 yards per game. Second-year quarterback Kenny Pickett has had a slow start, accumulating 454 yards, two touchdowns, and three interceptions. Pickett expressed the need for the team to establish an offensive identity and address their struggles.
Both teams are fully aware of their offensive issues, and their respective coaches, Mike Tomlin for the Steelers and the Raiders' staff, are actively seeking solutions to regain their offensive mojo. In this crucial matchup, defensive playmakers like T.J. Watt, who leads the NFL with four sacks, will be pivotal, as demonstrated by his decisive touchdown in the Steelers' victory over the Browns.
The game is also marked by a series of injuries on both sides. For the Raiders, defensive end Chandler Jones is on the non-football injury list, while several players are dealing with illnesses or limited due to various injuries. The Steelers have their own injury concerns, including safety Minkah Fitzpatrick, who was hospitalized for precautionary reasons after Monday's game.
In summary, the upcoming Steelers vs. Raiders clash promises a battle of struggling offenses, with both teams seeking to rectify their issues. Defensive play and injury management will be key factors in determining the outcome of the game, as these two teams look to find their footing early in the season.
For more on this matchup, turn to our Steelers-Raiders prediction and Steelers-Raiders prop picks.
Check out our best sports betting apps.
How the Caesars promo code works
Follow these steps below to redeem your Caesars promo code quickly and efficiently:
New users in eligible states will be able to secure the sign-up bonus by clicking here when registering a new account with the sportsbook. Use our exclusive Caesars promo code SBRBONUS1000.
Enter your personal information to complete your new account (I.e. your name, age, location, etc.) The offer can be accessed on desktop or mobile.
New Caesars customers must make a minimum $10 initial deposit.
Make an initial wager on any sports market. If your wager loses, the sign-up bonus activates and Caesars will reimburse the stake. If your do-over bet wins, Caesars will pay out the winnings but will not return the stake.
Reimbursement is ineligible for withdrawal. Instead, new users must reinvest the full amount received into another wager (a bonus bet) and win before being able to withdraw any funds.
Caesars features
Caesars offers a number of features that make it enticing to new bettors.
First, it's backed by the well-established and reputable Caesars Entertainment Corporation. The company's long-standing presence in the gaming and hospitality industry instills confidence in users regarding the platform's reliability and trustworthiness.
Additionally, it offers a diverse range of sports and events from around the world, allowing users to find bets that align with their interests and knowledge.
Finally, Caesars is known for its user-friendly interface, making it easy for both novice and experienced bettors to navigate the platform. The intuitive design streamlines the betting process, enabling users to place wagers with ease.
Click here for the full Caesars review.
Who can claim a Caesars promo code?
This promo code is available to any new customer located in one of the following states:
(21+. Gambling Problem? Call 1-800-GAMBLER)
* Bonuses not applicable in Ontario.
Related pages