NFL Week 3 Teaser Picks: Jumping Back on the Bengals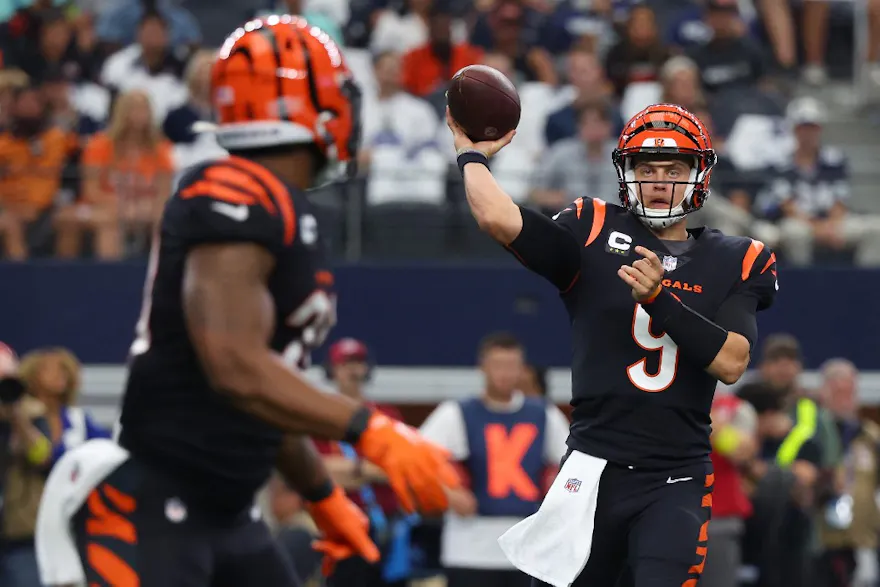 The Cincinnati Bengals, Kansas City Chiefs, Green Bay Packers and Denver Broncos highlight our NFL Week 3 teaser picks.
While often dubbed a square bet, teasers provide bettors the opportunity to move multiple point spreads and totals to a number they're comfortable with in exchange for additional vig.
Having the benefit of moving spreads and totals across key numbers can provide a sharp advantage to your handicapping. Check out our teaser betting primer for additional information.
Here are our NFL teaser picks for Week 3. Lines from FanDuel Sportsbook as of 1 p.m. ET on Tuesday, Sept. 20.
Week 3 NFL ATS Teaser Picks
Favorites to tease down
Bengals (-4.5) at Jets
The New York Jets pulled off a miraculous comeback win in Week 2 after having a loss probability of 99.9% with 2:09 remaining in the fourth quarter. This sets up as a rebound spot for the 0-2 Cincinnati Bengals and quarterback Joe Burrow.
New York has surrendered the second-most EPA per play, including the second-highest rate per dropback this season. Add the Jets' grading sixth-worst in defense and fourth-worst in coverage per Pro Football Focus, and the Cincinnati offense stands to have more success in Week 3.
Burrow paced the NFL in completion percentage (70.4) and yards per attempt (8.9) last season. His 64.0 and 6.0 marks, respectively, through two games this season are eyeing positive regression. Additionally, his -0.043 EPA per play is ripe for a statistical correction after recording a 0.186 mark in 2021.
There's potential for this spread to climb in the Bengals' favor, so moving across key numbers and even adding points to Cincinnati for extra wiggle room sooner than later is a sound teaser leg.
Chiefs (-6.5) at Colts
Rewind two weeks, and this Kansas City Chiefs-Indianapolis Colts tilt would have been considered a tape-measuring matchup between AFC contenders. Instead, the Chiefs are laying nearly a touchdown on the road against the 0-2 Colts.
Kansas City has been one of the best offenses in the league through the first two games with a top-ranked 0.286 EPA per play and 52.8 success rate, in addition to the second-highest offense grade per PFF.
Colts quarterback Matt Ryan has struggled mightily with the second-worst EPA per play in the league. Indianapolis also ranks 24th in rushing and 21st in defense grades per PFF.
With the mindset that the Chiefs probably aren't as good as they've looked to start the season, and the Colts aren't as bad, teasing the KC spread down to -2.5 or all the way to +0.5 limits the risk of a bounce-back showing from Indy. It's also worth highlighting this spread will likely climb to Chiefs -7 and potentially higher with a lot of books already at the -7 number.
Underdogs to tease up
Broncos (+1) vs. 49ers
The Denver Broncos had a look-ahead line of -3 home favorites for this matchup, so you can tease this spread across multiple key numbers to land a big cushion. Broncos quarterback Russell Wilson sports a modest 58.9 completion percentage and 7.7 yards per attempt to start the season, and the offense has also failed to find the end zone in any of its six red-zone plays.
Even with the San Francisco 49ers boasting one of the league's best defenses to start the campaign, there's statistical correction ahead for the Broncos, and there's also been an overcorrection to Denver's underwhelming start in betting markets.
After all, Denver has outgained opponents by 296 yards and rank fifth in time of possession while also allowing the eighth-lowest EPA per play through its first two games.
This has a hold-your-nose feel, but Denver boasts a true home-field advantage and just needs to hang within a possession against the 49ers in prime time.
Packers (+2.5) at Buccaneers
Money has come flying in on the Under in this contest, so teasing up the Green Bay Packers across multiple key numbers in what is projecting to be a close, low-scoring contest provides value.
The Packers are excelling on the ground with the fourth-highest rushing success rate and the highest rushing grade in the league per PFF. It's a strength that should translate well for the road underdog.
Green Bay also generated a better pass rush with three sacks and 10 hurries against the Chicago Bears in Week 2. The Packers held the Bears to just 11 first downs and 22:45 of time of possession. The Green Bay defense will be a tough test for the Tampa Bay Buccaneers.
After all, while the Buccaneers sport a 2-0 record with consecutive road wins, the offense is both banged up and appears out of sync. The Bucs rank 25th in EPA per play, and quarterback Tom Brady's 59.0 completion percentage and 6.6 yards per attempt affirm the lack of offensive chemistry.
Week 3 NFL O/U Teaser Picks
Totals to tease down
Eagles-Commanders (47.5)
This total has dropped considerably following the Philadelphia Eagles' statement 24-7 win over the Minnesota Vikings on Monday Night Football, so you can grab an even larger cushion from the opening number of 50.
The Eagles boast the league's best offense grade per PFF, and the Washington Commanders rank 11th. Additionally, the two clubs sport respective ranks of fourth and 10th in EPA per play.
Both teams have played a high-scoring game against the Detroit Lions this season, and having the common opponent offers insight into how the two teams stack up on both sides of the ball. There were 73 points in the Philly-Detroit Lions game in Week 1, and last week the Commanders and Lions combined for 63 points.
This total can be teased down through the key range of 43-44 points.
Packers-Buccaneers (41.5)
There was early money on the Under to plummet this total from an opener of 47.5, so teasing it down even further presents a nice opportunity to grab a considerable margin from the opening number and past the key range of 36-to-37 points.
The rationale for the Under is sound, and many of the key points were highlighted in the previous analysis of teasing the Packers up from +2.5. However, there will be a breaking point, and if the total continues to fall there will be buyback on the Over – especially for those with a wide opening for a potential middle.
This is a marquee matchup between established quarterbacks who both rank in the top five in passing grade through two weeks. So, even if both defenses project to make an impact and prevent this from turning into a shootout, you're able to lock in a number right now that would have been unimaginable as recently as last week.
Totals to tease up
Jaguars-Chargers (47.5)
With Los Angeles Chargers quarterback Justin Herbert sustaining fractured rib cartilage during the Week 2 loss to the Kansas City Chiefs, there's potential he misses practice time and suits up at less than 100% health against the Jacksonville Jaguars. If he's ruled out, this total will crash.
Additionally, this total has already been bet down from an opening 50.5. A cross-country trip to face a stout defense projects as a tough spot for the Jaguars and second-year quarterback Trevor Lawrence. After all, even with a tough Week 2 matchup against the Chiefs, the Chargers still rank 11th in EPA allowed per play.
Los Angeles has also pressured opposing quarterbacks 21 times through the first two games, and Lawrence has a 36.4 completion percentage with 4.0 yards per attempt on 23 pressures this season. If Jacksonville struggles to protect its franchise quarterback, it's going to be a long afternoon for the offense.
Let's not overlook the solid start for the Jacksonville defense, either. The Jags rank fourth in EPA allowed per play and have surrendered the second lowest success rate.
Saints-Panthers (40.5)
This total hasn't moved since opening, which suggests it's a sharp number, and both teams have shown well on defense. The New Orleans Saints rank fifth in EPA allowed, and the Carolina Panthers are 10th. Offensively, they rank 30th and 15th, respectively, in the metric.
Additionally, Carolina has run the third-fewest offensive plays, and New Orleans is tied for the 11th fewest.
Boosting this total past the key range of 43-to-44 points is a bet against quarterbacks Baker Mayfield and Jameis Winston. The two signal callers sport the 32nd and 19th respective offense grades per PFF, and their success rates are 31st and 21st through two weeks.
It's also worth noting Winston played through multiple back fractures in Week 2, and Saints running back Alvin Kamara missed the game entirely due to a rib injury.
Simply put, this is a divisional matchup featuring two teams playing much better defensively than offensively, and the current total is an accurate number.
Where to Bet on the NFL
Here are our top-rated sportsbooks:
SEE ALSO: All picks, odds, and sports betting news. Be sure to check out SportsbookReview.com's community forums and betting tools.