Stanley Cup 2023 Odds, Picks, Predictions: Colorado Avalanche Heavy Favorites to Repeat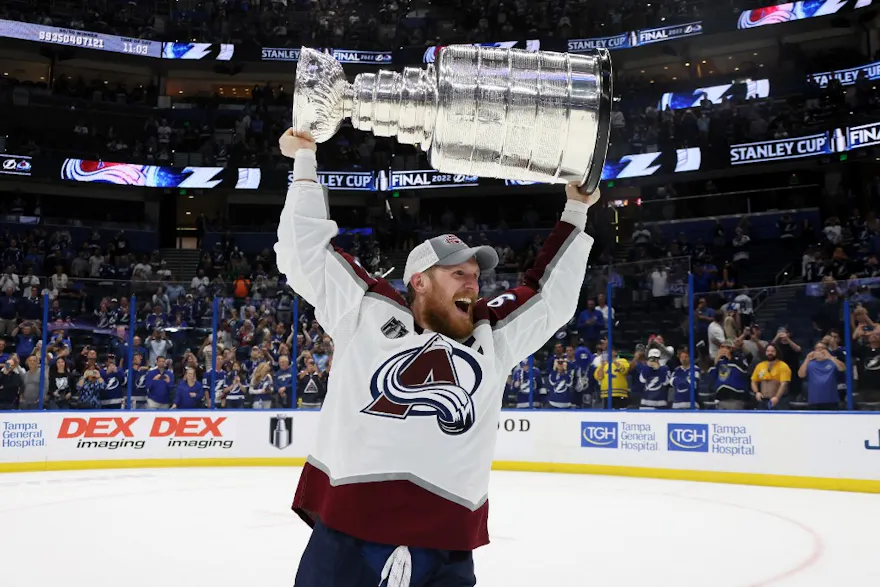 With NHL training camps around the corner, here's an early look at the odds and our top picks for the 2022-23 Stanley Cup.
The Colorado Avalanche won the Stanley Cup in 2021-22 after defeating the two-time defending champion Tampa Bay Lightning. There's an inner circle among the contenders going into this season.
That doesn't mean teams from outside that circle are forbidden from entering. Frequently, teams in the window to win a Stanley Cup spend years contending before breaking through. The 2019 St. Louis Blues were the exception, as they were going nowhere at midseason before beginning a championship run.
What does that mean for Stanley Cup betting? Yes, there are clear favorites, but always monitor the odds from teams that start outside the favorites. A hot goaltender or a new acquisition might help push those squads over the top.
Here's a look at the Stanley Cup odds and some of our early picks before NHL training camps get underway.
2023 Stanley Cup Odds
| | | | | | |
| --- | --- | --- | --- | --- | --- |
| Team | DraftKings | FanDuel | Caesars | BetMGM | PointsBet |
| Avalanche | +380 | +450 | +400 | +425 | +425 |
| Maple Leafs | +700 | +1000 | +1000 | +800 | +900 |
| Panthers | +850 | +1100 | +1200 | +900 | +1100 |
| Hurricanes | +1100 | +1000 | +1000 | +1000 | +1200 |
| Lightning | +1200 | +1200 | +1000 | +1200 | +1000 |
| Oilers | +1600 | +1500 | +1300 | +1400 | +1400 |
| Flames | +1700 | +1600 | +1800 | +1800 | +1500 |
| Wild | +1900 | +1800 | +2200 | +1800 | +2000 |
| Rangers | +2000 | +1800 | +1500 | +1800 | +2000 |
| Penguins | +2000 | +1900 | +2500 | +1800 | +1800 |
Stanley Cup Picks: Favorites
There's nothing wrong with the defending Stanley Cup champions being favored to repeat. Even with a few notable losses in free agency, including center Nazem Kadri and goaltender Darcy Kuemper, the Avalanche are loaded with talent and are well-positioned to win.
However, at current prices, there's not much value to be found. It's better to hope that Colorado struggles at some point and the odds get longer during the season.
Maple Leafs (+1000 at Caesars)
A team that has not won a playoff round since 2013, and infamously last won a Stanley Cup in 1967, the Toronto Maple Leafs produced a franchise-best regular season in 2021-22 while recording 115 points, good for a .701 points percentage. The Maple Leafs have boasted the talent to be Stanley Cup contenders for the past couple of seasons.
Even though there are question marks in goal, it might be worth investing in the Leafs soon. Eight of Toronto's first 11 opponents to begin the 2022-23 season didn't make the playoffs last year, so the Leafs could be poised to start strong once again.
Panthers (+1200 at Caesars)
The Florida Panthers produced the league's best record in 2021-22, then still underwent a major offseason shakeup. Paul Maurice was brought in as the new head coach, while leading scorer Jonathan Huberdeau and defenseman MacKenzie Weegar were traded to the Calgary Flames for Matthew Tkachuk. That's a significant change, but the Panthers still boast a strong core. And like the Maple Leafs, nine of Florida's first 11 home games come against teams that didn't make the playoffs last season.
Hurricanes (+1200 at PointsBet)
The Carolina Hurricanes have reached the playoffs in four straight seasons. They've also played at better than a .700 points percentage over the past two campaigns, finishing with 116 points in 2021-2022.
That makes the team a contender, and Carolina added defenseman Brent Burns to replace Tony DeAngelo. And when newly acquired winger Max Pacioretty suffered a torn Achilles, the 'Canes grabbed center Paul Stastny. In the first month of the season, The Hurricanes will get tested with games against Colorado, Florida, Tampa Bay, Toronto, Calgary, and two against the Edmonton Oilers. If they are still in good shape at that point, the odds may not climb any higher.
After winning back-to-back Stanley Cups, the Lightning lost in the final to Colorado in 2021-22. While the Cup-winning core largely remains in place, there have been some salary cap casualties. Left winger Ondrej Palat signed with the New Jersey Devils and defenseman Ryan McDonagh was traded to the Nashville Predators.
It's hard to go against a team that's been playing at such a high level for so long.
Stanley Cup Picks: Contenders
Oilers (+1600 at DraftKings)
The Oilers are looking to break through as Stanley Cup contenders after adding goaltender Jack Campbell and re-signing winger Evander Kane. They've reached the playoffs for three straight years, and anything less than contending for the Stanley Cup would be a waste of Connor McDavid's prime.
They'll be in the hunt after reaching the Western Conference Final last season, and their price is fair enough heading into the season.
Flames (+1800 at Caesars)
The Flames have stayed in the hunt after losing Johnny Gaudreau during free agency and being pressured to trade Tkachuk. They acquired Huberdeau and Weegar in the Tkachuk trade and then signed Kadri. The Flames and Oilers will battle for the Pacific Division, and they'll also clash as Stanley Cup contenders.
Wild (+2200 at Caesars)
Facing a cap crunch tied to last summer's buyouts of Zach Parise and Ryan Suter, the Minnesota Wild traded scoring winger Kevin Fiala to the Los Angeles Kings and that loss of production should not be taken for granted. As a result, the Wild need young players like Matt Boldy, Marco Rossi, and Calen Addison to have productive seasons if they are going to push their way into Cup contender status. That leaves some uncertainty that could make it worth waiting to see how the Wild perform early in the season.
Rangers (+2000 at DraftKings)
Igor Shesterkin was the best goaltender on the planet last season and the New York Rangers reached the Eastern Conference Final, where they lost in six games to the Lightning. The Rangers do not control play like a typical Cup contender, but they have high-end talent and if the goaltending is great, they might have a shot at contending. The best play might be to see if the Rangers' possession numbers show signs of improvement early in the year before investing because that could offer a more sustainable path to success.
Golden Knights (+2500 at DraftKings)
After missing the playoffs for the first time in franchise history last season, the Vegas Golden Knights will expect to bounce back, and they have a chance to do it because a full season of Jack Eichel and better health throughout the roster could go a long way. The question that hangs over the Golden Knights is whether they will have sufficient goaltending.
Injuries to Robin Lehner and Laurent Brossoit leave Vegas with Logan Thompson and Adin Hill in net. Both of whom have shown promise, but have little experience. That uncertainty could make it worthwhile to wait and see if those goaltenders are ready to backstop a contender.
Penguins (+2500 at Caesars)
The Pittsburgh Penguins' decision to re-sign free agent center Evgeni Malkin and defenseman Kris Letang keeps their stars in place alongside Sidney Crosby, but those stars are in their mid-30s, and that does not seem like the path to a Stanley Cup.
These players are great enough that they can still get to the playoffs, but the Penguins would have to show something during the season to suggest that they will be able to contend against teams at the highest level.
Bruins (+2800 at DraftKings)
The Boston Bruins, who reached the playoffs for six straight seasons, lured centers Patrice Bergeron and David Krejci back for one more kick at the can, and they have a roster that, when healthy, can be a contender. The Bruins are facing the prospect of starting the season without star left winger Brad Marchand and star defenseman Charlie McAvoy, so it would make sense to see how they fare during a stretch in late November and early December in which they face Tampa Bay, Colorado, and Vegas twice, plus Carolina, and Florida in a nine-game span.
Stanley Cup Picks: Hopefuls
Kings (+3500 via DraftKings)
The Kings traded for Fiala to accelerate the next step in their development after reaching the playoffs for the first time since 2017-2018. There are fair questions about the Kings' core, still dependent on veterans Anze Kopitar and Drew Dougthy, and whether they can rely on goaltenders Cal Petersen and Jonathan Quick. However, they are worth monitoring as the season progresses, as it does not seem likely that this price will get dramatically shorter early in the year.
Predators (+5000 via Caesars)
Although the Predators have been a consistent playoff team, they have never won the Stanley Cup, so maybe it makes sense that their odds are longer. At the same time, they bolstered last year's playoff team by acquiring McDonagh for the blue line and signing winger Nino Niederreiter. They are likely going to be a playoff team again and by that expectation alone, their preseason odds likely offer some positive value.
Blues (+4000 via DraftKings)
The Blues have reached the postseason in nine of the past 10 seasons, winning the Stanley Cup in 2019, and they have a solid core of veterans that could very well get back to the playoffs again. If they are going to win the Stanley Cup, they might need another miracle run from goaltender Jordan Binnington.
That is hardly the path to elevated expectations for results this season.
Islanders (+4000 via DraftKings)
Going into last season, expectations were high for the New York Islanders after they had reached the final four in the previous two seasons, but then they missed the playoffs. New head coach Lane Lambert takes over a team that made hardly any changes to the roster, so they are going to depend on internal improvement and the excellence of goaltender Ilya Sorokin. There are enough tough tests in October that the Islanders' price should not get much shorter early in the season.
Capitals (+4000 via DraftKings)
An aging core that will start the season without power forward Tom Wilson and may not have star center Nicklas Backstrom for most or all of the season, the Washington Capitals might be a playoff team but need a lot to break right – especially relative to Backstrom's health – if they are going to contend for the Stanley Cup. Under those circumstances, it's worth waiting to see if the Capitals offer any reason for optimism during the season.
Stars (+5000 via BetMGM)
The Dallas Stars do not have a roster that looks Stanley Cup ready, though they did not look Stanley Cup ready and still reached the final in 2020. They have rising stars like Jason Robertson (still seeking a new contract), Miro Heiskanen, Jake Oettinger, and Roope Hintz; however, if Dallas is going to contend, it will need big contributions from veterans. Joe Pavelski remains in fine form, but Tyler Seguin and Jamie Benn come with question marks at this stage of their careers. Consider the Stars a team to monitor during the season.
Canucks (+5000 via FanDuel)
After Bruce Boudreau took over behind the Vancouver Canucks' bench last season, Vancouver played at a 106-point pace. They also were heavily dependent on goaltender Thatcher Demko, so improvement was needed. The Canucks went out and signed Ilya Mikheyev and Andrei Kuzmenko to bolster their forward group. The defense is still a concern but the Canucks should have the firepower to reach the playoffs, which would make their current price a reasonable value proposition.
Devils (+6600 via BetMGM)
A team that had just 63 points last season is not likely to win the Stanley Cup, but the Devils are better than a standard 63-point team. Their underlying numbers, measuring shot and expected goal differentials, profiled more like a playoff team, but they had abysmal goaltending. They addressed that by acquiring Vitek Vanecek and picked up reliable left winger Palat, who brings Stanley Cup experience from Tampa Bay.
With center Jack Hughes on the cusp of stardom, the Devils are set for a big jump in the standings, so their Stanley Cup prices might not get much higher than where they sit in the preseason.
Senators (+5500 via PointsBet)
There may not be another team that did as much to change their perception in the offseason, as the Ottawa Senators. They traded for scoring winger Alex DeBrincat, signed free agent forward Claude Giroux, and traded for goaltender Cam Talbot. Add in top prospect Jake Sanderson joining the Ottawa blueline and the Senators are shooting for their first playoff berth since 2016-2017. They are probably not Cup-ready yet, but the price is tempting.
Red Wings (+6000 via DraftKings)
After seeing the emergence of rookies Moritz Seider and Lucas Raymond last season, the Detroit Red Wings went out and acquired goaltender Ville Husso, defensemen Ben Chiarot and Olli Maatta, as well as forwards David Perron, Andrew Copp, and Dominik Kubalik to make Detroit more competitive. They will be, but the Stanley Cup would be a massive leap in their development.
Jets (+10000 via Caesars)
After missing the playoffs last season, and then not doing a lot to upgrade their roster, there is not a lot of optimism surrounding the Winnipeg Jets, but it should be acknowledged that they still have a lot of top-end talent and if new head coach Rick Bowness is the right fit, maybe this team can get back on track. With high-end talent and an elite goaltender in Connor Hellebuyck, the lofty price on the Jets deserves consideration.
Stanley Cup Picks: Longshots
Blue Jackets (+10000 via DraftKings)
Signing free agent left winger Johnny Gaudreau was one of the biggest splashes of the offseason and he will make the Columbus Blue Jackets more dangerous offensively. However, the roster still has some holes to fill if the Jackets are going to be a playoff team, let alone a Stanley Cup contender. If they can make it through a difficult first month with adequate results, that might be the time to consider Columbus.
Kraken (+15000 via BetMGM)
It is tough to imagine the Seattle Kraken contending for the Stanley Cup after they managed just 60 points in their inaugural season, but there is at least reason for hope. The Kraken upgraded their forward group with the additions of Andre Burakovsky and Oliver Bjorkstrand, and potentially No. 4 pick Shane Wright. Still, Seattle had the worst save percentage in the league last season so if goaltender Philipp Grubauer bounces back, the Kraken could be much more competitive in a hurry, though probably not Stanley Cup competitive.
Ducks (+15000 via BetMGM)
While there might be some optimism surrounding the young talent on the Anaheim Ducks after Trevor Zegras and Troy Terry showed promise last season, there are so many areas of need on this rebuilding team that it is going to take some time for new general manager Pat Verbeek to get the Ducks back into the playoff picture.
Flyers (+15000 via DraftKings)
Not only did the Flyers miss the playoffs for the third time in four seasons last year, but they finished with a .372 points percentage, the worst in franchise history. They responded by acquiring DeAngelo and signing fourth-line muscle Nic Deslauriers, so if there is going to be a dramatic shift in the team's fortunes, it will likely be thanks to new head coach John Tortorella.
Sabres (+15000 via DraftKings)
Adding 2021 No. 1 pick Owen Power to the blueline should provide a measure of stability for a Buffalo Sabres team that started to show some potential last season. Between Rasmus Dahlin, Tage Thompson, and Alex Tuch, the Sabres have some pieces around which to build. However, they have questionable goaltending, and it could be another year before they have legitimate playoff hopes.
Sharks (+25000 via PointsBet)
After missing the playoffs for three straight seasons, the San Jose Sharks have a new general manager (Mike Grier) and new head coach (David Quinn). Aside from Timo Meier, Tomas Hertl, Logan Couture, and Erik Karlsson when he's healthy, the Sharks do not have enough talent on the roster to believe that they are going to contend for a playoff spot let alone the Stanley Cup.
Canadiens (+20000 via PointsBet)
The Montreal Canadiens are selling hope around No. 1 overall pick Juraj Slafkovsky and new captain Nick Suzuki, but they were picking first overall for a reason. It is going to be several seasons before the Habs can legitimately worry about winning the Stanley Cup.
Blackhawks (+100000 via DraftKings)
The bottom two teams are most obvious in their quest to tank for the best shot at drafting first overall. The Blackhawks traded DeBrincat and Kirby Dach, and did not give restricted free agent Dylan Strome a qualifying offer. They are left with some portion of the last season that Patrick Kane and Jonathan Toews spend in Chicago.
Coyotes (+100000 via PointsBet)
The Arizona Coyotes are similarly focused on the future and not so much the present. They will play in a college hockey arena and have been rumored to be shopping defenseman Jakob Chychrun to take this house right down to the studs before they start to rebuild.
Where to bet on Stanley Cup Picks
Here are our top-rated sportsbooks:
SEE ALSO: All picks, odds, and sports betting news. Be sure to check out SportsbookReview.com's community forums and betting tools.