Opening NFL Spread: Houston -2.5
Best Line Offered: Pinnacle
COLTS
Rainman: When these teams first met, Houston won 37-34 in OT. The Colts' D was young and injury-ridden. Players often changed roles. As a result, Indy gave up over 30 points in 4 of their first 6 games. Since then, the Colts' D has gelled and hasn't given up over 28 points. Luck threw for 399 yards in both games, including 24-21 win in Houston. He will lead Indy past Houston's low-ranked pass D.
Doug Upstone: This is one of two playoff rematches in the AFC. Indianapolis is just the third team to reach the NFL Playoffs after a 1-5 start. Andrew Luck will not win the MVP hardware, but he was the best player in the second half of the season and he will be the best player in this rematch. Houston might have the revenge factor, but the Texans are 2-2 of late and have lost edge. Colts outright.
Matthew Jordan: Houston's Deshaun Watson was sacked 62 times this year, most of any quarterback in 12 years. Indy got him five times in a 24-21 road win in Week 14. On the flip side, the Colts have allowed Andrew Luck to be sacked just 18 times. Texans RB Lamar Miller doesn't look healthy. Usually at least one road team wins on Wild-Card Weekend. Indy is 5-0-1 ATS in past 6 at Texans.
Kevin Stott: Despite how well Houston has played, Colts actually are playing a little better, have more Momentum and the better QB and are better at rallying from behind than the Texans. The Trends show Indy is 4-2-1 ATS L7 meetings after a Regular Season split with each winning by 3 in the other's crib. The Colts are 5-0-1 ATS the L6 at NRG Stadium and will win outright if Defense shows up.
TEXANS
Swinging Johnson: Indy is the white-hot team steamrolling its way into the playoffs but Texans' defense is among the best and their offense is finally clicking as the postseason awaits. Texans have payback in mind for their 24-21 loss to the Colts less than a month ago. Texans are 4-1 ATS in their last 5 home games while Indy is 1-4 ATS in their last 5 following a straight up win of more than 14 points.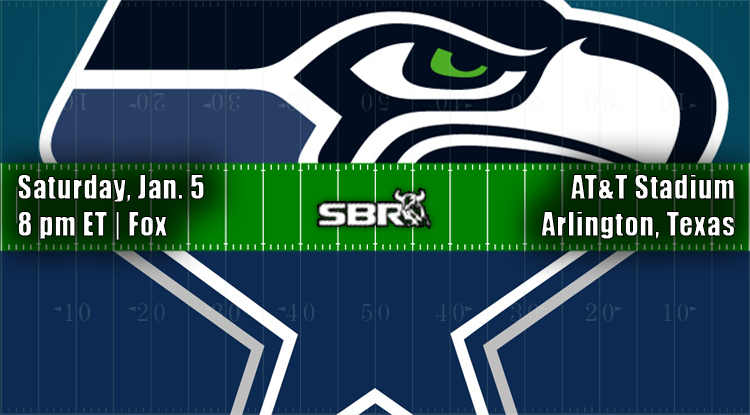 Opening NFL Spread: Dallas -2.5
Best Line Offered: 5Dimes
SEAHAWKS
NONE
COWBOYS
Rainman: Both teams are run-first, ranking top-five in run-play percentage. So this comes down to who will run better. While both o-lines rank similarly in run blocking, Dallas has the better rush attack, led by Zeke's 5.1 YPC. Dallas also has the better run defense. It ranks second, allowing 3.7 YPC. Conversely, Seattle's ranks last, allowing five YPC. Home field is also huge. Dallas is 5-2-1 ATS at home.
Doug Upstone: Dallas was 7-1 SU and 5-2-1 ATS at home, which is similar to what they were two years ago at home when they made the playoffs. What is different this time is they have to keep playing and do not have a bye like last time when they lost to Green Bay. This is also a better Cowboys defensive crew that is 7th in total defense as compared to 16th in 2016. Look for Dallas to win a close contest.
Matthew Jordan: Dallas lost in Seattle in Week 3 24-13, but the Cowboys are a much different team at home. They also didn't have game-breaking WR Amari Cooper then. Good thing Dallas won Week 17 because team hasn't won a playoff game with a loss in final regular-season matchup since 1996. Seattle's offensive line has been a problem this year, and Russell Wilson was sacked six more times in Week 17.
Kevin Stott: Heavy doses of Ezekiel Elliott will be America's Team's plan of attack and with Dak able to bolt when he wants and Amari Cooper in the fold, Uncle Jerry has to like what he sees. Seattle is much better at Home (7-1 SU) than on the Road (3-5) while the Cowgirls have only lost once at AT&T, to the Titans. Points should come at a premium in this showdown between two teams who like to run the football.
Swinging Johnson: Both teams playing their best football of the season down the homestretch but the defense that has bolstered the Seahawks showed signs of wear and tear as the season drew to a close. We like that the Dallas won a meaningless game over the Giants without their Ezekiel Elliott and their 2 top offensive linemen while Prescott was on fire tossing 4 TDs. Plenty of momentum for the home team here.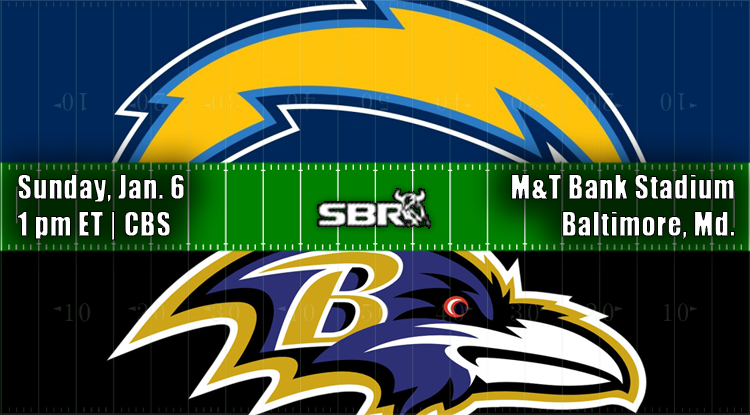 Opening NFL Spread: Baltimore -2.5
Best Line Offered: Heritage
CHARGERS
Doug Upstone: There is something about Philip Rivers on the road and this year he led his team to a 7-1 SU and ATS mark in the traveling white uniforms. While extremely impressed how Baltimore completely changed offense at midseason, the Chargers are the first team to have faced them twice and had a real chance to breakdown the film. Expect a different Chargers team who not only cover but maybe win.
Swinging Johnson: The Bolts have been electrifying on the road this season with a 7-1 straight up and ATS mark. Conversely, the Ravens are 1-5 ATS in their last six home games and their challenge will be Lamar Jackson trying to keep the Ravens rushing attack on pace with Philip Rivers' aerial assault. Another revenge spot here as LA dropped a 22-10 decision to the Ravens just a few weeks ago.
RAVENS
Rainman: While I appreciate skepticism against an inexperienced quarterback, Baltimore is run-first. L.A. has zero interior defenders who rank top-30. When the teams met in L.A., the Ravens ran 35 times and still averaged 4.5 YPC. I don't see this changing in Baltimore. Baltimore's pass defense is top-ranked and will limit Rivers. It boasts three high-ranked interior defenders who thrive against the run.
Matthew Jordan: Rematch of Week 16 in L.A. when the Ravens defense dominated the Chargers in a 22-10 victory. The Bolts had just 198 yards and turned it over three times. That defense is only going to be better in Baltimore. Plus, the warm-weather Chargers rarely play well in the cold. It won't be bitterly so for this one but still chilly. Philip Rivers has thrown two picks in three straight games. Make it four.
Kevin Stott: Blackbirds charmed life may end vs team traveling 2,645 miles and 3 Time Zones, the Chargers who have vet QB with great touch and killer WR (Allen). These two met in LA with Ravens winning 22-10, but Bolts better Road team (7-1). Production from Williams, Gordon will be paramount, but hearing Gordon say "We're obviously not playing the way we want to play going into the playoffs,' Sunday is scary.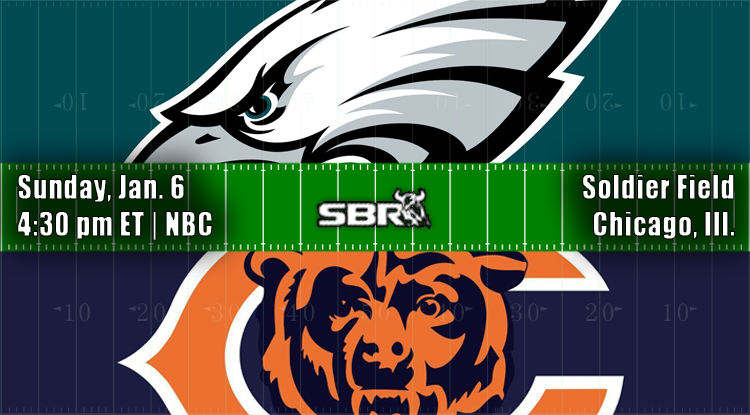 Opening NFL Spread: Chicago -5.5
Best Line Offered: BetOnline
EAGLES
Rainman: The Bears will struggle on offense with its often inaccurate quarterback who has zero playoff experience. The Eagles' pass defense has bad season stats, but eventually got used to the injuries in its secondary. Philly's defensive coordinator is awesome and is creative in pressuring the quarterback while trusting his corners. Philly has limited offenses led by inconsistent quarterbacks like the Rams.
Kevin Stott: Bears lost 31-3 at Philly last year but this will be a dogfight. Thirty years ago these two played in the Fog Bowl, won by the Bears, 20-12 and we may see a similar score with the Iggles winning outright, feeding off Momentum gained from sneaking into the Postseason. Whoever wins the TO battle should win this one with the Windy City crowd being fearful of their new Monsters of the Midway choking.
BEARS
Doug Upstone: Bottom line, it really does not matter who Philadelphia will play at quarterback, this Chicago team is too good for Philadelphia. The Bears defensive front will limit any QB's time to throw, the linebackers will help stuff the Eagles No. 28 running offense and their No. 7 pass defense will take out Zack Ertz and Alshon Jeffery. The Monsters of the Midway roll and head to L.A. next.
Matthew Jordan: Will the Bears regret not simply laying down Week 17 vs. the Vikings and playing them this weekend instead of the defending Super Bowl champs? The answer to that question depends on the health of Nick Foles, who left Philly's win over the Redskins with an aggravated ribs injury. I'm sure he'll play but perhaps could be one hit from leaving vs. Chicago. Bears were best ATS team in league this year.
Swinging Johnson: Have to give the Eagles credit for coming out of nowhere with their capable backup Nick Foles leading them to an unlikely postseason berth after a dismal start. However, this Bears' defense is a different breed of animal and Philadelphia's winning ways will end violently, courtesy of Khalil Mack and the Bears swarming defense that has allowed just 10.5 PPG over their last four.