Trendspotting: 3 NFL Betting Trends To Monitor in Week 8 Games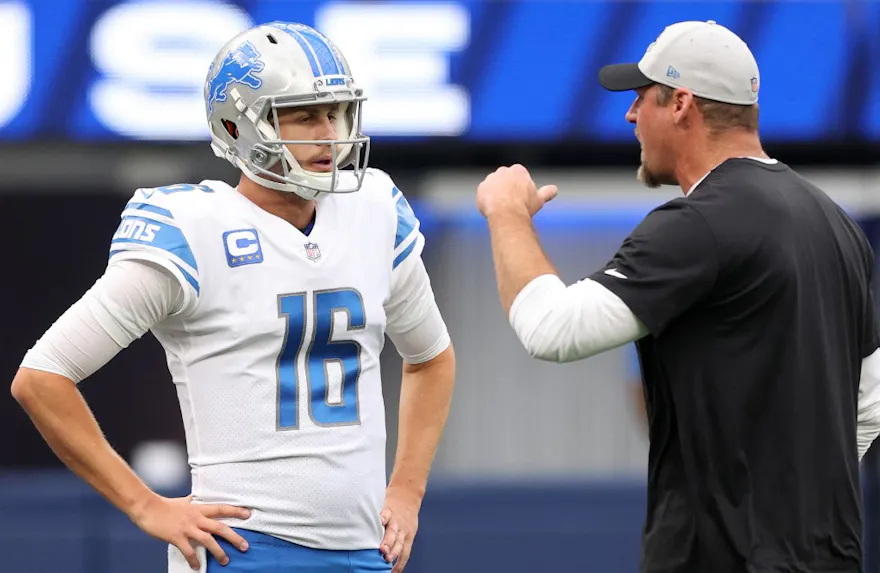 Most Week 8 games have the favorites sitting as single-digit favorites. It's been a bit harder to find single-digit favorites in the last two weeks, but the competition is getting a little stronger as we approach the middle of the season. Here are the trends you should think about.
For Week 8, there are only four teams that are double-digit favorites. Sportsbooks would rather coinflip games than heavy favorites because they know the average public bettor will just add those heavy favorites into a parlay and cash more times than not.
For coinflip games, it's important to look at numbers and trends. When you combine trends, analytics, and respectable opinions, good things usually happen in sports betting. Therefore, we broke down a few eye-popping trends that can help you decide on which game to bet.
Here's a look at three games for which prevailing trends might play a major role in how bettors approach the matchup:
Dolphins vs. Bills: Buffalo 5-0 against the spread vs. team with losing record
The Buffalo Bills are just destroying bad teams. It's as simple as that. Buffalo is 4-2 on the year while the Miami Dolphins sit at 1-6. Miami lost to the previously winless Jacksonville Jaguars two weeks ago and now will head on the road to take on Buffalo.
It's never easy to play in Buffalo, especially with winter approaching. Bills quarterback Josh Allen has thrown for 15 touchdowns and just three interceptions in leading Buffalo's offense to average 33.8 points per game this season with 411.5 yards per game.
Meanwhile, Tua Tagovailoa is back for Miami after a short absence with an injury. He threw for four touchdowns against the Atlanta Falcons, but made two costly errors that ultimately led to a loss.
If you can get the Bills at -13.5 or better, I'd take it. Make sure you can cover it with that 14 number. A two-touchdown win for the Bills makes plenty of sense on paper.
Verdict: Bills -13.5 (-110) ????
SEE ALSO: Top 3 Underdog Picks of NFL Week 8
Eagles vs. Lions Trend: Detroit 0-8 ATS in last 8 games in Week 8
The Detroit Lions have been awful and haven't won a single game all year. They've got an entirely different team, but at the end of the day, this trend just speaks volumes. The Lions haven't won a game on Week 8 in eight straight years.
The Philadelphia Eagles have also been playing awful football. Neither team has been consistent on a game-to-game basis this year.
Quarterback Jared Goff has thrown six interceptions and has made some of the more costly errors for the Lions. If the Eagles can capitalize on mistakes and score points off turnovers, Philly will find a way to win this ball game.
Verdict: Eagles -3.5 (-110) ??
Steelers vs. Browns Trend: Pittsburgh 6-1 ATS in last 7 games as an underdog of 3.5-10 points
Currently, it's unclear who will start for the Cleveland Browns in this game against the Pittsburgh Steelers. Last week, the Browns played without quarterback Baker Mayfield and running backs Nick Chubb and Kareem Hunt. The Browns pulled out a victory thanks to a fantastic offensive line.
However, that offensive line won't have it easier against the Steelers this week. Pittsburgh thrives in the underdog role. Pittsburgh is now 6-1 ATS in its last seven games as an underdog of 3.5-to-10 points.
The Steelers currently are +3.5, on the road against Cleveland. Despite being 3-3 on the season, the Steelers seem poised to turn things around. Pittsburgh head coach Mike Tomlin even acknowledged that he won't be leaving the Steelers to coach in college. He felt disrespected that that question was even asked.
Don't be surprised if the Steelers come out hungry in this divisional game.
Verdict: Steelers +3.5 (-110) ???
SEE ALSO: Week 8 Parlay Picks