4 NFL Week 7 Opening Lines and Picks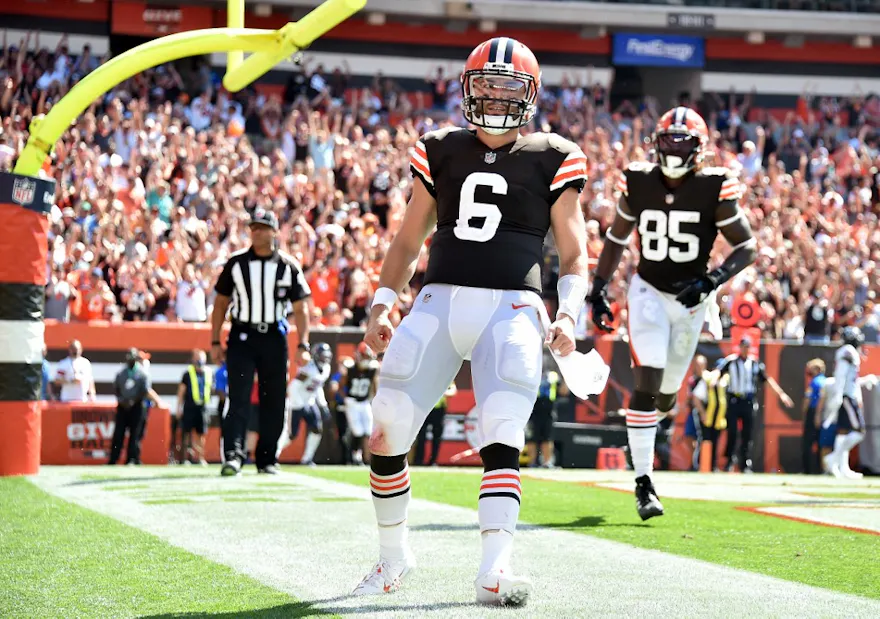 The NFL season has been profitable thus far, and Week 7 offers four opening lines that are must plays. We've scoured the trends and matchups and found the best picks. Consider this your core four play for Week 7 of the NFL season.
Week 7 kicks off this Thursday night as the Denver Broncos travel to face the Cleveland Browns. The primetime games this week are shaping up to be crucial for how the playoff race will unfold as the season progresses.
We've turned in a profitable season thus far and the midpoint of the campaign is a good time to recalibrate. The slew of injuries and surprising results must be accounted for in projections. We're confident we've identified the best opportunities in the opening lines.
Here's a look at my top four picks centered around early NFL odds (Odds via BetMGM).
Cincinnati Bengals vs. Baltimore Ravens Opening Line and Pick
Date/Time: Sunday, October 24, 1 p.m. ETTV: CBSLocation: M&T Bank Stadium, Baltimore, MD
Opening Line: Ravens -6.5
The premier matchup of the week is an unexpected one in the AFC North. The breakout Cincinnati Bengals are in Baltimore fighting for control of the division. The problem is, the Ravens are back on top with an elite passing game and talented defense.
The Bengals are beating teams in the mediocre tier consistently, but their lack of high-end talent cost them late against the Green Bay Packers two weeks ago. Baltimore has dominated this series 7-3 over the last 10 matchups thanks to a much more physical defense and reliable quarterback. The emergence of Bengals QB Joe Burrow as a franchise passer changes the game, though.
I'm picking the Ravens to win, but it'll be a close divisional battle. The Ravens' pass defense is vulnerable and the Bengals have one of the best offensive cores in the NFL. Buying the points to a full seven should even be a consideration.
PICK: Bengals +6.5 (-110)
Chicago Bears vs. Tampa Bay Buccaneers Opening Line and Pick
Date/Time: Sunday, October 24, 4:25 p.m. ETTV: CBSLocation: Raymond James Stadium, Tampa, FL
Opening Line: Buccaneers -12.5
The points have swelled from 10 to 13.5 in this matchup after the Chicago Bears' offense continued to struggle in Week 6. The Tampa Bay Buccaneers are arguably the best team in the league, but this is a ton of points. The question is whether Justin Fields and the Bears' offense will produce enough against the Bucs' beat-up defense to cover even if they're theoretically not almost two touchdowns worse talent-wise.
Fields has a good opportunity as Tampa's pass defense ranks 27th. The scheme has been lacking, though, and we've seen Allen Robinson disappear despite the obvious talent Fields brings to the team. This has to change this week for the Bears to stay in playoff contention.
Tampa has been on fire all year on offense but I'm taking the Bears to cover. This is too many points considering Tampa gave up the backdoor cover to a worse Philly team last Thursday night.
PICK: Bears +12.5 (-110)
Denver Broncos vs. Cleveland Browns Opening Line and Pick
Date/Time: Thursday, October 21, 8:20 p.m. ETTV: FOX/NFL NetworkLocation: FirstEnergy Stadium, Cleveland, OH
Opening Line: Browns -3.5
Both Denver and Cleveland have endured enough injuries and strange letdown performances to question what these teams are week-to-week. The quarterbacks have been frustrating for each team and the Browns might not have Baker Mayfield after he reaggravated his shoulder injury last week. Watch for Mayfield's availability.
I'm betting on Cleveland re-emerging as a playoff favorite and weekly force if they're healthy. Even with Nick Chubb and Kareem Hunt out, the key is still Mayfield. Third-string rusher D'Ernest Johnson showed contributor potential in the preseason. Denver has a great rushing front, but the Browns routinely win in the trenches regardless of foe.
Denver's own three-game skid is one out of disappointing defensive play and a stagnating offense. Teddy Bridgewater must spark the unit to overcome the funk, or else the Broncos' season will be in jeopardy of being lost. If Mayfield is available, I'm taking the Browns. If not, give me the Broncos on the road.
PICK: Browns -3.5 (-110)
Indianapolis Colts vs. San Francisco 49ers Opening Line and Pick
Date/Time: Sunday, October 24, 8:20 p.m. ETTV: NBCLocation: Levi's Stadium, Santa Clara, CA
Opening Line: 49ers -3.5
I was selling the Indianapolis Colts and still think they're not an overly good team, but their performances over the last month show an improving group. Quarterback Carson Wentz and rusher Jonathan Taylor have slowly seen better play to the point where we can say the Colts are a legitimate threat to win against other mediocre teams. Their 2-4 record is not necessarily an accurate indication of their ability to win games moving forward.
The San Francisco 49ers are coming off a bye week, but it's strange oddsmakers continue to like them. They're 1-4 ATS this year and clearly not reliable. Head coach Kyle Shanahan has done a poor job getting the most out of this team, which is shocking considering his track record.
I'd feel more comfortable with the 49ers than I currently am if Jimmy Garoppolo is named the starter and not Trey Lance. However, this looks like an excellent opportunity to grab value on the line. I like the Colts, and their moneyline would be a nice play even if I'm taking the points.
PICK: Colts +3.5 (-110)