NFL Week 12 Early Odds, Opening Lines and Picks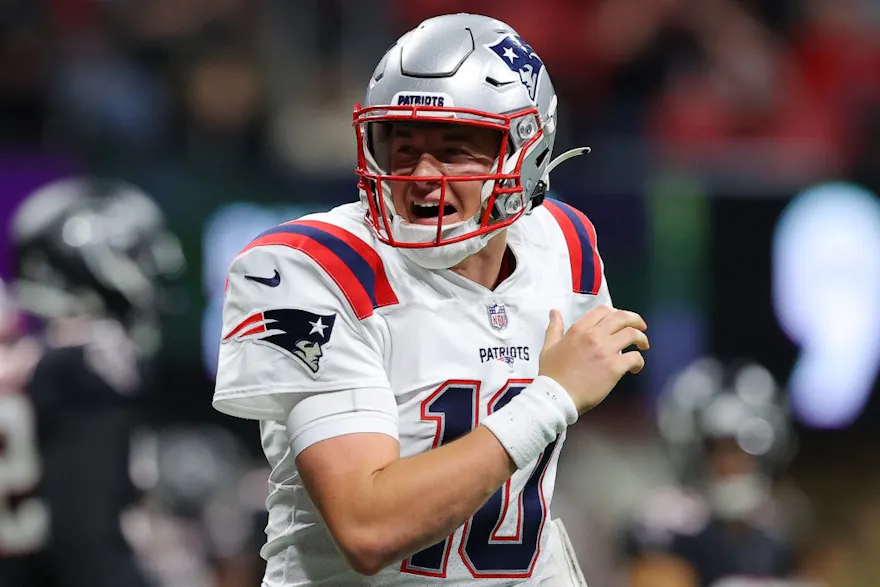 See our updated NFL week 12 odds, line moves and picks here.
Thanksgiving week brings a lot of games that should be close and competitive. One of the biggest underdogs on the board is the team with the best record in the AFC. Check out more early odds and NFL opening lines.
The week begins with three games on Thursday. Eating massive amounts of food and grinding through 11 hours of football, a tradition like no other.
Thanksgiving is also a point in the schedule where teams start to separate. However, clubs that were thought to be powerhouses are starting to slide and that is part of the reason that so many games have relatively close lines.
Here's a look at the early NFL odds, along with my picks based on the opening lines (Odds via FanDuel; pick confidence based on a 1-to-5-star scale).
Early NFL Odds, Opening Lines, and Picks for Week 12
Chicago Bears (3-7 SU, 4-6 ATS, 3-7 O/U) vs. Detroit Lions (0-9-1 SU, 6-4 ATS, 3-7 O/U)
Opening Line: Chicago -3.5Opening Total: 41.5
The Chicago Bears could be without rookie quarterback Justin Fields, who's battling a rib injury. The Detroit Lions have to hope that their quarterback Jared Goff is going to be able to come back from the strained oblique injury that kept him out of Sunday's 13-10 loss to Cleveland. If Tim Boyle gets another start after throwing for 77 yards and two interceptions on Sunday, it could be a real slog on Thanksgiving.
PICK: Detroit ??, Under 41.5 ????
Las Vegas Raiders (5-5 SU, 4-6 ATS, 5-5 O/U) vs. Dallas Cowboys (7-3 SU, 8-2 ATS, 5-5 O/U)
Opening Line: Dallas -7Opening Total: 51
Dallas had trouble moving the ball downfield versus Kansas City. The Cowboys were missing wideout Amari Cooper and CeeDee Lamb left the game with a concussion, so that could limit quarterback Dak Prescott's ability to attack deep. The Las Vegas Raiders don't have great downfield options either, so they keep feeding star tight end Darren Waller.
PICK: Las Vegas ???, Under ????
Buffalo Bills (6-4 SU, 5-4-1 ATS, 5-5 O/U) vs. New Orleans Saints (5-5 SU, 5-5 ATS, 6-4 O/U)
Opening Line: Buffalo -4Opening Total: 46.5
Both the Buffalo Bills and New Orleans Saints got steamrolled on Sunday. While the Bills are suddenly looking more vulnerable, the Saints have dropped three straight games and are missing both their starting quarterback and starting running back.
PICK: Buffalo ???, Under ???
Tennessee Titans (8-3 SU, 7-4 ATS, 6-5 O/U) vs. New England Patriots (7-4 SU, 7-4 ATS, 5-6 O/U)
Opening Line: New England -5.5Opening Total: 44.5
The Tennessee Titans can take some solace that they had won six straight games before Ryan Tannehill threw four interceptions in a home loss against Houston. New England won its fifth straight game, shutting out the Falcons 25-0 in Atlanta. It was the third straight game in which the Patriots held their opponents to seven points or less.
PICK: Tennessee ??, Under ???
New York Jets (2-8 SU, 2-8 ATS, 6-4 O/U) vs. Houston Texans (2-8 SU, 5-5 ATS, 4-6 O/U)
Opening Line: Houston -3Opening Total: 44.5
This is a matchup of two of the worst teams in the league this season, which does not necessarily project to be a glorious exhibition of football skill, but a sloppy game can lead to points, too.
PICK: Houston ??, Over ??
Philadelphia Eagles (5-6 SU, 6-5 ATS, 6-5 O/U) vs. New York Giants (3-6 SU, 5-4 ATS, 3-5-1 O/U)
Opening Line: Philadelphia -3Opening Total: 46.5
Philadelphia's coming off its third win in the past four games and, oddly enough, it was the Eagles' first home win of the season. The good news is that they are 4-2 on the road heading into a trip to New York. The Giants will have a short week after their Monday night matchup in Tampa Bay.
PICK: N.Y. Giants ?, Over ??
Tampa Bay Buccaneers (6-3 SU, 3-6 ATS, 5-4 O/U) vs. Indianapolis Colts (6-5 SU, 7-4 ATS, 7-4 O/U)
Opening Line: Tampa Bay -3Opening Total: 51.5
The Tampa Bay Buccaneers head into the Monday nighter against the Giants having lost back-to-back games and suddenly showing some vulnerability. Their play on the road has been suspect. The Indianapolis Colts are rounding into form. They have won five of their past six games, with the only loss coming to Tennessee.
PICK: Tampa Bay ???, Over ??
Atlanta Falcons (4-6 SU, 4-6 ATS, 5-5 O/U) vs. Jacksonville Jaguars (2-8 SU, 4-6 ATS, 2-8 O/U)
Opening Line: Atlanta -1Opening Total: 46.5
No matter what their record says, the Atlanta Falcons are not to be confused with even a mediocre team. They have lost their past two games by a combined score of 68-3. The Jacksonville Jaguars are not exactly world-beaters either. However, the Jags have pulled off a couple of upset wins this season.
PICK: Jacksonville ?, Over ??
Carolina Panthers (5-6 SU, 5-6 ATS, 4-7 O/U) vs. Miami Dolphins (4-7 SU, 5-5-1 ATS, 4-7 O/U)
Opening Line: Carolina -1Opening Total: 42.5
The Carolina Panthers dropped a close decision to Washington in Week 11, but there are still some reasons for optimism. Running back Christian McCaffrey is healthy and quarterback Cam Newton seems to be settling in since returning to the franchise. Suddenly showing signs of life, the Miami Dolphins have won three straight after a seven-game losing streak.
PICK: Miami ??, Under ??
Pittsburgh Steelers (5-4-1 SU, 4-6 ATS, 3-6-1 O/U) vs. Cincinnati Bengals (6-4 SU, 5-5 ATS, 4-6 O/U)
Opening Line: Cincinnati -3.5Opening Total: 45.5
Although the Pittsburgh Steelers nearly pulled off the comeback in Week 11, they have been playing some ugly games recently. A close game on Sunday is probably a reasonable expectation. The Cincinnati Bengals came out of their bye week and got back in the win column, staying in the hunt in the AFC North, one game behind Baltimore.
PICK: Cincinnati ????, Under ??
Los Angeles Chargers (6-4 SU, 5-5 ATS, 4-6 O/U) vs. Denver Broncos (5-5 SU, 5-5 ATS, 2-8 O/U)
Opening Line: Los Angeles -2.5Opening Total: 47
The Los Angeles Chargers have been playing some competitive football and, more often than not, it has been good enough to win. Denver is coming off a bye week and it's hard to know which Broncos squad will show up.
PICK: Denver ??, Over ??
Minnesota Vikings (5-5 SU, 6-4 ATS, 5-5 O/U) vs. San Francisco 49ers (5-5 SU, 4-6 ATS, 5-5 O/U)
Opening Line: San Francisco -3Opening Total: 48.5
Nine of the Minnesota Vikings' 10 games this season have ended in a one-score margin, and that includes back-to-back wins against the Chargers and Green Bay Packers in the past two weeks. The San Francisco 49ers have won three of their past four games, but have stumbled to a 1-4 record at home. That should make this result close, at the very least.
PICK: Minnesota ???, Over ??
Los Angeles Rams (7-3 SU, 4-6 ATS, 5-4-1 O/U) vs. Green Bay Packers (8-3 SU, 9-2 ATS, 3-8 O/U)
Opening Line: Green Bay -1Opening Total: 48.5
Although the Los Angeles Rams have dropped back-to-back games, they are coming out of their bye week and seem to be catching Green Bay in a tough spot. The Packers are missing starting rusher Aaron Jones and lost starting left tackle Elgton Jenkins to a season-ending knee injury. Going against the Rams with a weakened offensive line seems like a bad combination for a Packers team that has lost two of its past three games.
PICK: Los Angeles ???, Under ??
Cleveland Browns (6-5 SU, 5-6 ATS, 6-5 O/U) vs. Baltimore Ravens (7-3 SU, 4-6 ATS, 5-5 O/U)
Opening Line: Baltimore -4Opening Total: 46.5
Grinding out a three-point win at home against Detroit, with Tim Doyle starting at quarterback, is not the way for the Browns to inspire confidence, especially after they were walloped 45-7 by New England the week before. Unless Lamar Jackson's illness is more serious than expected, he should be back for this crucial AFC North matchup.
PICK: Baltimore ???, Under ???
Seattle Seahawks (3-7 SU, 5-5 ATS, 1-8-1 O/U) vs. Washington Football Team (4-6 SU, 3-7 ATS, 5-5 O/U)
Opening Line: Seattle -1Opening Total: 46
Russell Wilson has returned from his finger injury but has not been able to move the ball effectively for the Seattle Seahawks. The Washington Football Team still have some spark, with back-to-back wins over the Bucs and Panthers.
PICK: Washington ???, Under ???
NFL Opening Lines made 11/22/2021 at 12:28 p.m. ET