Trendspotting: 3 NFL Betting Trends to Monitor in Week 11 Games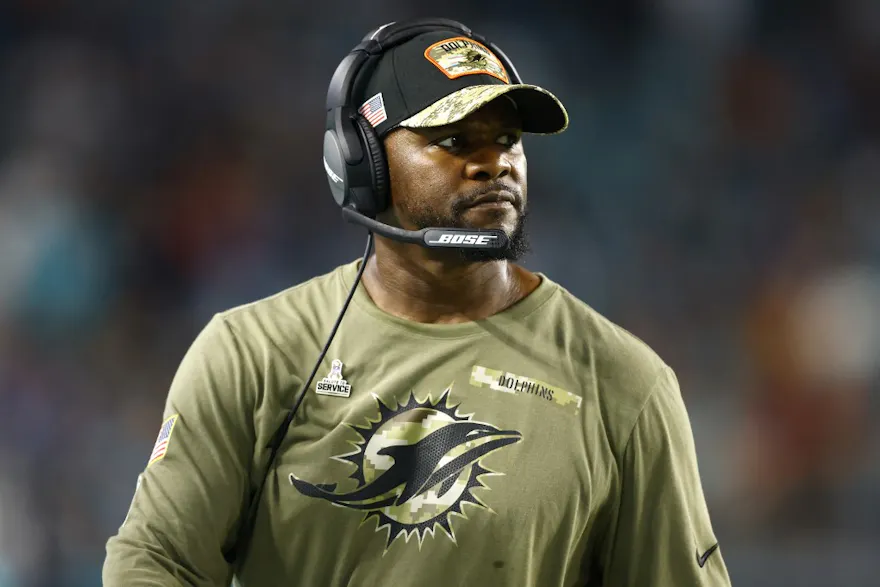 Every team has played more than half of the 17-game schedule. Below, we look at three interesting NFL betting trends to help inform your Week 11 picks.
Expect some more upsets in Week 11. Why? There have been six victories by teams with a .500-or-worse winning percentage against division leaders over the past two weeks.
There have been 39 games that have been decided by three or fewer points this year, tied with the 1997 season for the fifth-most such games at this point of a season.
Here's a look at three games for which prevailing trends might play a major role in how bettors approach the matchup (odds via DraftKings Sportsbook; pick confidence based on a 1-to-5-star scale).
Key NFL Betting Trends for Week 11
Dolphins vs. Jets Trend: New York is 0-10 ATS against teams with losing record
Not exactly the marquee matchup of Sunday with hugely disappointing Miami at 3-7 and New York at 2-7.
One might think the hiring of Jets first-year head coach Robert Saleh would have at least improved New York's defense, but the Jets have allowed 175 points over their last four games. That's the second-most points allowed in a four-game span by any team since the 1970 merger. What's even funnier: the 2000 Baltimore Ravens allowed 165 points in the entire 16-game regular season.
There could be plenty of points in this one as the Jets have allowed the most (52) and the Dolphins the second-most (50) plays of 20-plus yards this year. Dolphins QB Tua Tagovailoa will be back under center after relieving backup Jacoby Brissett in Week 10 to lead an upset over Baltimore.
As of this writing, it's not clear whether Jets rookie QB Zach Wilson will be healthy enough to start or if backup Mike White, off of a four-interception effort against the Buffalo Bills, will get another shot. It really doesn't matter.
Verdict: Dolphins -3 (-115) (alternate line of -2.5 to be safe) ???
SEE ALSO: Early NFL Week 11 Parlay Picks
Saints vs. Eagles Trend: New Orleans is 9-0-1 ATS as the underdog
Does this trend look familiar? Last week, we used New Orleans at 8-0-1 against the spread in its last nine games as an underdog and recommended the Saints getting 3 points at the Tennessee Titans. While it did catch one major break from the officials, New Orleans covered in a 23-21 loss, thanks to a late TD but failed two-point conversion. Actually, it was one of those rare times you were backing an underdog and didn't want it to score again/tie the game and risk losing ATS in overtime.
I see no reason not to go back to this trend this week with the Saints in Philadelphia. The Eagles are on a five-game losing skid at home, dropping those by an average margin of 6.6 points, yet are favored here? Philly is also 2-7 ATS in its past nine games as the favorite.
New Orleans is hoping to get back four-time Pro Bowl RB Alvin Kamara (knee). He leads the team with 32 receptions through eight games. The Saints outscored their past two opponents in the second half but lost because of slow starts. New Orleans leads the league in rush defense, allowing only 72.9 yards per game and 3.1 per carry. That figures to be an issue for a passing-challenged Eagles offense led by QB Jalen Hurts.
Verdict: Saints +1.5 (-110) ???
Bengals vs. Raiders Trend: Cincinnati is 9-1-1 ATS after traveling 3 hours "back"
Just in case traveling "back" three hours isn't clear, that means from the Eastern Time Zone to the Pacific Time Zone. That type of travel rarely affects Eastern teams because it usually means a game at 4 p.m. ET instead of 1 ET; no big deal. On the flip side, West Coast teams playing at 1 p.m. ET (10 a.m. PT) are often adversely affected.
Cincinnati has a huge rest advantage as it comes off of a bye week and should get a few players back from injury. The Raiders played Sunday night in Week 10 and were dominated in a 41-14 loss to Kansas City. Las Vegas is 1-6 ATS in its last seven games after losing its most recent game at home. This game will mark the Bengals' first-ever visit to Las Vegas.
All of the Raiders' off-field issues seem to have caught up to them with back-to-back horrible efforts in losses to the Chiefs and New York Giants.
Verdict: Bengals -1 (-110) ????
SEE ALSO: All NFL Picks
Picks made on 11/16/21 at 3:50 p.m. ET.