Top Expert Betting Picks for NFL Wild Card Weekend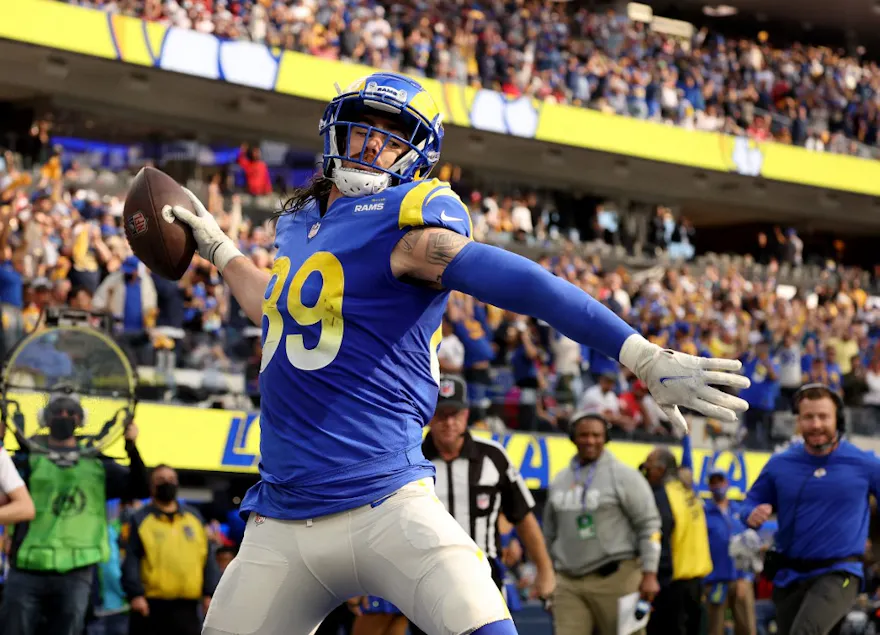 Check out our NFL Wild Card Weekend expert picks for the best against the spread and Over/Under bets.
It's the beginning of the NFL playoffs, and we have plenty of intriguing matchups. We have divisional rivals facing off in two games, including in the very first-ever Monday night playoff matchup. The Dallas Cowboys play host to the San Francisco 49ers, and the Tampa Bay Buccaneers being their title defense against the Philadelphia Eagles.
Here's a look at the top against the spread and Over/Under picks for Wild Card Weekend from our team of NFL betting experts (odds via DraftKings Sportsbook, FanDuel Sportsbook, and PointsBet; pick confidence based on a 1-to-5-star scale).
Top NFL Wild Card Weekend Expert Picks
https://datawrapper.dwcdn.net/DfNjv/1/
SEE ALSO: Top Expert NFL Prop Picks for Wild Card Weekend
Top NFL Wild Card Weekend ATS Picks
Bengals -5 (-110 via DraftKings)
The Las Vegas Raiders won four games in a row to finish the regular season and it was enough to sneak them into the playoffs, but they won those four games by a total of 12 points. There was some good fortune involved and given their inconsistency prior to that which contributed to a playoff-worst score differential of -65 suggests that they are not a team that is poised for a playoff run.
On the other hand, the Bengals elevated down the stretch. They lost in Week 18 with a second-string lineup but before that, they were 5-2 with one of the losses coming in overtime. They earned impressive wins against the Kansas City Chiefs, Baltimore Ravens, and the Raiders in that time. The line has moved around a bit this week, from six down to 4.5 and now up to 5.5 but I've preferred the Bengals every step of the way. - Cullen
Patriots +4.5 (-105 via DraftKings)
I'm struggling to find 4.5 points between the Patriots and Bills. Both teams enter the playoffs top three in total weighted DVOA, and both are in the top eight on offense and defense. Frankly, the one matchup that appears to be a bit lopsided is the one with New England's offense and Buffalo's defense, which has struggled mightily to stop the run.
New England is sixth in rush play rate and averaging a solid 4.4 yards per carry. This is a Buffalo team that has allowed a concerning 14 touchdowns this year to opposing running backs and been torched by some middling teams on the ground. While I will relent and say the Bills are probably a hair better than the Patriots thanks to their close to the season, I'll stop short of calling them five points better. - Ducey
Cowboys (-155 via DraftKings)
San Francisco had to come back from 17 down and win in overtime to get to this spot. The Niners have several key players really banged up, led by QB Jimmy Garoppolo (torn ligaments and chipped bone in his throwing thumb), who I don't trust in a big game even when fully healthy. Key LB Azeez Al-Shaair is also currently listed as questionable with a knee injury.
Dallas has no real injury concerns and is on an extra day of rest as they crushed the Eagles on Saturday in Week 18, while the Niners played in a physical war against the Rams on Sunday. The Cowboys should have Michal Parsons back, and their offense appears to be back on track after scoring 50+ in two of their last three games. - Jordan
Bills -4.5 (-110 via PointsBet)
This line and these odds are consistent across the market through Friday afternoon. It has gone a half-point toward the Bills from the opening line with 62% of the tickets and 65% of the handle on Buffalo. Those trends are likely to continue after legal sports betting launched in New York last weekend, so there's a good chance this gets to Bills -5 by kickoff.
The AFC East rivals split their regular-season meetings, but it was Buffalo taking the Week 16 rematch on the road. Under more neutral weather conditions than in Week 13 in upstate New York, the Bills relied on the arm and legs of QB Josh Allen en route to a 33-21 victory.
The biggest driver for backing the Bills is the poor play of Patriots QB Mac Jones over his final five games. That started in Week 13 against Buffalo when he attempted just three passes. He averaged just 190.2 passing yards per game with six total touchdowns against five interceptions. The Bills had the No. 1 scoring defense in the regular season and won't lose again to the one-dimensional Pats, so long as they're able to strike early. - McLaren
Top NFL Wild Card Weekend O/U Picks
Eagles-Buccaneers Over 45.5 (-110 via FanDuel)
Editor's Note: Buccaneers RB Leonard Fournette was not activated off IR for Sunday's game.
The Buccaneers are the No. 2 scoring team in the league, with more than 30 points per game, and have the potential to put up a ton of points. Their lineup is getting healthier with the return of RB Leonard Fournette and it does not appear that the Eagles are suddenly in a position to shut down the league's most prolific passer, Tom Brady.
Although the Eagles are not the team that I would expect to drive this result Over the total, they have scored at least 20 points in 14 of the last 15 games. Anything approaching that this week ought to help lift the overall total past a number of 45.5, one that represents a significant discount from the opening line. - Cullen
Steelers-Chiefs Over 46 (-110 via DraftKings)
This one's a sneaky Over because when you think of these teams you think of slow, grind-it-out football. More specifically, you think about the Steelers' lack of a rushing defense and the Steelers' lack of a pulse on offense.
When you look at the numbers, though, 46 seems a little short. Both of these teams rank in the top 10 in seconds per play, and both are top five in pass play rate. There's going to be a ton of passing and a ton of plays in general, and we have to consider that the Kansas City defense has allowed 251.4 yards per game, which is 27th in the league. I just don't see either defense keeping a lid on the passing game, even with Ben Roethlisberger involved. - Ducey
Patriots-Bills Under 44 (-110 via DraftKings)
It is going to be very, very cold Buffalo and that's a huge reason why I'm leaning Under. A low of 3 degrees with wind chills way below zero are in the forecast. When these teams played in similar conditions in Buffalo in Week 13, there were only 24 points scored. Jones attempted just three passes and RB Damien Harris scored the only touchdown.
Even if it's not that windy, the cold is going to affect passing and kicking. Jones threw five interceptions over the past four games and had a lost fumble, so it remains to be seen if he can regain his form from earlier in the season. These are also the top two scoring defenses in the NFL, giving up less than 18 points each per game. I project a 20-10 game where both teams prioritize field position. - Jordan
Steelers-Chiefs Under 46 (-110 via FanDuel)
The Chiefs and their No. 4 scoring offense are consensus 12.5-point favorites at home against the Steelers, who averaged just 20.2 points over 17 games to finish 21st. Five of the teams who finished below them in that category already fired their head coach. Mike Tomlin won't be going anywhere, as the blame for Pittsburgh's stagnant offense falls squarely on the veteran Roethlisberger.
Roethlisberger threw for just 159 yards with one TD and one interception in the Week 16 contest between the Chiefs and Steelers. He fell short of that number in games immediately before and after.
The Chiefs finished 26th in total yards allowed per game but eighth in points allowed. They also finished fifth in total takeaways, buoyed by three against Pittsburgh.
If Pittsburgh is able to cover the spread, it'll be because of a Herculean defensive effort, and not an offensive breakout. The market's certainly not expecting that to be the case with 76% of the money on Kansas City, but 61% is still on the Under as Big Ben and the Steelers will fail to pull their weight. - McLaren
SEE ALSO: All picks and odds. Be sure to check out SportsbookReview.com's community forums and betting tools.