Titans vs. Jets NFL Week 4 Picks and Predictions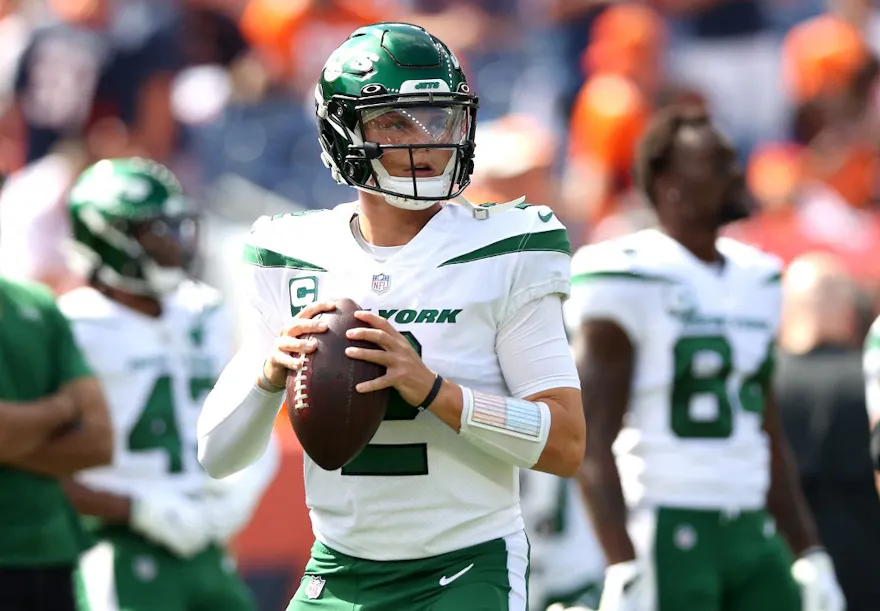 Are you bold enough to put the New York Jets in your Week 4 NFL picks? They're the right choice versus the so-so Tennessee Titans.
Tennessee Titans vs. New York Jets
Sunday, October 03, 2021 - 01:00 PM EDT at MetLife Stadium
Here's an old NFL betting chestnut from back in the day: Never ask a bad team to get you a cover. Well, tell that to the 94 percent of early bettors who are on the New York Jets for Sunday's matchup with the visiting Tennessee Titans. That's according to the consensus reports at press time, with the Jets getting 7.5 points on the NFL odds board at . And at –105 juice, too. What's not to like? The Jets, that's what.
This is one of the most poorly run franchises in football, which is saying a lot. They keep cycling through promising coaches, GMs and blue-chip quarterbacks, but as long as part-owner and CEO Woody Johnson is calling the shots, quality is not Job 1 with this franchise. The Jets are 0-3 SU and ATS to start the 2021 campaign; we'd call them a "buy low" candidate, but they keep finding new lows to hit.
https://youtu.be/LJwIrY9gkR4
Saying It in a Jersey Accent Doesn't Make It More True
Like those online dating ads on your Twitter feed say, it doesn't work until it does. Statistically, New York may have hit rock bottom last year when they went 2-14 (6-10 ATS) in the last year of the Adam Gase-Sam Darnold regime. That performance boils down to a minus-11.5 on the Simple Rating System at Sports Reference, the second-worst SRS this team has ever posted; the worst was a minus-13.8 in 1976, when Joe Namath turned into a pumpkin and the Jets finished 3-11.
Every year, Johnson says that this is the year New York turns it around. Say it long enough and it might eventually come true: With Robert Saleh as the new head coach, and No. 2 overall pick Zach Wilson taking over at quarterback for Darnold (now doing good things with the Carolina Panthers), the Jets have improved all the way to minus-8.7 SRS. Trust the process?
https://twitter.com/nyjets/status/1443216252776894472?s=20
Titan Man Speaking of process, we need to look at the projections if we're going to put New York in our NFL picks. And the projections look good: FiveThirtyEight have Tennessee (2-1 SU and ATS) winning by six points, and Jeff Sagarin at The USA Today says Titans –5.22, using his overall Rating formula. There should be some profit margin on New York here, especially with that extra half-point above the magic number seven.
This game isn't just about one team. These Titans (yes, we did say "Titans") may be above .500, but they're only No. 27 on the DVOA efficiency charts at Football Outsiders, three spots up on the Jets heading into Week 4. It could be COVID-19 holding them back – several players and staff were infected near the end of training camp – or it could be just a case of small sample size. We'll learn more about Tennessee as the season wears on, but let's bite the bullet, throw a pfennig or two at the Jets, and may the prolate spheroid be with you.
NFL Pick: (visit our Sportsbook Review)
*The pick reflects the line at the moment the writer made the play, the odds at the beginning of this article show the live line movement. Since the lines might vary, don't forget to refer back to our live odds.