Texans vs. Bills NFL Week 4 Picks and Predictions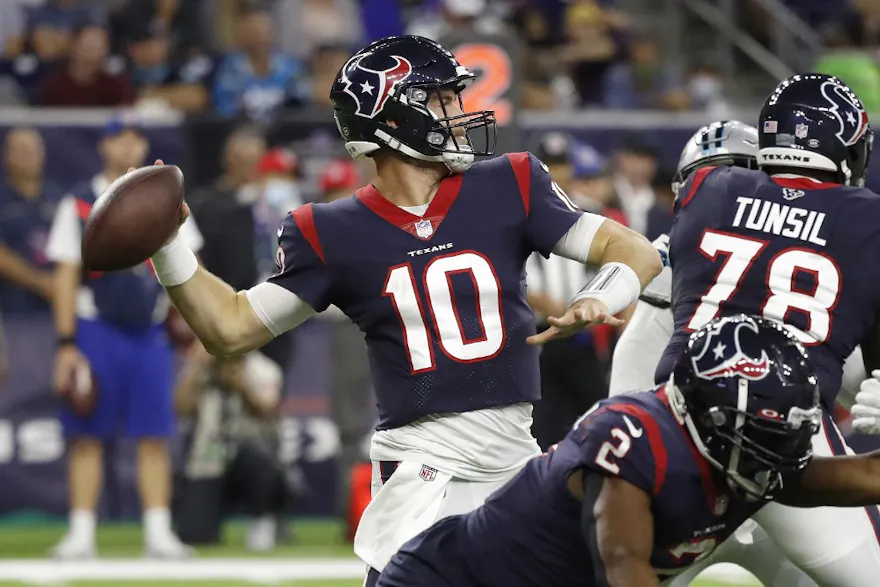 For the second straight week, a former Buffalo Bills quarterback will miss his chance to face his old team due to injury. Washington's Ryan Fitzpatrick missed Sunday's blowout loss in Buffalo, and now it appears that Tyrod Taylor won't be able to lead the Houston Texans to Western New York. With that in mind, let's analyze our NFL pick for the Houston Texans vs. Buffalo Bills.
Houston Texans vs. Buffalo Bills
Sunday, October 03, 2021 - 01:00 PM EDT at Highmark Stadium
It looks like homecoming is canceled in Buffalo this year. Ryan Fitzpatrick suffered a season-ending injury in the opener, preventing him from returning to Western New York to face (one of) his old team(s) on Sunday, when Washington suffered a blowout loss to the Bills.
Now, it's looking unlikely that former Bills starter Tyrod Taylor will be healthy enough to lead the 1-2 Texans back to Buffalo for the Week 4 showdown with the Bills. Taylor suffered a hamstring injury in Week 2 and is expected to miss four games.
That means that the Texans will have a rookie quarterback at the helm when they head to Buffalo to face a team that is once again looking like an AFC favorite after an opening weekend pothole.
https://youtu.be/jf7wGOZZykg
Quarterback Woes
The Texans won their opener, blowing out Jacksonville, who appears to be a strong contender for worst team in the league for the second year in a row. Since then, Houston has struggled, losing Cleveland by 10 and managing just nine points in a 15-point loss to the Carolina Panthers.
The schedule takes another big step up in difficulty this week, as Houston faces a Buffalo Bills team with an explosive offense and strong defense.
https://twitter.com/HoustonTexans/status/1442511850894155780?s=20
They'll be heading to Buffalo led by rookie Davis Mills, who made his first career start against the Panthers last Thursday. The team gets extra time to get him ready since the Texans didn't play over the weekend.
The team had a very conservative offensive game plan in Mills' debut as a starter. Coach David Culley said afterward that the staff "felt like we kind of went too far with trying to protect" the rookie.
The Texans will open things back up on offense heading to Buffalo.
Davis Mills #10 of the Houston Texans. Tim Warner/Getty Images/AFP.
"What we did find out coming out of this game is that he can handle a lot more than what we felt like, because of the way he handled himself in this ballgame," Culley said. "Moving forward, we'll just get back to doing the things that we had started doing in that first game and a half when Tyrod was our starting quarterback."
Of course, doing that against a Bills defense that has allowed just 44 points, fifth-fewest in the NFL, could be a recipe for disaster.
Hitting on All Cylinders
There were concerns that the Bills had been overrated coming into the season following a Week 1 home loss to Pittsburgh, but Buffalo seems to have answered any lingering questions with a pair of resounding wins in the following two games.
Buffalo leads the AFC in scoring at 94 points and is tied for the NFL lead with a plus 50 point differential.
The Bills have taken advantage of a soft schedule, shutting out Miami 35-0 and beating Washington by 22. Houston will be the fourth straight team Buffalo has faced that currently has a losing record.
https://twitter.com/BuffaloBills/status/1442255159938019330?s=20
The offensive line stepped up after concerns in the first two games. Quarterback Josh Allen was not sacked in 44 dropbacks on Sunday, and the team averaged close to five yards a carry on the ground despite not having leading rusher Zack Moss.
Josh Allen had his best game of the season, with 358 yards, four touchdowns, and a 74 percent completion rate, and showed that early-season worries that he might regress after last season could be unfounded.
On defense, the Bills are fourth in the league in yards allowed and had two interceptions, a fumble recovery, and a stop on downs against Washington on Sunday.
The Pick
This game has the potential to be ugly, and oddsmakers have set a line that looks more like something out of college football. The Texans will have extra rest, which will be compounded by the fact that their quarterback is making just his second NFL start.
Look for Houston to come out faster than in previous weeks and for overconfidence to perhaps be a problem for a Buffalo team that's already been surprised at home once this season. A closer-than-expected Bills win is the most likely scenario.
NFL Pick: (visit our Sportsbook Review)
*The pick reflects the line at the moment the writer made the play, the odds at the beginning of this article show the live line movement. Since the lines might vary, don't forget to refer back to our live odds.