Sunday's Best Bets: Add This NFL Week 5 Parlay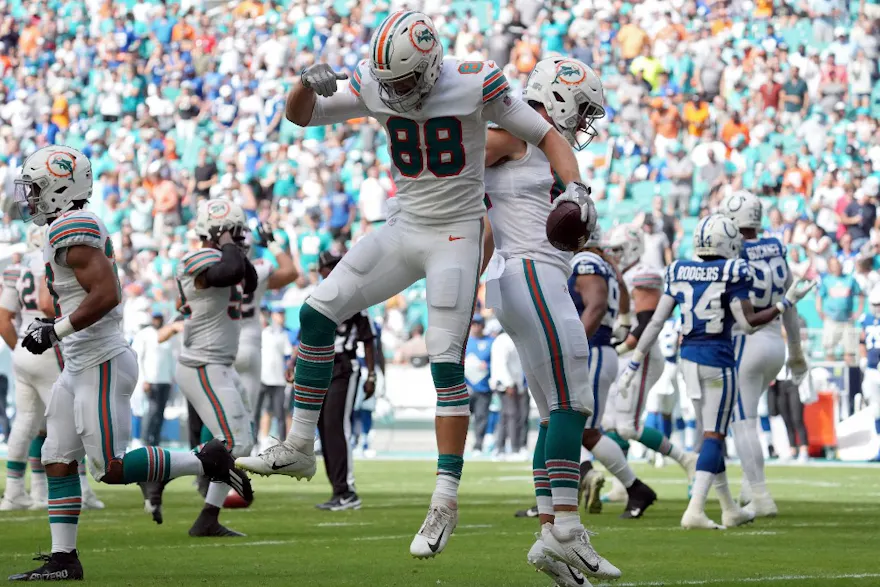 Here's a parlay for Week 5 of the NFL regular season. Two games, in particular, interest me as worth investing in: Miami vs. Tampa Bay and Tennessee vs. Jacksonville.
The top sportsbooks have released their NFL odds for Week 5 of the NFL regular season. Feel free to parlay both bets at the online sports betting sites in order to maximize your profit.
For reasons that I will explain, you should play the spread for both games.
Miami Dolphins vs. Tampa Bay Buccaneers
Sunday, October 10, 2021 - 01:00 PM EDT at Raymond James Stadium
Bad Spot for Tampa Bay
For this game, Tampa Bay finds itself in a classic 'fade' spot called a let-down situation. The Bucs are coming off an emotionally meaningful, hard-fought, and dramatic victory on the road in New England. This game was emotionally meaningful for two reasons: one reason is Tom Brady. Brady returned, for the first time, to New England to face the team with which he won six Super Bowls.
https://youtu.be/d15fBzF4csQ
Secondly, the nature of the game was intense. Tampa Bay required a field goal with 1:57 left in the game to win. After this win, Tampa Bay has to get up for an awful-looking Dolphin team that is getting so many points on the NFL odds board because public perception of it is so negative right now.
https://twitter.com/Buccaneers/status/1445169738418728962?s=20
Dolphin Secondary
Perhaps no other team -- than Miami -- has invested more in its secondary. This investment is what the doctor ordered against a Buccaneer offense that owns the second-highest pass-play percentage in the NFL. It would be wonderful if Byron Jones can play: he's considered day-to-day with a quad injury. Jones and 2020 All-Pro selection Xavien Howard form at the very least one of the best cornerback tandems in the NFL.
Howard is considered elite in man coverage for, among other things, his ability to read and match the speed of the opposing receiver. Jones is known less for his speed in coverage and more for his superb physicality.
Dolphin Offense vs. Tampa Bay Defense
Know for your sports betting that opportunities are relatively ripe for Miami against what will be a beleaguered Tampa Bay secondary. The Bucs could miss defensive backs Jamel Dean, Sean Murphy-Bunting, Carlton Davis, and Antoine Winfield. All are regular, valued players, which means that Tampa Bay's injury situation is, by far, extensively worse than Miami's.
Jaylen Waddle #17 of the Miami Dolphins. Mark Brown/Getty Images/AFP
In Jacoby Brissett and DeVante Parker, Miami owns a veteran connection that can competently take advantage of the Bucs' injury situation. Young Mike Gesicki is blossoming at tight end and speedster Jaylen Waddle is enjoying a strong rookie season thanks especially to a solid catch-to-target ratio.
Tennessee Titans vs. Jacksonville Jaguars
Sunday, October 10, 2021 - 01:00 PM EDT at TIAA Bank Field
Perception
This feels like a good spot to back Tennessee given the current state of public perception. Jacksonville looks better than it is after playing the Bengals close. The only plausible explanation for the Bengals being down 14-0 at halftime against the Jaguars is that they were coming off a meaningful win against rival Pittsburgh and were thus in let-down mode.
https://twitter.com/Titans/status/1445098963208650757?s=20
In the second half, Cincinnati allowed the Jaguars to muster one good drive, but still outscored them 24-7. As for the Titans, they are coming off an embarrassing loss to a well-coached Jet squad. With the Bills and Chiefs on deck, the Titans absolutely need a win in Jacksonville. With the Titans coming off a loss, Jacksonville will have their full attention.
Still High-Powered Offense
What impressed me about the Titan pass attack was that it still helped Tennessee produce 24 points despite the fact that both of its star wide receivers were missing. Moreover, the Jet secondary had been lauded for its extremely surprising -- in a positive sense -- performance in the regular season, for which reason its team still ranks 12th in limiting opposing passing yards.
https://twitter.com/Titans/status/1444744783944110080?s=20
Titan quarterback Ryan Tannehill was nonetheless efficient and approached 300 yards. He'll benefit from facing a nearly bottom-ranked Jaguar pass defense that, after trading recent first-rounder CJ Henderson, has overall done little to improve its personnel after ranking towards the bottom last year as well.
The same goes for the Jaguar pass rush. Again ranking 31st in sack rate, this is not a unit that can approach anywhere close to the seven sacks that the Jets leveled Tannehill with last week. Of course, there's Derrick Henry who has put up some of his best career games against the Jags.
Keep Henry's ability to break tackles in mind for your best bets.
https://twitter.com/Jaguars/status/1445184005867966464?s=20
Jaguar Offense vs. Titan Defense
After scoring seven second-half points against the Bengals, I imagine that this Jaguar offense will continue to struggle. Trevor Lawrence -- notwithstanding the fact that he just played his first game without throwing a pick -- is still growing and misses top target DJ Chark, who is now on IR.
We'll see a bounce-back effort from a Titan defense which will limit an almost weaponless Jaguar pass attack the way that it did Indianapolis' pass attack the week before.
Trevor Lawrence #16 of the Jacksonville Jaguars. Andy Lyons/Getty Images/AFP
The Verdict
Expect Miami's secondary advantage and the Bucs' let-down spot to create a close game in Tampa Bay. Also expect a Titan bounce-back against lowly Jacksonville. For the above reasons, parlay both the Dolphins and Titans ATS with your NFL picks.
Parlay Pick
(visit our Sportsbook Review)
*The pick reflects the line at the moment the writer made the play, the odds at the beginning of this article show the live line movement. Since the lines might vary, don't forget to refer back to our live odds.