Steelers vs. Chargers Week 11 Picks: Offenses to Sputter at SoFi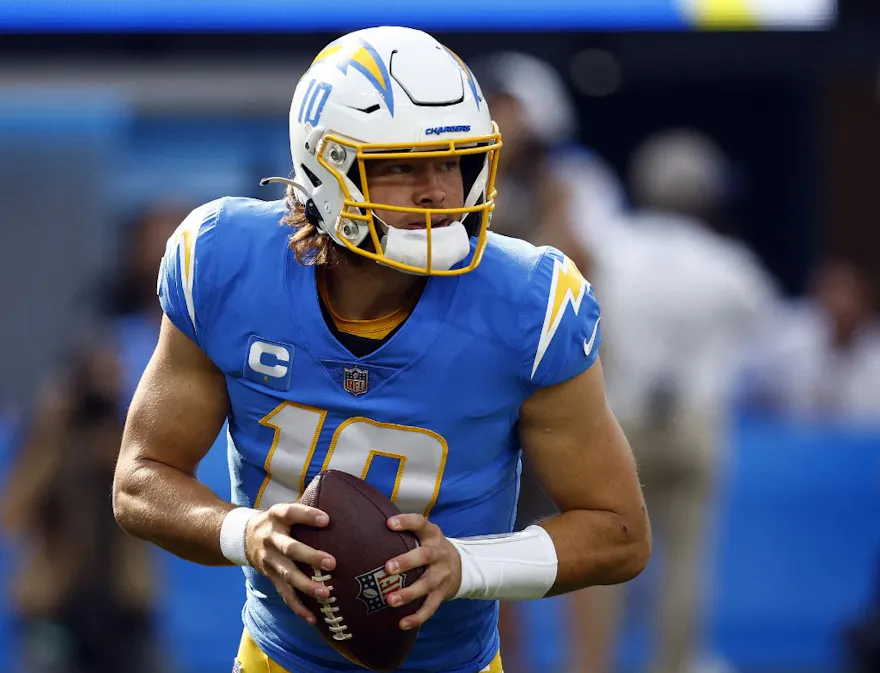 The Sunday nighter features two teams looking to remain in the AFC playoff hunt. We examine who will improve their chances with our Steelers and Chargers picks.
Without Ben Roethlisberger, the Pittsburgh Steelers were unable to beat the Detroit Lions in overtime. Despite Najee Harris running for 105 yards, the Steelers (3-5 against the spread) have a weak offense that is weaker without Big Ben.
They will face the Los Angeles Chargers on the road for Sunday Night Football. The Chargers (5-3 ATS) have been inconsistent despite Justin Herbert and Mike Williams being one of the most potent QB-receiver duos in the AFC. They remain in the AFC West hunt, but they need a win this week.
Here are my picks and predictions for the NFL Week 11 matchup between the Steelers and the Chargers (odds via FanDuel Sportsbook; pick confidence based on a 1-to-5 star scale.)
Steelers vs. Chargers Game Info
Date/Time: Sunday, November 21, 8:20 p.m. ETTV: NBCLocation: SoFi Stadium, Inglewood, CAWeather: 73 degrees, no rain
Steelers vs. Chargers Odds Analysis
The Los Angeles Chargers opened as 5.5-point favorites for this Sunday Night Football matchup, but the line has shifted. Many have boosted it to 6 or even 6.5 points. FanDuel currently has the line at Chargers -6.5.
The total has remained steady. It opened at 47, and it has stayed there. One or two sportsbooks have dropped it down to 46.5, but 47 seems the be where the majority have this line scored.
Steelers vs. Chargers Picks
Steelers +6.5 (-110) ??Under 46.5 (-110) ???
SEE ALSO: Ravens vs. Bears Week 11 Picks
Steelers vs. Chargers Predictions
Steelers +6.5 (-110)
I honestly do not feel very confident about this one, but I am picking the underdog for a few reasons. For starters, underdogs have played well all year, and this could easily be another example of a road underdog shocking the home favorite.
Also, the uncertainty of Big Ben is added to the value. If he plays, +6.5 has tremendous value for the Steelers. Since he is vaccinated, he can play if he has two negative tests 24 hours apart. The lack of information is a red flag, but there is time for this to happen before the weekend, so we'll hold our breath.
The Steelers have relied on their 13th ranked defense all year, and that will be the case again. Los Angeles has shifted their strategy recently, and it has not paid off. If they don't go back to pushing the ball downfield with Herbert, they could struggle to produce in this game.
Losing Minkah Fitzpatrick hurts, but the Steelers still have a quality defensive front that can lower LA's ceiling. That's why I have them covering the 6.5-point spread. Still, I don't feel great about the value here without knowing if Big Ben can play in this game.
Under 46.5 (-110)
With or without Roethlisberger, the Steelers have a low ceiling in terms of offensive production. They average just 331.1 yards of total offense per game. run the ball heavily, and see too many drives stall when one play goes south. They don't have a home-run option in the offense, so they have to battle for every yard.
The Chargers have the potential to explode offensively, but they haven't popped off in recent games. Plus, their defense should limit the Steelers' ability to score.
Expect a slugfest on Sunday night. The Steelers will bring pressure to confuse Herbert, and the Chargers will stack the box to slow down Najee Harris. Unless a special team or defensive play changes the momentum of this game, it will be low-scoring. This is already a low totals line, but I still have the Under.
Picks made on 11/18/2021 at 2:52 p.m. ET
SEE ALSO: Top 3 Underdog Picks of NFL Week 11