Seahawks vs. 49ers Free NFL Picks for Week 4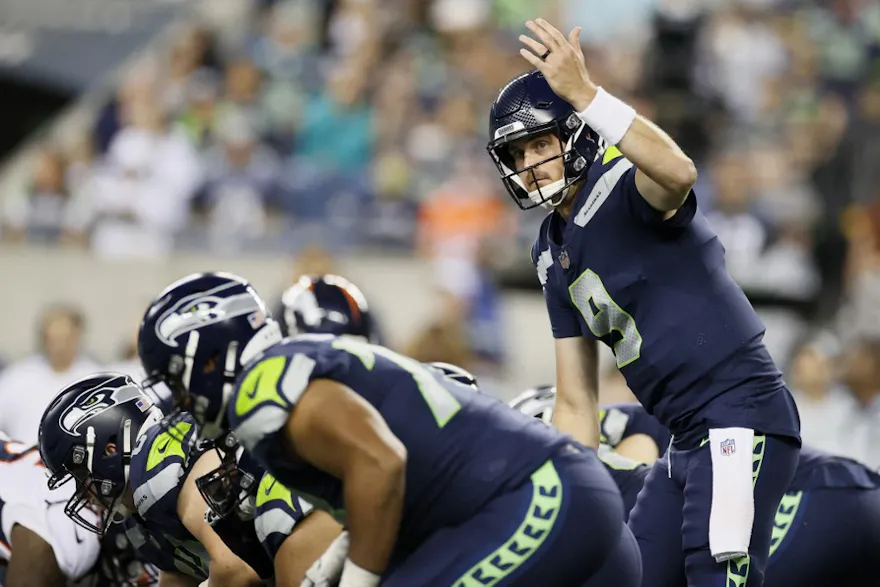 After being stunned at home against Aaron Rodgers and Green Bay Packers, the 49ers will continue their 2021 Redemption Tour right where they played last week against the Seattle Seahawks. Pete Carroll and Russell Wilson will attempt to right the ship after falling to 1-2 with losses to the Titans and Vikings with a huge offensive performance. Jimmy Garoppolo will look to build some momentum after a great Week 3.
With the stage set, let's get into who wins this game. We'll go over the NFL odds and give out our pick at the top-rated sportsbooks.
Seattle Seahawks vs. San Francisco 49ers
Sunday, October 03, 2021 - 04:05 PM EDT at Levi's Stadium
Seattle's Secondary Still Reeling
If you've been away from the NFL for the last few weeks and are just tuning in now, I can tell you that nothing at all has changed with the Seattle Seahawks defense. It's still bad.
A season after owning one of the worst secondaries in all of football, the Seahawks allowed Kirk Cousins to throw for 323 yards and three touchdowns in a brutal 30-17 loss to Minnesota last week. As it stands, the Seahawks now rank 26th in the league with 285.3 yards per game allowed through the air and 26th in opposing completion percentage at 70.69%. Even worse, the Seahawks have just a 5.69% sack rate, ranking 16th, meaning more stress is being put on the secondary. That was the case against Minnesota. Seattle sacked Cousins just one time, supplying a measly four quarterback hits.
https://youtu.be/bDJjpaqmkxY
Offensively, the story remains the same as well. Seattle loves to run the ball, and it's no surprise with the way Chris Carson is playing. He had 12 carries for 80 yards in Week 3, which is good for 6.7 yards per carry, and also scored a touchdown. This line has always gotten tremendous push, and it's opened things up for Russell Wilson to take deep shots, as he has all year long. The 49ers have allowed 122.3 yards per game on the ground, which ranks 23rd.
The moral of the story here is that the Seahawks have a bad defense, but their offense has really shined over the last few years and looks to be just as lethal as it was in 2021. Wilson has been alternating between DK Metcalf and Tyler Lockett and both look to be game-breakers.
https://twitter.com/Seahawks/status/1443256020369690627?s=20
How Good Is This Defense?
It's really hard to figure out this 49ers team. They're currently looking very strong, and Jimmy Garoppolo is coming off a great half of football, but this defense — once-vaunted — essentially lost it the game last week when Aaron Rodgers was able to match down the field late in the fourth.
As it stands, the Niners rank 16th in points per game allowed, 16th in passing yards allowed per game and 23rd in rushing yards per game, as stated above. In the face of a very strong Seahawks offense, this is slightly terrifying.
One thing that will need to change for San Francisco is the pass protection. It allowed four sacks and 11 hits on Garoppolo in last week's loss, though that's not of great concern given how bad the Seahawks have been at rushing the passer this year.
Garoppolo also needs to play a complete game. He was great in the second half, nearing seven yards per attempt for the game, but he wasn't quite playing efficiently enough throughout the game. Still, you've got to be happy with Garoppolo coming in with a 101.2 QB rating considering his struggles throughout the last couple of years.
Pick
After what seemed like a year and a half of the Seahawks being overvalued, I think they are a bit undervalued here. Seattle can easily win this game given the struggles of the Niners' defense and considering that the offensive line allowed so much pressure on Garoppolo, there's a chance Seattle's secondary can get some much-needed help from the pass rush.
For our NFL picks, I'd take the three points here with Seattle but wouldn't recommend taking it at two. I see a tight finish and love the security you get with this spread.
NFL Pick: (visit our Sportsbook Review)
*The pick reflects the line at the moment the writer made the play, the odds at the beginning of this article show the live line movement. Since the lines might vary, don't forget to refer back to our live odds.