Rodgers vs. Hurts Prop Picks, Predictions: 3 Player Props for Sunday Night Football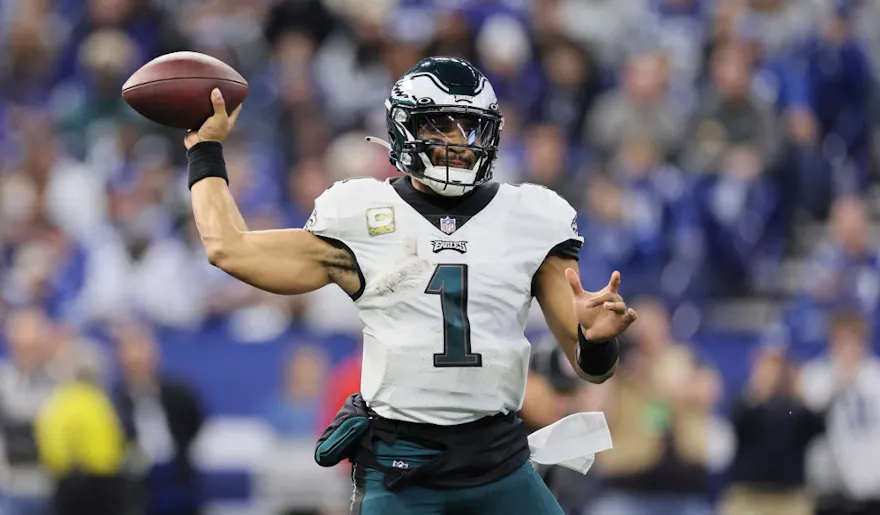 Sunday Night Football features a matchup between the Green Bay Packers and Philadelphia Eagles. Are the quarterbacks set to have big nights? Read on for our top Aaron Rodgers vs. Jalen Hurts prop picks.
Green Bay quarterback Aaron Rodgers and the Packers lost six of their last seven games and now must play a road contest against the team with the NFL's best record. Meanwhile, Philadelphia QB Jalen Hurts and the Eagles average 26.3 points per game and lost just once all season. Which quarterback has the advantage Sunday night?
Here are our Aaron Rodgers vs. Jalen Hurts Week 12 player prop picks (odds via DraftKings Sportsbook; pick confidence based on a 1-to-5-star scale).
Packers vs. Eagles Odds
Rodgers vs. Hurts Prop Picks
Aaron Rodgers +6.5 passing yards (-115 via DraftKings) ★★★★
Aaron Rodgers more passing touchdowns (+110 via DraftKings) ★★★★
Jalen Hurts and Aaron Rodgers Under 449.5 passing yards (-120 via DraftKings) ★★
Rodgers +6.5 passing yds (-115) ★★★★
If you look at the individual player props on DraftKings, Aaron Rodgers' line is set at 224.5, and Jalen Hurts' is at 226.5. So where do oddsmakers get a spread of 6.5 yards from?
Since an abysmal performance against the Detroit Lions, Rodgers settled in with back-to-back 220+ yard performances, five touchdowns, and zero interceptions.
Hurts has been shaky over the past two weeks, as he hasn't cleared 200 yards a game in either matchup. Additionally, the Eagles should playing ahead for most of this game, and even if they don't, Hurts will eat up some of his passing yards when he scrambles.
Rodgers more passing TDs (+110) ★★★★
This season, Rodgers has 19 touchdown passes while Hurts has 15. With the Eagles expected to outscore the Packers, this small difference in TD passes isn't enough to make Rodgers a confident play.
However, what does make Rodgers a good pick, is the Packers are tied for an NFL last in rushing touchdowns with just four. Meanwhile, the Eagles lead the league with 18 rushing TDs. Hurts even had a rushing touchdown in each of his last two matchups.
When the Eagles get in the red zone, they're going to run the ball to try to get touchdowns. The Packers will have to rely entirely on Rodgers.
Hurts and Rodgers Under 449.5 passing yds (-120) ★★
Hurts averages 240.7 passing yards while Rodgers averages 230.1 yards. If you combine those numbers, the two QBs average 471.8 yards per game, more than enough to comfortably clear this number.
Yet, neither player put up big enough numbers in recent weeks to expect them to combine for this total. Rodgers hasn't thrown for 300 yards in a game this season, while Hurts hasn't cleared 300 since Week 3.
These defenses each barely give up 200 passing YPG. Look for one of these QBs to just clear 200 on Sunday, while the other doesn't at all.
Where to Bet on Rodgers vs. Hurts Picks
Here are our top-rated sportsbooks:
Rodgers-Hurts prop picks made 11/26/2022 at 8:04 a.m. ET