Packers vs. Bears NFL Week 6 Picks and Predictions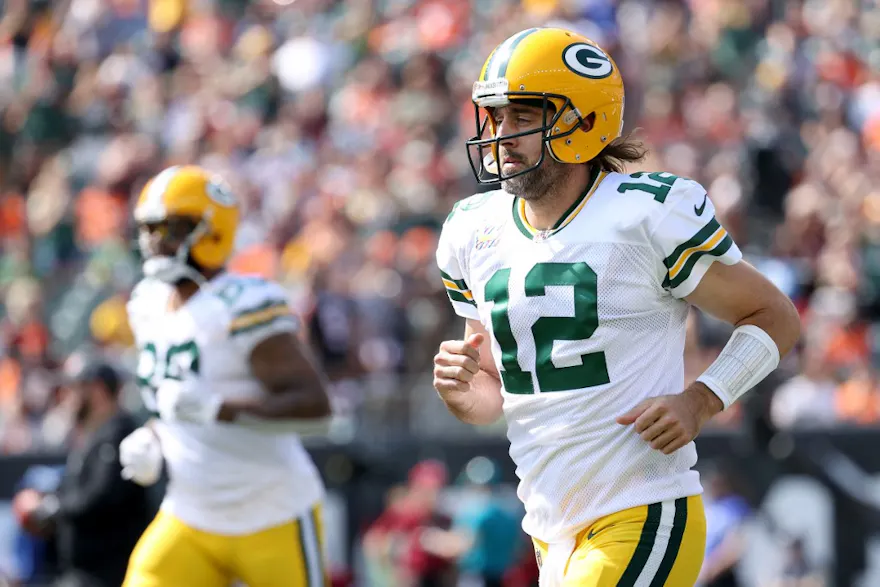 One of the NFL's historic rivalries gets a new chapter when the Chicago Bears (3-2) host the Green Bay Packers (4-1) on Sunday. The Packers have won four in a row after escaping Cincinnati with a 25-22 overtime win. The Bears have won two in a row with rookie quarterback Justin Fields hanging in there after that brutal debut against the Browns in Week 3.
The Packers are a 4.5-point favorite at many of the top sportsbooks. Is Green Bay's significant advantage at quarterback still enough to carry them to a cover in this matchup?
Green Bay Packers vs. Chicago Bears
Sunday, October 17, 2021 - 01:00 PM EDT at Soldier Field
Packers: Aaron Rodgers vs. Matt Nagy
Aaron Rodgers is not quite back to his MVP level from 2020, but that Week 1 loss to the Saints clearly looks like a fluke at this point. Rodgers has guided the Packers to four wins in a row, including a tough overtime win in Cincinnati on Sunday after Mason Crosby missed three go-ahead field goals before finally making the winner.
Rodgers is used to winning against the rival Bears. He is 21-4 in the starts he finishes against Chicago in his career. Since Matt Nagy took over as coach of the Bears in 2018, Rodgers is 5-1 against Chicago with 13 touchdowns to one interception. The last four wins have all been by at least seven points, and both 2020 meetings were decided by at least 16 points.
Simply put, the Bears have not been much of a threat to limit Rodgers from scoring and beating their lesser offensive teams over the years. These 2021 Packers are a bit limited at receiver these days, but that did not stop Davante Adams from having 11 catches for 206 yards in Cincinnati on Sunday. The Packers can also run the ball with Aaron Jones and A.J. Dillon. The Packers have scored at least 25 points in each game during this four-game win streak.
A typical Rodgers performance could be enough to get the job done for Green Bay in this one.
Bears: Will Justin Fields Start Running More?
Some mobile quarterbacks have given the Packers fits over the years from Colin Kaepernick in San Francisco to Russell Wilson in Seattle. Chicago's former starter Mitchell Trubisky was not much of a problem for Green Bay, but that's because he was ineffective as a passer. Unfortunately, that was while he was running Nagy's offense, which is still not having much success this year.
Justin Fields has kept the starting job from Andy Dalton, and on Sunday against the Raiders, he managed the 20-9 win to the tune of 111 passing yards. Fields threw one touchdown and avoided having any turnovers as the Bears leaned on their defense and a good running game (34 carries for 139 yards) to put the Raiders away. You know, the classic Chicago formula.
But for Fields, he only had three runs for four yards. In his three starts this year, Fields has nine runs for 25 yards. He is certainly mobile enough to do damage in the NFL, but this part of his game has been conservative and missing in action so far. San Francisco rookie quarterback Trey Lance made his starting debut on Sunday against Arizona, and he ran 16 times for 89 yards in that one game. Now Lance is a different talent in a different system from Fields, but it is still surprising to not see the Bears get more out of his legs in an era where that is so common from the gifted athletes at quarterback.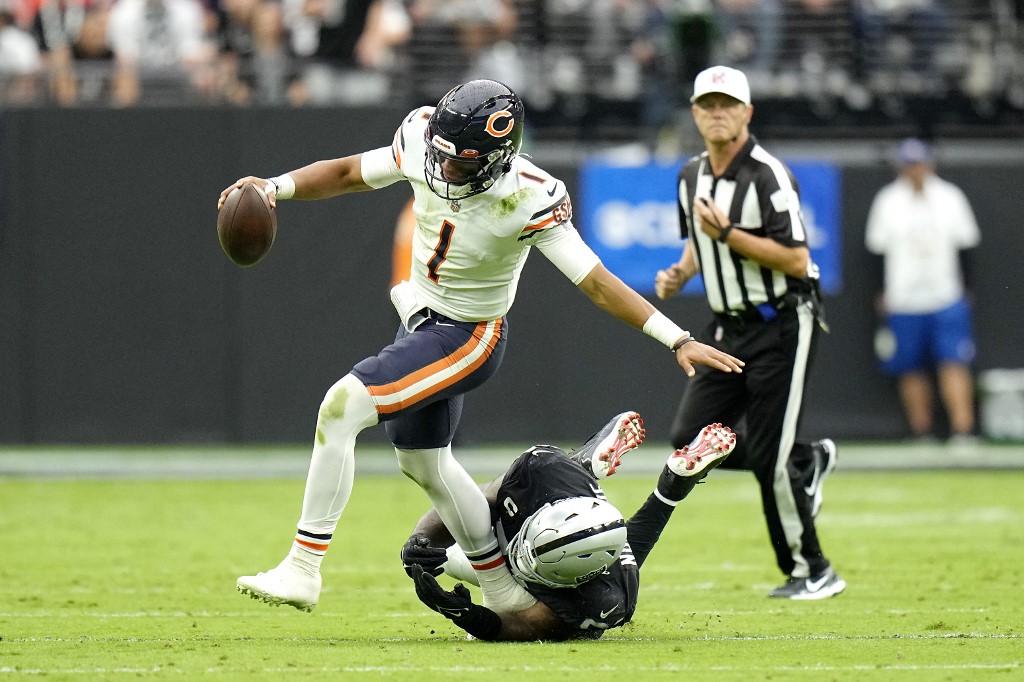 The Bears are still without injured running back David Montgomery. Damien Williams and Khalil Herbert did a fine job of filling in for Montgomery on Sunday, but Montgomery is the team's best back.
Wide receiver Allen Robinson is best suited to take advantage of the Packers not having top cornerback Jaire Alexander available. However, the Bears have not shown much willingness to throw the ball a lot in any game this season. Robinson has just 181 yards in five games this year. He had 421 yards through five games in 2020 and 377 yards in 2019. Fields has shown more of a connection with Darnell Mooney to this point, but even he just had 35 yards in Las Vegas.
The Bears scored a season-high 24 points against the lowly Lions in Week 4. Unless Nagy is ready to unleash the real Fields on the hated Packers this week, it is hard to see this being a high-scoring game.
Prediction
While I am all for division games being tough, the Bears just do not have a team that matches up well with the Packers. The defense has not been elite since 2018 and does not get enough pressure or turnovers out of Rodgers. The offense needs to be able to attack downfield and take advantage of Fields' mobility to really stress this Green Bay unit.
I do not see that happening based on the way the Bears have played through Week 5, so I like the Packers to cover for your NFL picks this Sunday.
NFL Pick: (visit our Sportsbook Review)
*The pick reflects the line at the moment the writer made the play, the odds at the beginning of this article show the live line movement. Since the lines might vary, don't forget to refer back to our live odds.