NFL Week 6 Best Bets: Buccaneers vs. Eagles Thursday Night Football Picks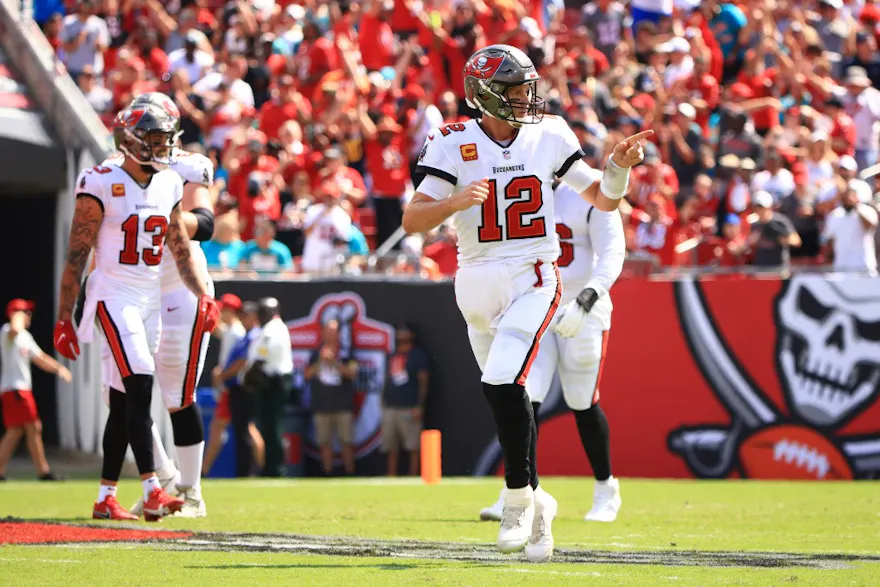 Week 6 sees the reigning Superbowl champions take on a recent winner in Philadelphia. Can the Bucs out-score the Eagles for another win? For your NFL pick, let's read my prediction below!
Tampa Bay Buccaneers vs. Philadelphia Eagles
Thursday, October 14, 2021 - 08:20 PM EDT at Lincoln Financial Field
The Buccaneer stepped on the gas in the 4th quarter of their win against the Dolphins last week to easily cover a double-digit spread line in the end and take them to 4-1, while the Eagles somehow came out of Carolina with a win in what looked like a terrible game from both sides to take themselves to 2-3 on the season.
https://youtu.be/ivlDE3F4IsM
Can Tampa Continue Their Winning Run?
It's been a weird season for Tampa so far. They are conceding yards over yards in the passing game due to significant bulk injuries at cornerback and safety. Couple that with the fact that their run defense is the best in the league and teams are throwing constantly against them. Even Jacoby Brissett had some positive throws at the weekend against them and I thought he'd have no chance of exploiting the weakness.
They are in a fairly easy stretch of their schedule so the issues on the back end aren't affecting them too much, and with Tom Brady playing at such a high level, somehow at 44 he's leading the league in passing yards through five games, their wide receivers all stepping up when required and it looks like maybe a running game finally with Leonard Fournette they should be able to out-score the opposition at the moment.
https://twitter.com/Buccaneers/status/1447284879591362566?s=20
Brady threw for over 400 yards and 5 TDs for the first time in his illustrious career in the rout this weekend with Mike Evans catching 2, Gio Bernard getting a receiving score, and the refreshed Antonio Brown blowing up for a couple as well. Brown was particularly impressive reminding viewers of his talent from Steelers days taking apart the high vaunted Dolphins secondary.
Will the Eagles Be Able to Let It Fly?
The Eagles are a very frustrating team to watch. They've got a talented running quarterback, an obviously very good running back in Miles Sanders, and a good rookie with Kenneth Gainwell, yet they seem determined not to run the ball. Only 22 rush attempts between those three players for 91 yards in total, although Hurts did earn himself 2 rushing TDs.
Fair enough the offensive line has taken some hits, but they have to get Sanders doing more in games, it's not like their passing game is effective. 198 yards from 37 attempts at the weekend, under 5.5 yards per attempt, and other than the current Heismann trophy holder Devonta Smith there's not a huge amount of talent there.
Dallas Goedert #88 of the Philadelphia Eagles. Mike Comer/Getty Images/AFP.
Dallas Goedert is probably next up in terms of being targeted, then a mix of Quez Watkins who has made some explosive plays, Jalen Reagor, and Zach Ertz who remained on the roster after an uncomfortable off-season. There are not many who'd start on a lot of other teams in the league.
Their defense has looked good for the most part though, and their passing defense seems a strength with them conceding the 3rd fewest passing yards this season, so they'll be hoping they can make things tough for Brady.
Can the Eagles Keep It Close?
There's around a touchdown handicap on the spread at the moment, are the Eagles good enough to keep it within that?
I don't think so, they scraped to their win this weekend, mainly due to Sam Darnold turning the ball over, but there's no chance Brady gives the ball away as much as Darnold did this weekend so it's going to be a tough night for Phillie.
The Rams winning last Thursday made it 4/4 for the Road team covering the spread at the NFL odds, and I think that's what happens this week as well despite it being a high line.
NFL Pick: (visit our Sportsbook Review)
*The pick reflects the line at the moment the writer made the play, the odds at the beginning of this article show the live line movement. Since the lines might vary, don't forget to refer back to our live odds.