NFL Week 6 Best Bets: Bills vs. Titans Monday Night Football Picks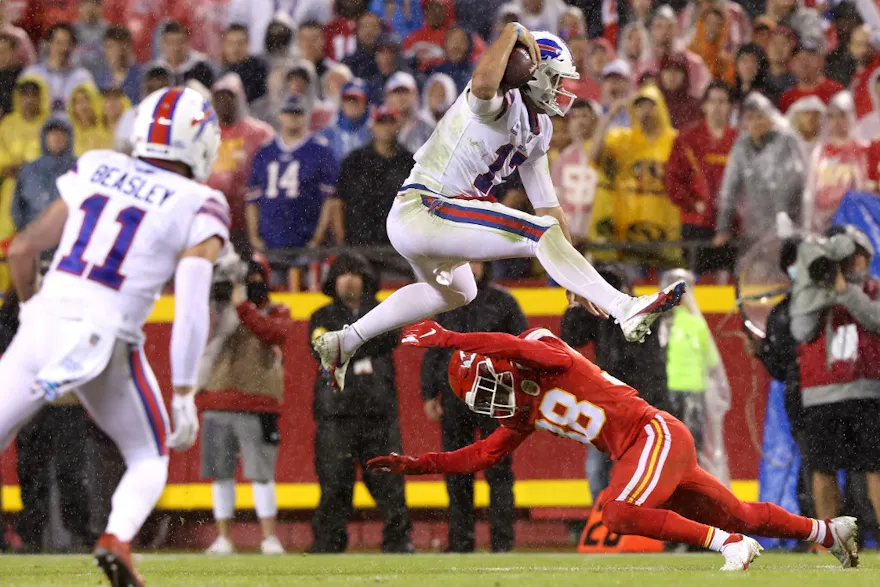 The Buffalo Bills (4-1) have been on a dominant four-game winning streak and will look to continue it Monday night as they take on the Tennessee Titans (3-2). The Titans rebounded from their overtime loss to the Jets with a 37-19 win against the Jaguars on Sunday. Let's get into the NFL odds for this one.
Buffalo Bills vs. Tennessee Titans
Monday, October 18, 2021 - 08:15 PM EDT at Nissan Stadium
The Bills are a 5.5-point favorite at most sports betting sites. Buffalo's plus-108 scoring differential is tied for the sixth-best in the NFL through five games since the 1970 merger. Four of the top five teams reached the Super Bowl that year. The Titans are hanging onto first place in a weak AFC South, but they have already lost 38-13 to the undefeated Cardinals in Week 1. Is another blowout in store?
Buffalo's Revenge Tour Continues
After dominating the Chiefs in Arrowhead last week, the Bills can next avenge a 42-16 loss played on a Tuesday last season in Tennessee. On that night, the Bills shot themselves in the foot with turnovers and helped the Titans to four touchdown drives that started inside their 30.
https://youtu.be/FQdb_nEZqdo
This year, the Bills only have four turnovers and a league-high 15 takeaways on defense. The Bills lead the league in points scored and points allowed, a rare combo in any era, let alone in the salary cap era.
This is the fourth season in a row that these teams will meet. If the Bills can avoid giving Tennessee short fields like last year, they should have a good shot to win this one comfortably. Buffalo's defense has played well against Derrick Henry, holding the star back to 191 yards in three games and just 3.8 yards per carry.
Bills quarterback Josh Allen had a season-low in pressures against the Titans last year, but it was an uncharacteristic off-night for his passing offense. The Bills come into this one hot with Allen throwing nine touchdowns to one pick in his last three games.
Veteran wideout Emmanuel Sanders and tight end Dawson Knox have really stepped up to give the passing game new dimensions in 2021. The Titans are allowing quarterbacks to average 8.4 yards per pass this season and they have not even played a good passer since Russell Wilson in Week 2.
https://twitter.com/Titans/status/1447659695007838209?s=20
Tennessee quarterback Ryan Tannehill has already taken a league-high 20 sacks or only four fewer than he had in the whole 2020 season. The Bills have one of the better pass rushes this season – tied for fifth in sacks (14) and sixth in pressure rate (28.6%) – and they force teams to throw the ball short as they rarely blitz. The Bills also held their first four opponents under 80 rushing yards before scrambles by Patrick Mahomes helped the Chiefs break that benchmark on Sunday in a losing effort.
The Bills look like a complete football team with no major weakness right now. Of course, they are not unbeatable after already blowing a 10-point lead at home to the Steelers in Week 1.
Looking to Make History
Are the Bills a regression candidate this week? Since 2001, road favorites of exactly 5.5 points are 45-12 SU and 30-27 ATS. Also in that time, teams who are over 100 points better on the scoreboard than their opponent going into Week 6 and are favored by single digits are 0-8 ATS in those matchups. Small sample size for sure but an interesting record, nonetheless.
https://twitter.com/BuffaloBillsPR/status/1447441748364603398?s=20
The Bills have won four straight games by at least 18 points. Only five teams in NFL history have done that at least five games in a row and the only one in the last 50 years was the 1999 Rams. The Bills have scored at least 35 points in each of the last four games, a streak that only four teams in NFL history have extended to a fifth game or beyond.
But the Bills do not need to win by 18 or score 35 points in this one to cover the spread. A 30-24 final would do the trick on Monday night. Go figure, the total is set at 54.5 for this game.
Prediction
The Bills are 12-2 including the playoffs since their bye week last year. All but one of the wins has come by double digits. This team is on a roll that has them in historic company, and it is hard to go against them right now after that impressive showing in Kansas City proves the defense is legitimate. Throw in an MVP candidate at quarterback and the Bills are looking like the team to beat in the AFC right now. I will take them to cover again in Tennessee for your NFL picks to end Week 6.
NFL Pick: Bills -5.5 (-110)
*The pick reflects the line at the moment the writer made the play, the odds at the beginning of this article show the live line movement. Since the lines might vary, don't forget to refer back to our live odds.