NFL Week 4 Best Bets: Raiders vs. Chargers Monday Night Football Picks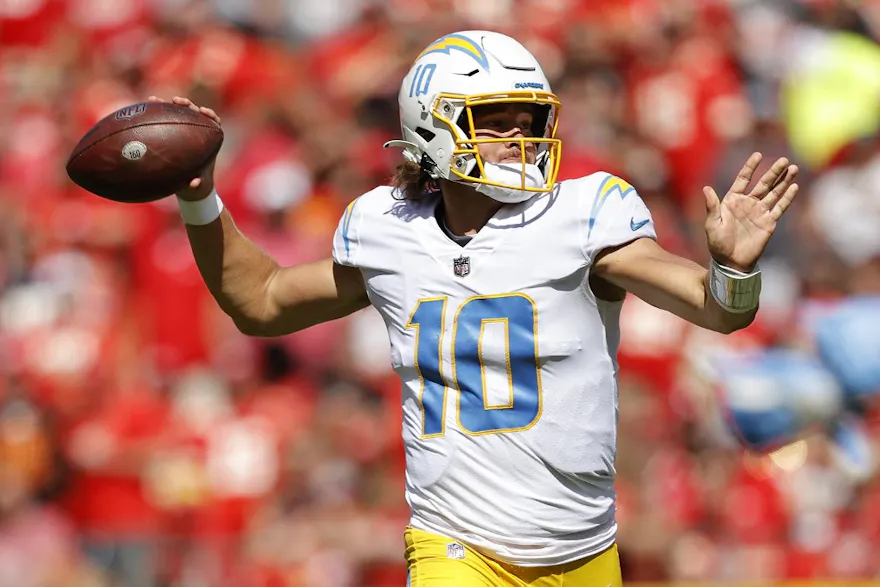 The Las Vegas Raiders (3-0) and Los Angeles Chargers (2-1) will meet Monday night in what could be the first of two of the most consequential games in the history of this AFC West rivalry. You have to go back to the 1994 season to find the last time these teams both finished with a winning record.
We are a long way from that this year, but both are off to strong starts with the Raiders winning another overtime game against Miami and the Chargers shocking the Chiefs in Arrowhead.
Read on to see which team goes into our NFL pick for this matchup.
Las Vegas Raiders vs. Los Angeles Chargers
Monday, October 04, 2021 - 08:15 PM EDT at SoFi Stadium
The Chargers are a 3.5-point favorite at many of the top sportsbooks. The Raiders won 31-26 in Los Angeles last year after the Chargers dropped a game-winning touchdown.
The Chargers won 30-27 in overtime in December after Justin Herbert rushed for a touchdown in the extra period. Derek Carr left that game after five throws with an injury, and he has won his last three starts he's finished against the Chargers. This should be a good one.
https://www.youtube.com/watch?v=7LEsmXbWFXk
Raiders: This Time It's for Real?
The Raiders are off to an unexpected 3-0 start, but this is the kind of game that will determine how much we should trust this team to continue winning. Head coach Jon Gruden has three times led a team to a 6-3 start only to miss the playoffs, including last year with these Raiders.
But are these Raiders different? Statistical models are treading lightly despite the 3-0 record. Both the Simple Rating System at Pro Football Reference and Football Outsiders' DVOA rank the Raiders No. 14 through Week 3.
The Raiders needed to recover two Lamar Jackson fumbles, make a clutch 55-yard field goal, and overcome a red zone interception in overtime to get past the Ravens in Week 1. That's a Baltimore team that nearly just lost in Detroit if not for Justin Tucker's 66-yard field goal.
https://twitter.com/Raiders/status/1443554218716155910?s=20
The Raiders won 26-17 in Pittsburgh, but that Steelers offense is historically broken right now, and Ben Roethlisberger did hit multiple deep balls in that game. Carr was just better, and the Steelers lost T.J. Watt early. Then last week against a Miami team that lost 35-0 to Buffalo, the Raiders fell behind 14-0, then took another long overtime game to put away a team quarterbacked by Jacoby Brissett that just would not die in a 31-28 final.
It is easy to say the Raiders have improved greatly on defense, but that is because they were terrible in 2020 on that side of the ball. But it is true that these three games would all rank among their five best games on defense in 2020. The Chargers should bring a formidable challenge on Monday night.
It's not like the Raiders have found the greatest running game to help Carr this year. Running back Josh Jacobs has been out since Week 1 and the Raiders rank 28th in yards per carry. The receiving corps is deep as the Raiders are the first team in NFL history to have four players over 200 receiving yards through Week 3.
This team is leaning heavily on Carr right now. He joins Tom Brady (2011) and Ryan Fitzpatrick (2018) as the only quarterbacks to throw for at least 380 yards and two touchdown passes in each of the first three games in a season. He needed all of overtime to get over that mark on Sunday, but someone like Herbert has yet to pass for that many yards in his career.
In fourteen games against the Chargers, Carr has generally played well, but he has only thrown for 300 yards one time back in a 2016 win. This is his first crack at the Brandon Staley-coached Chargers, so we'll see if he can continue producing efficiently and at a high volume to lead this team to another victory and 4-0 start.
https://twitter.com/chargers/status/1443749968028659746?s=20
Chargers: Herbert's Time?
Some numbers for the Chargers' offense look underwhelming, such as Herbert ranking 16th in QBR, or the team only ranked 19th in points scored. But some better context is needed.
For starters, because the Chargers average by far the most plays per drive, and since their defense has struggled, they have a league-low 25 offensive possessions this season. The Raiders have a league-high 36 drives thanks in part to playing two games deep into overtime. The Chargers lead the NFL in yards per drive and are sixth in points per drive, besting the Raiders, who rank ninth and 14th respectively.
Mike Williams #81 of the Los Angeles Chargers. David Eulitt/Getty Images/AFP
Herbert's receivers have dropped a league-high 10 passes. His on-target pass rate is the highest in the league (86.8%) according to Pro Football Reference. He has been sharp and Mike Williams is flourishing in his fifth season with 295 yards and four touchdowns already. He caught the game-winning score against the Chiefs last week.
The Chargers have not run the ball well and the run defense is arguably the worst in the league, but this could be beneficial against the Raiders, who have been living on the big pass plays this season. Despite playing the Cowboys and Chiefs the past two weeks, the Chargers have allowed five pass plays of 20-plus yards this season, tied for the third-lowest total.
Holding the Cowboys and Chiefs under 25 points should give the Chargers some confidence that they can do the same to the Raiders and get a win, but it probably will be another close game.
Prediction
Five of the six games these teams have played this year have seen the winning points scored in the fourth quarter or overtime.
I think both quarterbacks and offenses will be sharp in this one, and it could be a great island game on Monday night. While I think the Chargers are going to prove to be the better team, in the long run, I am going to hedge my bet and go with the Raiders here to cover for your NFL picks.
NFL Pick: (visit our Sportsbook Review)
*The pick reflects the line at the moment the writer made the play, the odds at the beginning of this article show the live line movement. Since the lines might vary, don't forget to refer back to our live odds.