NFL Week 2 Best Bets: Lions vs. Packers Monday Night Football Picks and Predictions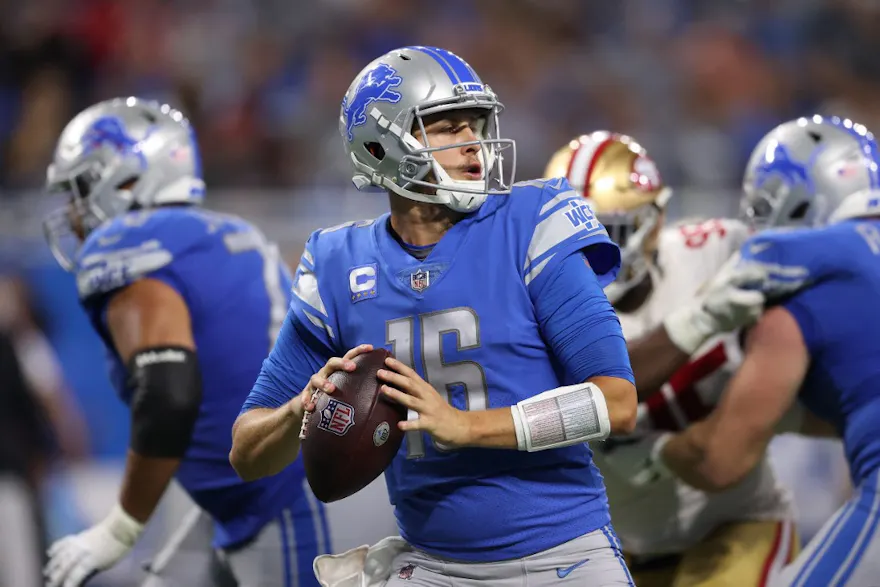 Aaron Rodgers and the Green Bay Packers look to rebound from the first 35-point loss of the future Hall of Fame quarterback's career. The only other team to hold Rodgers under eight points in a game is Detroit, which has done it three times. Granted, Rodgers left two of those games early with injuries, but he might be entering this latest matchup with Detroit with a bruised ego after one of the worst season openers ever for a reigning MVP. For your NFL picks, read below my prediction for the Detroit Lions vs. Green Bay Packers.
Detroit Lions vs. Green Bay Packers
Monday, September 20, 2021 - 08:15 PM EDT at Lambeau Field
Green Bay is an 11.5-point favorite at many of the top sportsbooks for what is a truly fascinating betting line. The Packers are only the sixth team since 2001 to lose their season opener by at least 35 points. Those first five teams were all underdogs of at least seven points in Week 2 and all but one of them (2017 Colts without Andrew Luck) lost by at least 11 points. Yet here we have the Packers with a huge spread against a division rival that managed a miracle cover last week against the 49ers. Can the Lions bite off enough kneecaps in this one for another cover or shock the NFL world with a win?
Green Bay: What Was That?
Aaron Rodgers must really hate Florida. He had his worst game of his 2020 MVP season in Tampa Bay. While Sunday's scoreboard said New Orleans, with the game being played in Jacksonville and Jameis Winston the opposing quarterback, he might as well have been playing Tampa Bay in that 38-3 loss, the worst of his career.
It was a stunning loss against all sports odds. The Packers are the only team since at least 2001 to lose a game by 35 points in the first 10 weeks of a season after an appearance in the Conference Championship Game in the previous season. No one expected this.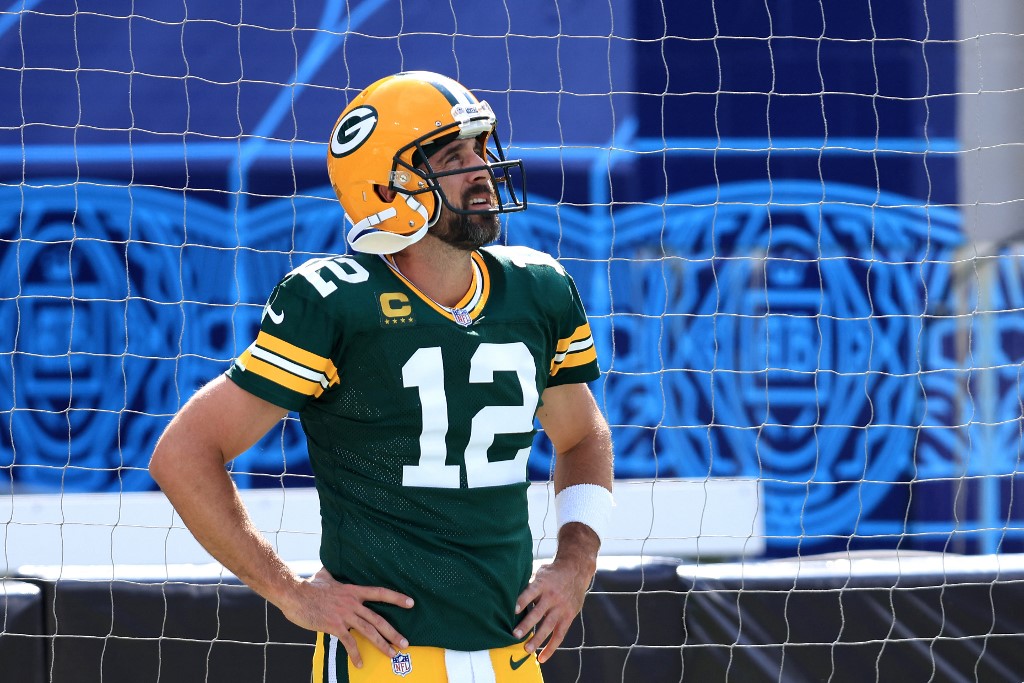 In New Orleans last year, Rodgers had one of his high points of his MVP season in a 37-30 win played without Davante Adams. On Sunday, Adams was active, but he only had 56 yards while the Packers did not drop any passes in the game. While Rodgers is still missing left tackle David Bakhtiari, the offensive line was not Swiss cheese on Sunday. He was sacked once, and his pressure rate was not astronomical. According to Pro Football Reference, Rodgers had a bad throw on 33.3% of his attempts against the Saints, his worst mark in a game since he was at 35.2% against the 2019 Lions. He had multiple interceptions in ways we are not used to seeing from him.
The Packers never got their running game going and could not stop New Orleans on the ground. Jameis Winston threw four touchdowns before he broke 100 passing yards in the game. After Rodgers threw back-to-back interceptions in the third quarter, the game was basically over after Winston capitalized on a short field to take a 24-3 lead.
Rodgers has given us memorable taglines in the past. His slow start in 2014 led to "Relax" before he won his second MVP. The 4-6 start in 2016 led him to "run the table" as he led the Packers to an NFC Championship Game loss. What does he have this time? "It's just one game" may not resonate as well.
Head coach Matt LaFleur has only lost nine games with the Packers, but this was the fifth time they were blown out. Between losing in the NFC Championship Game to Tampa Bay and Week 1 to New Orleans, this is technically the first losing streak of LaFleur's career. But in three chances last year with a game after a loss, the Packers were 3-0 with every win by at least 15 points. So, he has shown he can rally the troops and move on in the next game.
But all eyes will be on Rodgers in this one. This feels like a prime spot for him to dominate and get an easy win against a team projected to be the worst in the conference. A Detroit team that was down 41-17 late in the fourth quarter at home to the 49ers before a crazy rally, helped by an onside kick recovery, led to a backdoor cover at 41-33.
Since 2014, Rodgers has faced Detroit 12 times and only managed to win by more than 10 points once: 42-21 last year in Green Bay. Sure, the Detroit quarterback is Jared Goff now instead of Matthew Stafford, and Rodgers beat Goff 32-18 in the playoffs with a much better Los Angeles team around Goff in January. But what if 2020 was the real Last Dance for Rodgers?
Prediction
With this spread, we are asking Green Bay to go from a 35-point loss to at least a 12-point win to cover. Only 16 of the last 116 NFL teams (13.8%) to lose by at least 35 points have won their next game by 12 or more points. Of course, Green Bay figures to be only the fifth such team to be favored by double digits a week after getting blown out so badly. Those teams were 4-0 SU and 2-2 ATS.
Detroit at least showed a lot of fight, something the Packers lacked, on Sunday, and has some weapons on offense to keep up for much of the game. I think this spread is just too high to take Green Bay after such a poor showing in Week 1. While I fully expect Rodgers to shine and win this game, I will hedge my NFL bets and take the Lions to cover again.
NFL Pick: (visit our Sportsbook Review)
*The pick reflects the line at the moment the writer made the play, the odds at the beginning of this article show the live line movement. Since the lines might vary, don't forget to refer back to our live odds.