Dolphins Surging in NFL Futures Markets: Tagovailoa, McDaniel Rising Up Boards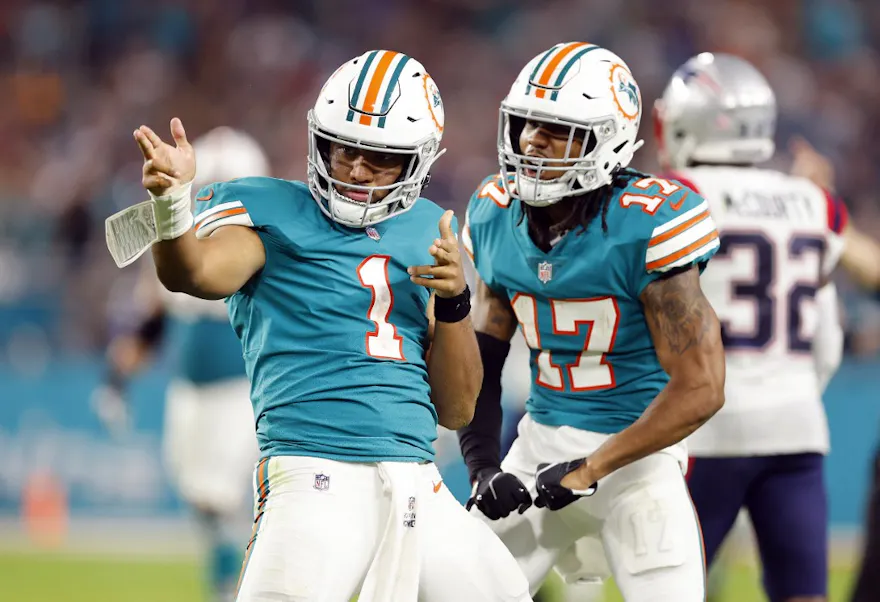 Head coach Mike McDaniel has brought a new energy to the Miami Dolphins locker room and the team is now 2-0 for the season. As momentum picks up in South Beach, we take a look at the Dolphins' futures odds and their top picks.
Before the season began, several bettors placed big bets on Dolphins quarterback Tua Tagovailoa to win NFL MVP and it is beginning to appear that they may require the same wheelbarrow as McDaniel. As the Dolphins become more popular among the betting public, I wanted to look at their futures odds and see if there are any spots where we can get involved.
This article examines several futures markets involving the Dolphins and whether there are any value picks to be found.
Miami Dolphins Futures Odds
| | | | | | |
| --- | --- | --- | --- | --- | --- |
| Dolphins Futures | DraftKings | FanDuel | PointsBet | Caesars | BetRivers |
| Super Bowl | +2500 | +2300 | +2200 | +2500 | +2000 |
| AFC | +1400 | +1300 | +1200 | +1800 | +1000 |
| AFC East | +400 | +400 | +400 | +420 | +333 |
| Win Total | 9.5 O (+100) | 9.5 O (-135) | 9.5 O (-130) | 9.5 O (-130) | N/A |
NFL MVP
Tagovailoa, QB, Dolphins (+2000 via PointsBet)
In the offseason, Tagovailoa had odds of +15000 to win the NFL MVP, and his odds were at +5000 prior to Week 2. Having thrown for 469 yards and six touchdowns in a comeback victory against the Baltimore Ravens in Week 2, Tagovailoa is now trading as low as +1700 via BetRivers to win NFL MVP.
Tagovailoa received the highest player grade of any quarterback from Pro Football Focus for Week 2 (Thursday and Sunday). Aside from the analytics, Tagovailoa is also dominating the counting stats, leading the NFL in passing yards (739) and sharing the lead in passing touchdowns (seven).
What is my position regarding Tagovailoa for NFL MVP? We should take him a lot more seriously in every market, since he is surrounded by weapons in Jaylen Waddle and Tyreek Hill, and has a coach who is an offensive mastermind. You never want to buy right after a big time performance. As you can see, Tagovailoa's price has decreased by 30 dollars, but he should definitely be monitored in multiple futures markets moving forward.
Check out the latest comprehensive and most trusted Sportsbook Reviews by SBR.
Coach of the Year
McDaniel (+600 via Caesars)
I think McDaniel is a breath of fresh air in the coaching circles, and his press conferences are hilarious, but we need to pump the brakes in terms of the odds to win Coach of the Year. Coach of the Year is the last market in which you should invest in a short shot.
In this market last season, there were several candidates who emerged to become favorites, and if you continued to bet on the favorites, you would have lost a significant amount of money.
In this market, how you finish the season is crucial, and the Dolphins finish with a home game against the Green Bay Packers, a road game against the New England Patriots, and a home game against the New York Jets. It does make McDaniel more appealing that the Dolphins will play the Jets at home at the end of the season.
I think we have established the who with McDaniel, in that we know we want him to be part of our portfolio. Now we just need to time the when, as I do not believe we should be investing in McDaniel at +600. It is not risky to wait to purchase this future on McDaniel since it should not get much shorter than the +600 at this early stage of the season.
Most Receptions
Waddle, WR, Dolphins (+1600 via DraftKings)
I am not ready to bet Waddle in this market yet, but I am intrigued by it, and this is why. Waddle plays opposite Hill, who generates a lot of attention, and has a coach who is creative when it comes to running the ball. As a result, Waddle is left facing the second best defensive back on the other team, leaving him wide open as Hill draws the majority of the attention.
Waddle had 104 receptions last season in an offense without Hill or a coach who believed in Tagovailoa. In addition, Waddle achieved this feat in only 16 games. It takes approximately 131.6 receptions to win this market if you add up all the winners over the past five seasons. Waddle would've finished with 110.5 receptions if he played 17 games and kept the pace he was on last season.
The fact that Waddle is playing for McDaniel alongside a more confident Tagovailoa and lining up opposite Hill is not all talk either, the stats are showing early indications that this narrative may be true. Waddle was targeted 19 times against the Ravens in Week 2. The most targets Waddle saw in a single game last season was 13 (twice).
The sportsbooks have adjusted Waddle's odds with the intention of receiving some liability this week, so I am not interested in buying him right after a big game. In the coming weeks, I will continue to monitor his targets as well as where his price point moves.
To Win AFC East (+420 via Caesars)
Following the Dolphins' 2-0 start to the season, Pro Football Focus and Football Outsiders both give the Dolphins an 18% (+455) chance of winning the AFC East. Therefore, the Dolphins' odds to win their division are slightly shorter than the projections we are seeing.
The question becomes: can the Dolphins beat the Buffalo Bills in Week 3 and cause these odds to be dramatically adjusted? It will be a short week for the Bills, as they play on Monday night, and temperatures in Miami should be in the high 80s next Sunday.
The Bills opened as 5-point favorites but have already been adjusted to 4-point favorites. Keep an eye on the spread and its movement throughout the week. You should consider buying this future before the Week 3 kickoff if you believe the Dolphins can win.
Where to Bet on the NFL
SEE ALSO: All picks, odds, and sports betting news. Be sure to check out SportsbookReview.com's community forums and betting tools.