Saturday, 4:35 p.m. ET (ESPN/ABC)
Free NFL Picks: Colts ML & Under
Best Line Offered: GTBets
For the first three quarters, scoring came difficult. Both offenses were kept one-dimensional as neither one could get anything going on the ground. As a result, Andrew Luck attempted 42 passes for Indy, Deshaun Watson attempted 40 for Houston. Luck was solid with a 64% completion rate, 262 passes, two touchdowns and zero interceptions. For all of Watson's dominance in the latter half of the regular season, he did not appear ready for the big stage. He completed only 50 percent of his passes for 218 yards, one touchdown, and two interceptions. Depth at receiver proved to be crucial as neither team's best pass-catcher – DeAndre Hopkins for Houston and T.Y. Hilton for Indy – did much. Ryan Grant came up huge for the Colts with 10 receptions, 98 yards, and a touchdown.
This game had 'under' written all over it throughout. Indy led only 17-6 after three quarters. The Colts piled it on in the fourth quarter to go up 27-6 with a couple minutes left. Their defense then took the foot off the gas pedal and a desperate Texans offense took advantage-with added help from a recovered onside kick. The Texans scored two touchdowns, but the comeback fell short. Indy won 27-20. The Colts covered and the game stayed "under" game total.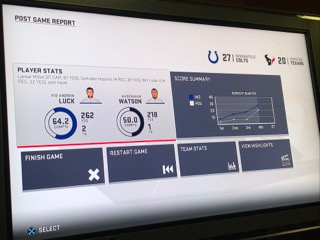 Saturday, 8:15 p.m. ET (FOX)
Free NFL Picks: Cowboys ATS & Over
Best Line Offered: 5Dimes
This game turned out to be really uninteresting, an easy win for Dallas backers from the start. The key was a 17-point second quarter for Dallas in which quarterback Dak Prescott threw for two touchdowns. Prescott also got help from a solid running game. Ezekiel Elliot ran for 134 yards. Dallas' top-ranked defense shut down Seattle. The Seahawks could get zero ground game going. Their leading rusher mustered 14 rushing yards. As a result, Russell Wilson had to attempt 36 passes. One-dimensional on offense, Seattle couldn't find the end zone a single time. Dallas won 34-12 and the efficiency of the Cowboys' offense helped this game 'over' the posted total. If Dallas were to also cover in real life, it would move to 6-2-1 ATS at home.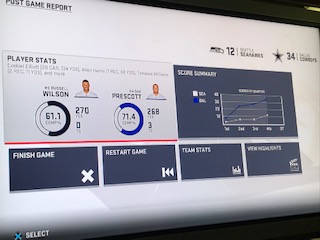 Sunday, 1:05 p.m. ET (CBS)
Free NFL Picks: Chargers ML & Under
Best Line Offered: 5Dimes
Like their match-up in the regular season, this game was low scoring from start to finish. But, this one was also much tighter and the Chargers finished on top. L.A. led only 7-6 after halftime and was down 7-9 after three quarters. When the fourth quarter came, scoring finally opened up and the lead changed multiple times. L.A. went up 10-9 via a Michael Badgley field goal. Then running back T.Y. Montgomery scored Baltimore's first touchdown, but Baltimore missed the two-point conversion, so the Ravens went up 15-10. L.A. quarterback Philip Rivers threw for a touchdown and the Chargers converted the two-point conversion to go up 18-15. Then, Baltimore's Justin Tucker tied it up at 18 with a field goal. Finally, with 1:26 left in the game, Badgley put the Chargers on top for good, 21-18.
Rivers was the hero. He completed 31 of 46 passes for 343 yards, two touchdowns and an INT. In the regular season match-up, Baltimore's offense relied on the strength of its run game. But L.A. was prepared for it, this time. Running back Gus Edwards mustered 15 yards on 10 carries. Quarterback Lamar Jackson wasn't a threat with his legs, either, and, as a passer, he couldn't come close to matching Rivers' efficiency and effectivity. Interestingly, Baltimore's dominant secondary limited L.A.'s top receiver Keenan Allen. However, Travis Benjamin and Tyrell Williams combined for 16 receptions and 211 yards. On the defensive side, defensive end Melvin Ingram was a star for L.A. with 2.5 sacks.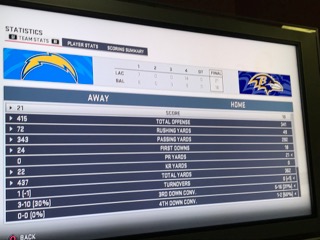 Sunday, 4:40 p.m. ET (NBC)
Free NFL Picks: Eagles ML & Under
Best Line Offered: Pinnacle
The jitters of Chicago quarterback Mitch Trubisky in his first ever playoff game gave the Eagles time to open up a 10-0 lead. The Bears did cut it to 10-6 (missed extra point) in the second quarter through a Trubisky touchdown, but the Bears struggled to sustain drives and wouldn't score again. Trubisky was 11/28 for 103 yards and that one touchdown. Jordan Howard was Chicago's leading rusher with 14 carries for 29 yards.
The Eagles wore Chicago down with a balanced offensive attack. Nick Foles went 26-for-40 with 273 yards, zero touchdowns, and an interception. Josh Adams had 20 carries for 72 yards and two touchdowns. Alshon Jeffrey eclipsed 100 yards receiving. So Chicago's defense was actually very good in that it limited Foles to a low passer rating and Philly's running backs to a low YPC. Linebacker Khalil Mack accrued 2.5 sacks and linebacker Roquan Smith got an interception. Benefitting by three-fold the amount of time of possession as Chicago's offense, Philly amassed 399 yards compared to 138 for Chicago. After 17 fourth-quarter points, Philly won 33-6.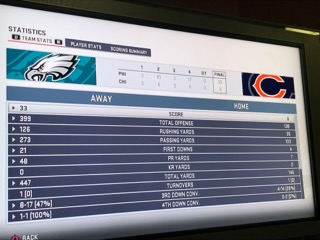 Takeaways
Home-field advantage did not seem to matter much. Three road dogs covered and won straight-up. Dallas was the only home team to win and cover. All of the quarterbacks without playoff experience struggled – Baltimore's Lamar Jackson, Houston's Deshaun Watson, and Chicago's Mitch Trubisky – and their teams lost.