Joe Burrow vs. Lamar Jackson NFL Prop Predictions, Odds Week 2: QBs Set to Bounce Back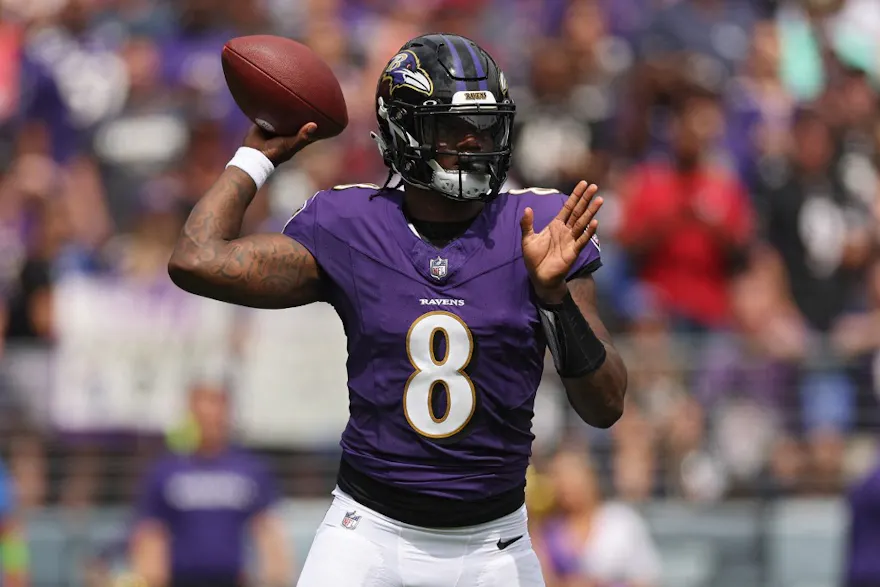 Here are our top NFL prop predictions for the Joe Burrow vs. Lamar Jackson matchup, based on the best NFL odds for the Baltimore Ravens vs. Cincinnati Bengals game.
Cincinnati Bengals quarterback Joe Burrow had one of the worst games of his career in Week 1, and Baltimore Ravens QB Lamar Jackson didn't fare much better, going 17-for-22 with just 169 yards, one touchdown, and one interception.
Burrow failed to reach the century mark in terms of passing yards, and he, along with the Bengals, is still searching for their first touchdown of the season.
The best is undoubtedly yet to come this season for these two star quarterbacks, but who will have the better game on Sunday?
Here are our best Joe Burrow vs. Lamar Jackson NFL prop predictions for the Baltimore Ravens vs. Cincinnati Bengals Week 2 matchup (odds via our best NFL betting sites; pick confidence based on a 1-to-5-star scale).
Joe Burrow vs. Lamar Jackson NFL prop predictions for Week 2
Joe Burrow vs. Lamar Jackson player props
This isn't an overreaction to Burrow's Week 1 performance. After all, the Ravens let Houston signal-caller C.J. Stroud throw for 242 yards in his NFL debut. Baltimore's secondary didn't look very good at all. If Burrow plays halfway decent, he should have a nice bounce-back game in Week 2.
Will he really throw for this many more yards than Jackson? Back in 2021, Burrow threw for over 900 yards in his two matchups against the Ravens. However, last season, he threw for just 217 and 215 in his two contests against division rivals.
Don't expect the Bengals to play from behind like the Texans did in Week 1. Because of that, Burrow should throw for yards in the mid-250s. That means Jackson needs to throw for around 195 yards. This is no guarantee. However, there's a better chance Jackson has a good game than Burrow has an incredible one.
Ravens tight end Mark Andrews practiced in full this week, so there's a chance Jackson has his favorite target on the field Sunday. Yet, even with Andrews, it's been five starts since Jackson threw more than one touchdown in a matchup. He's only achieved this feat once in his last 10 games.
Burrow hasn't thrown for multiple TDs against the Ravens since the end of 2021. However, in the 2022 regular season, he threw multiple scores in 11 games. He has better receivers than Jackson, and he's more capable of throwing touchdowns. While he may not rack up crazy yards, one TD should cover this spread. Two absolutely will.
This is a value play. Jackson threw seven interceptions in 11 games last season, six of those in the first six weeks. In 2021, Jackson also struggled to start the year, throwing three interceptions in his first three matchups.

Burrow can rack up turnovers as well, but when he's off, he seems to be really off. Of his 12 interceptions last year, eight of them came in three games. He did throw an interception in his first matchup against the Ravens in 2022, but didn't throw one in the season finale.
Both quarterbacks may end with one interception, but because of the +155 price, go with the QB who struggles at the start of seasons and is more interception-prone in general.
Joe Burrow vs. Lamar Jackson player prop picks made 9/16/2023 at 7:54 a.m. ET.
Kentucky bettors: Sports betting is coming soon!
Kentucky sports betting will launch Sept. 28 so get pre-launch offers before it's too late! Don't miss out on Kentucky sportsbook promos or the best Kentucky sports betting apps!
21+ and present in KY. Gambling Problem? Call 1-800-GAMBLER
NFL betting odds pages
(21+. Gambling Problem? Call 1-800-GAMBLER)
* Bonuses not applicable in Ontario.
Related pages