Jets vs. Eagles Preseason Week 1 NFL Picks: All Eyes on Zach Wilson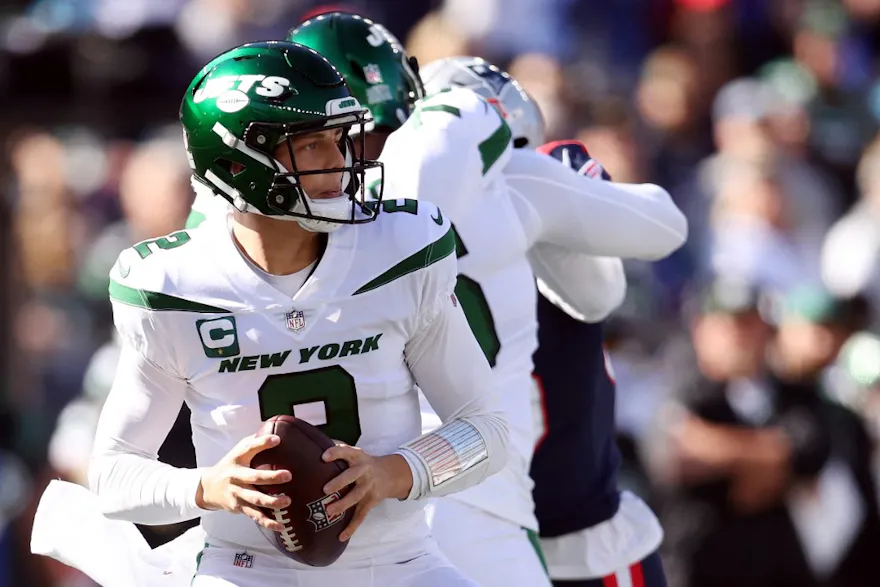 The NFL's preseason continues with the New York Jets visiting the Philadelphia Eagles. Check out our Jets-Eagles picks.
Preseason action really ramps up on Friday night with a five-game slate. One of those matchups pits two familiar preseason foes against each other as the New York Jets travel to the City of Brotherly Love to face the Philadelphia Eagles.
When the two teams met to begin last year's preseason, they played to a 31-31 tie. Needless to say, that contest featured a whole lot more offense than what is typical for the NFL preseason.
As far as betting on this year's preseason showdown, the strategy of both teams will be critical. How much, if at all, Jets coach Robert Saleh and Eagles coach Nick Sirianni opt to play their respective starters could very well determine which side wins this pick'em matchup.
Here are our Jets versus Eagles NFL picks for the preseason Week 1 game (odds via Caesars Sportsbook, DraftKings Sportsbook; pick confidence based on 1-to-5 star scale).
Jets vs. Eagles Game Info
Date/Time: Friday, Aug. 12, 7:30 p.m. ET
TV: WCBS, NBC 10
Location: Lincoln Financial Field, Philadelphia, PA
Weather: 78 degrees, clear, 0% chance of precipitation, 6-mph winds (blowing N-NE)
Jets vs. Eagles Odds Analysis
Consensus NFL betting odds opened this game as an exact pick'em. At the time of writing, bettors can still find the game listed as an even pick'em at numerous sportsbooks. However, several shops have moved their spread to favor the host Eagles by as much as 1.5 points.
Where the larger line move has occurred thus far is on a total which opened at 33 points. Sharp players evidently hammered the Over as the consensus line now sits at 35.5. A select handful of books have adjusted the total further still to an even 36.
While 94% of the handle is aligned with the line move to the Over, the majority of bets placed at DraftKings to date have actually been on the Under.
The Eagles have attracted a hefty majority of both the handle and total bets placed against the spread at DraftKings Sportsbook.
Jets vs. Eagles Picks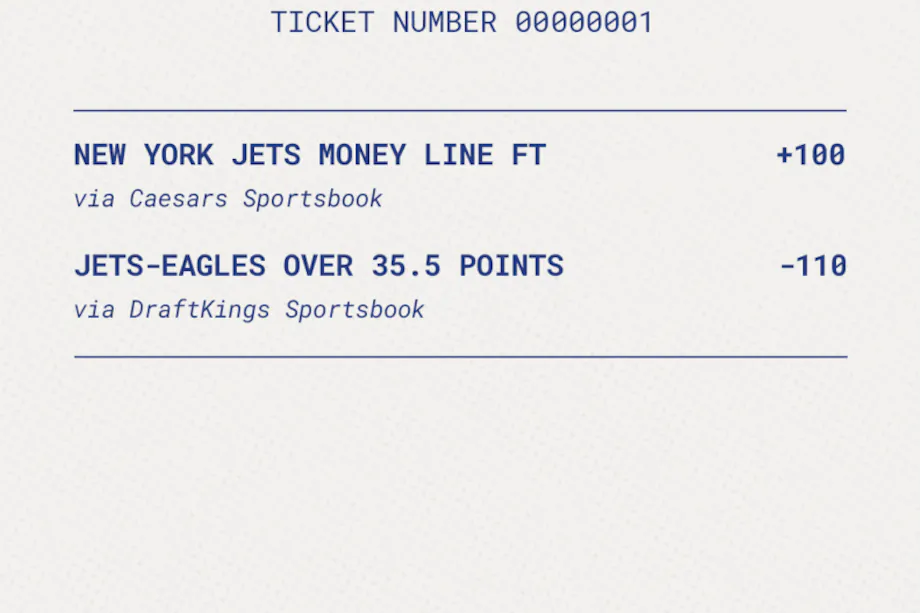 Jets vs. Eagles Predictions
Jets ML (+100)
With this game sitting at or close to an even pick'em across the NFL betting market, there is really no scenario in which bettors should be looking to play the spread. After all, even the Eagles, who are favored at a handful of sportsbooks, can be found at a +100 price on the moneyline. As always, it pays to shop around.
As for the Jets, they too can be obtained at an even-money price. Despite opting not to play his starters very much in last year's preseason, Saleh's troops still managed to post a 2-0-1 record. Now entering his second year at the helm, it appears as though Saleh's game plan has changed a bit.
Speaking with the media earlier this week, Saleh revealed that the Jets' coaching staff will likely be playing the starters for most, if not all, of the first quarter. While his exact timeframe was "a series or two," that is potentially two series more than any of New York's starters played last year.
As for the Eagles, Sirianni has said that the amount of playing time his starters see on Friday night is still to be determined. If last preseason was any indication, Philly's ones likely won't play much. Starting quarterback Jalen Hurts took a grand total of 10 snaps last preseason. The Eagles' preseason record of 0-2-1 under Sirianni last year suggests that the current regime does not deem exhibition game results to be critical.
Over 35.5 (-110)
Are we expecting the Jets and Eagles to combine for 62 points as they did in last year's preseason meeting? Absolutely not. However, there are a couple of key points that provide initiative to back this year's matchup to go Over 35.5.
Both teams have a decent amount of depth at the quarterback position. Current roster depth charts suggest that Zach Wilson and Jalen Hurts will give way to Joe Flacco and Gardner Minshew, respectively. Both players are NFL veterans and more than capable of moving the football against an opponent's second-string defense.
The Jets also have Mike White as their third-string QB. Recall that this is the same Mike White who took the league by storm by winning his first career start last season. For the Eagles, rookie undrafted free agent Carson Strong is likely to see a number of series in the second half as well. The former Nevada signal-caller has a big arm and will be aiming to prove that he belongs on the team's roster.
In addition to the significant depth both teams possess at the sport's most important position, the trajectory of the NFL betting market is also worth noting. The fact that 94% of all money bet on the total at DraftKings has come in on the Over becomes all the more incredible when one considers that 57% of tickets are on the Under. The fact that the line move aligns with the handle majority only furthers the notion that the Over is the sharp side.
Where to Bet on Jets vs. Eagles Picks
Here are our top-rated sportsbooks:
SEE ALSO: All picks, odds, and sports betting news. Be sure to check out SportsbookReview.com's community forums and betting tools.
Jets-Eagles picks made 8/10/2022 at 3:50 p.m. ET