Chargers vs. Washington Free NFL Picks for Week 1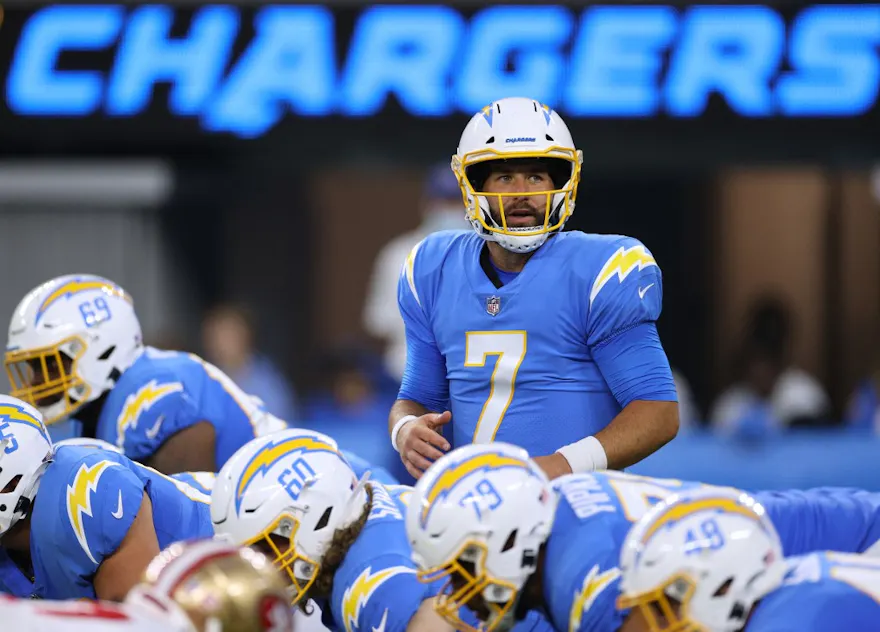 The Los Angeles Chargers have a new head coach (Brandon Staley) and are anticipating the second season of quarterback Justin Herbert, the reigning Offensive Rookie of the Year. Washington is still the team with no real name, but it has the reigning Defensive Rookie of the Year in Chase Young.
The Chargers are a 1-point favorite at many of the top sportsbooks. Is this the start to a successful playoff season for Los Angeles, or will Washington get a win in its first game with Ryan Fitzpatrick at quarterback?
Los Angeles Chargers vs. Washington Football Team
Sunday, September 12, 2021 - 01:00 PM EDT at FedExField
Key Matchup: Chargers Offense vs. Washington Defense
This is the money matchup when the two young stars will be on the field facing each other. The Chargers are still expected to be led by their offense while Washington thrived on defense last season. Herbert finished his rookie season ranked 16th in lowest sack rate (5.1%) but protecting him remains a must. Last year, the Chargers were 1-7 when he was pressured more than 10 times compared to 5-2 when he wasn't.
Washington's defense finished ninth in pressure rate (25.9%) according to Pro Football Reference. The defensive line remains loaded with first-round picks, but when it comes to a defense coached by coordinator Jack Del Rio, the question is always can he stop a great passing team? We don't know yet if Herbert is a great one, but we have some decent evidence that he's on the right path given his historic rookie success at the position.
For as gaudy as Washington's defensive stats looked in a down year for defense in 2020, the unit looked pretty lost in the playoffs against Tampa Bay. That was one of the few instances in 2020 when Washington played a good quarterback and passing offense. Getting two games against Dallas' Andy Dalton instead of Dak Prescott helped. Carson Wentz turning into one of the league's worst quarterbacks helped. But quarterbacks who averaged at least 6.5 yards per attempt, a low standard in this league, were 7-0 against Washington last year. Herbert crossed that mark in two-thirds of his games as a rookie.
Herbert actually had better numbers on the road last year compared to home. His yards per attempt shot up from 6.89 to 7.84, and he threw five more touchdowns on 97 fewer attempts. I think he can be trusted to get off to a good start in his second season on the road in this matchup.
Ryan Fitzpatrick and the Betting Trends
Go figure, the quarterback with no long-term home found his way to the franchise without a real nickname. Ryan Fitzpatrick is making Washington his ninth team in 17 seasons. He played well for Miami last year and has some solid weapons here with wide receiver Terry McLaurin and running back Antonio Gibson. Washington should be a stronger offense this season after only breaking 28 points once on Thanksgiving against Dallas last year. But with a total of 44.5 points, this expects to be one of the lower-scoring games in Week 1.
The 1-point spread usually implies a coin flip. Since 2001, a 1-point favorite is 131-136 (.491) SU. That record improves on the road (60-60, .500) compared to being at home (71-76, .483), which makes sense since homefield is supposed to be worth a few points to begin with.
While the Chargers have a rookie coach and young quarterback, Washington has veterans at both positions. Is Fitzmagic or Riverboat Ron Rivera a safe bet? Fitzpatrick is 70-68-8 ATS (.507) as a starter in his career, or basically a coin flip. Rivera looks more impressive at 87-73-4 ATS (.543), the 14th-best record for a coach since 2001. He is right above Andy Reid (.540). Rivera is only 2-4 in games with a 1-point spread.
Prediction
Games with a spread this small can be volatile, but if it does happen to be a close one in the fourth quarter, that would seem to favor the home team with the better defense given the Chargers' reputation for blowing leads. But what if the Staley-Herbert era is going to be different?
Also, no quarterback has a propensity for throwing game-ending interceptions like Fitzpatrick. He is 18-49-1 (.272) at game-winning drive opportunities, the worst record among active starters. Rivera's teams are 20-49-1 (.293) in those same game-winning drive opportunities, the second-worst record among active coaches (minimum 20 games).
Without any new data to go on yet, you should treat Week 1 like preseason narrative week. Go with the story you think the season will tell. For my NFL picks, I like the Chargers to start the Herbert-Staley era with a road win.
NFL Pick: (visit our Sportsbook Review)
*The pick reflects the line at the moment the writer made the play, the odds at the beginning of this article show the live line movement. Since the lines might vary, don't forget to refer back to our live odds.