2022 Buffalo Bills Team Futures Odds, Picks and Preview: Super Bowl, Win Total and Playoff Predictions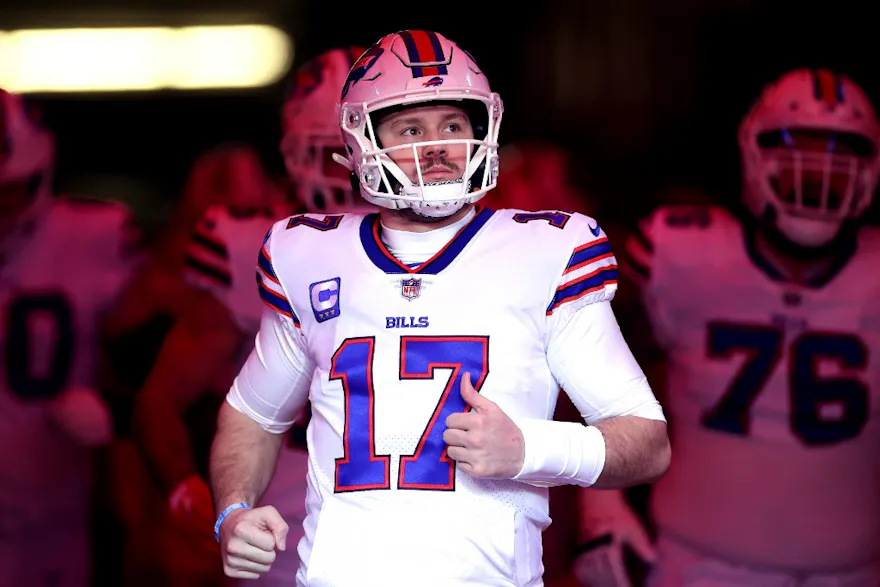 After a 24-year drought in which they did not win a division title, the Buffalo Bills are the two-time defending AFC East champions. However, the Bills have much loftier ambitions as the favorites to win the Super Bowl entering 2022. Here's our Bills team odds, picks, and preview.
The Bills organization spent all offseason stewing over what could have been, as they squandered a three-point lead with 13 seconds to play against the Kansas City Chiefs in the divisional round of the playoffs. Will Buffalo use that as motivation or will such a demoralizing loss cripple them this season?
Below, we preview the 2022 season for the Buffalo Bills with a look at their futures odds and make our top picks (odds via FanDuel Sportsbook, DraftKings Sportsbook).
Buffalo Bills' 2022 Futures Odds
https://datawrapper.dwcdn.net/7jwW3/1/
Buffalo Bills 2022 Picks
To win the AFC (+350 via FanDuel)Under 11.5 wins (+120 via DraftKings)To make the playoffs (-500 via FanDuel)Josh Allen to win MVP (+700 via DraftKings)https://twitter.com/EV_Analytics/status/1545482854594842624?s=20&t=rOTIKZTSs9wRWpnZb25uwA
Check out the latest comprehensive and most trusted Sportsbook Reviews by SBR.
Bills to win the AFC (+350)
Buffalo had one of the most talented rosters in the league last year and got even better in multiple areas this offseason. Two-time Super Bowl champion Von Miller is on board to help Buffalo's pass rush. The Bills also arguably upgraded at slot receiver with Jamison Crowder to replace the departed Cole Beasley. The team also gets back one of the league's best cornerbacks in Tre'Davious White, after losing him to an ACL injury on Thanksgiving.
The Bills and Chiefs are again arguably the two best teams in the conference, but with Tyreek Hill now a member of the Miami Dolphins, Kansas City's offensive ceiling is not the same. Buffalo will likely be favored over whatever team comes out of the NFC if they make the Super Bowl, but getting through the gauntlet of AFC teams could take its toll on them. Either way, we are making our Bills to win the AFC bets at FanDuel, as the +350 odds they offer are more enticing than BetMGM's +325 or DraftKings' +300.
https://www.youtube.com/watch?v=xQGApbH1biU
Bills Win Total Pick: Under 11.5 wins (+120)
It seems counterintuitive to bet the Under on Buffalo's win total, given that we like the Bills to make it to the Super Bowl. However, the Bills' success over the last two seasons has earned them the league's respect in terms of primetime games and a more demanding schedule that comes with it.
Bills fans went years without seeing their team in a nationally televised game, but Buffalo now plays two right out of the gate and six in total between Thursday, Sunday, and Monday nights. Its schedule includes trips to the Los Angeles Rams, Baltimore Ravens, and Kansas City Chiefs, who are all favorites to win their divisions. The Bills also have home dates with the Green Bay Packers and Minnesota Vikings, and the AFC East will be more competitive as every team got better this offseason. Buffalo will be a handful in the postseason, but it may once again have to win multiple road games as an 11-6 season, or worse, is in play.
Will the Bills Make the Playoffs? Yes (-500)
Buffalo may struggle with their demanding schedule, but the rest of the division faces similar landmines with NFC North and AFC North teams as crossover opponents. In addition, the Bills have gone 11-1 against AFC East opponents the last two seasons, so the division title still goes through them. It would behoove Buffalo to win as many games as possible to earn the benefits that come with the No. 1 seed, but a team this talented is not in danger of missing the playoffs outright.
Top Bills Player Future: Allen to win MVP (+700)
For you fantasy football roster managers, Josh Allen has finished as the No. 1 fantasy quarterback each of the last two seasons. He would not have done so if his statistics were not off the charts. Allen's legs are every bit a weapon as his rocket arm, and he has a foreseeable path to eclipse 4,500 total yards for the second time in the last three seasons. If the Bills match their preseason expectations as the best team in the league, Allen will likely be the main reason, which means plenty of MVP votes will come his way.
Where to Bet on Buffalo Bills Futures
Here are our top-rated sportsbooks:
FanDuel SportsbookCaesars SportsbookDraftKings SportsbookPointsBetBetMGM
SEE ALSO: All picks, odds, and sports betting news. Be sure to check out SportsbookReview.com's community forums and betting tools.
Buffalo Bills team futures picks made on 7/10/2022 at 9:52 p.m. ET.