Buccaneers vs. Falcons Week 13 Picks: Tampa Will Dominate NFC South Clash Again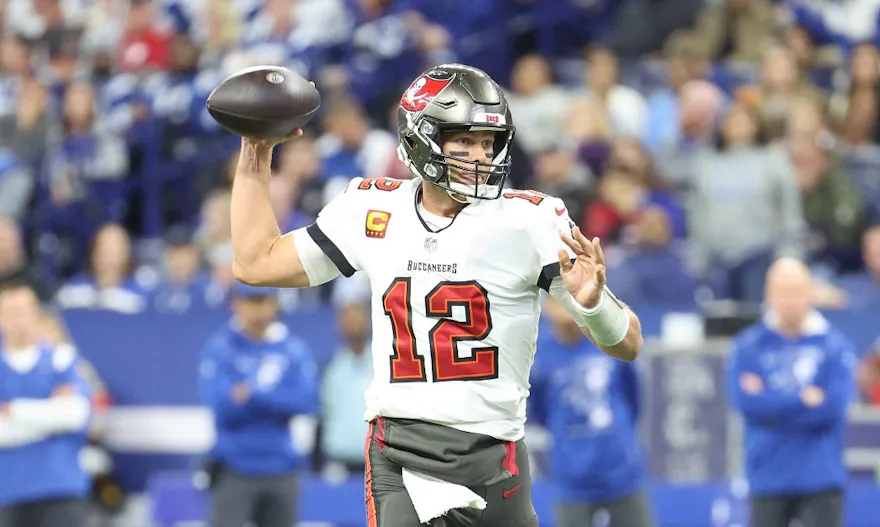 The latest chapter in an NFC South division rivalry will be written in Week 13. Let's dive in and break down the matchup in our Buccaneers-Falcons picks.
This game features two teams searching far and wide for consistency. The reigning champion Tampa Bay Buccaneers are 8-3 after logging two straight wins, including a Week 12 triumph over the surging Indianapolis Colts. However, two consecutive losses aren't far in the rearview, including one to the spiraling New Orleans Saints.
Meanwhile, the Falcons are a respectable and surprising 5-6 on the surface. Dig a little deeper, and you quickly hit sludge. Atlanta has lost three of its past five games, and the club was held to fewer than 15 points in those defeats.
The Bucs thoroughly thumped Atlanta in Week 2 while winning 48-25. But wide receiver Calvin Ridley isn't active right now after contributing for the Falcons during that shootout (seven catches for 63 yards and a touchdown), and the Bucs will be missing wideout Antonio Brown and safety Mike Edwards for violating COVID-19 protocols.
https://twitter.com/AdamSchefter/status/1466513520632205314
Will the absence of those two in part lead to a lower-scoring game? Or will the Bucs waltz to another steamrolling?
Here are my picks and predictions for the NFL Week 13 matchup between the Buccaneers and Falcons (odds via BetMGM; pick confidence based on a 1-to-5 star scale).
Buccaneers vs. Falcons Game Info
Date/Time: Sunday, Dec. 5, 1 p.m. ETTV: FOXLocation: Mercedes Benz Stadium, Atlanta, GA
Buccaneers vs. Falcons Odds Analysis
The line opened with the Buccaneers as heavy 11.5-point favorites at most sportsbooks. They predictably remain in that position but are now a tick lower as 11-point favorites at DraftKings. That's the most common line, though some books, including BetMGM, are offering the Bucs at -10.5.
Similarly, the total opened at 49.5 and has now risen slightly to 50 or 50.5 at most sportsbooks.
Buccaneers vs. Falcons Picks
Buccaneers -10.5 (-110) ????Under 50 (-110) ???
SEE ALSO: NFL Week 13 Parlay Picks
Buccaneers vs. Falcons Predictions
Buccaneers -10.5 (-110)
The Buccaneers encountered a roadblock not long ago while navigating the long, winding road toward a hopeful title defense. But much of the team's issues lie with its defense, as lighting offensive fireworks is still just a matter of Tampa clearing its throat.
The league's top offense is averaging 31.5 points per game, with Tampa's unit the NFL's only one above the 30-point plateau. So sure, this is a large number to cover, but the Bucs are fully capable while boasting a deep stable of pass-catchers to make up for Brown being out. Tampa has earned an 11-plus point win in half of its eight victories this season. That includes clobbering the Miami Dolphins, New York Giants, and Chicago Bears — all similar bottom-tier teams — and there was a 27.6 point average margin of victory in those games.
There's a big gap between the Bucs' offense and the defenders tasked with slowing Tom Brady and Co. on Sunday. The Falcons' 31st-ranked defense hasn't often been in the business of providing any resistance whatsoever while allowing 27.5 points per game. It should be a leisurely afternoon for Brady in the pocket against a pass rush that's registered a mere 15 sacks.
And a cozy Brady usually leads to an equally comfortable win.
Under 50 (-110)
Much like Tampa's 30-10 win over the Giants in Week 11 and its 38-3 drubbing of the Bears in Week 7, there's a path here to a shellacking with the final score still relatively low.
This game is one of just two listed at BetMGM this week with a total of 50-plus points. Clearing a high number in a game with such a talent disparity frequently requires the lesser team to make at least some contribution so the point total keeps skyrocketing. And the Falcons haven't been doing much scoring lately.
Atlanta is averaging a meager 12.8 points since its current slide began in Week 8. That includes a two-game stretch when an aging Matt Ryan's cratering unit mustered just three points.
It's often seemed like Ryan is playing inside of a blender while under constant duress, resulting in drives that fizzle out fast. He's posted putrid recent quarterback ratings of 21.4 (Week 10) and 51.6 (Week 11), and a downfield aerial push has been nearly nonexistent with him averaging 153.3 passing yards over Atlanta's last three matchups.
The Falcons have found success while leaning on late-bloomer Cordarrelle Patterson, whose transition to running back is nearly complete after his career-high 108 rushing yards in Week 12. He was given 16 carries in that contest and has been averaging 9.3 rushing attempts per game. But the Bucs' stifling run defense that's giving up just 81 rushing yards per outing should quickly smother him.
Add it all up, and the ingredients are here for a one-sided game that will have you reaching for the remote during the early block on Sunday, and the Bucs letting up while leisurely strolling toward another victory over their rivals.
SEE ALSO: All picks and odds. Be sure to check out SportsbookReview.com's community forums and betting tools.
Buccaneers-Falcons Picks made 12/1/2021 at 5:31 p.m. ET