Browns vs. Chargers Free NFL Picks for Week 5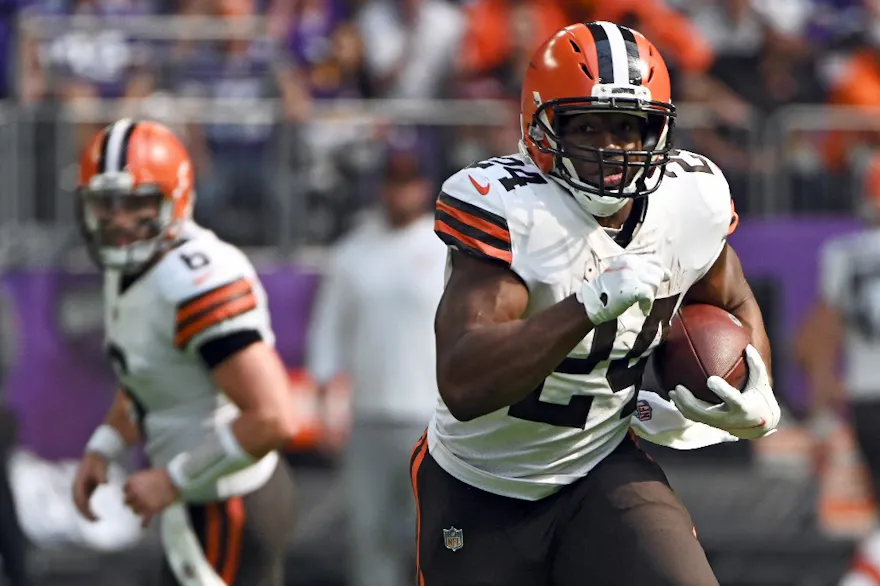 The Cleveland Browns and Los Angeles Chargers are beaming after coming off big wins in Week 4, entering this one at 3-1 on the season. Something's got to give, though, and it could just be this Chargers offensive line in the face of an onslaught from this Cleveland defense. With a quarterback on the rise and a rushing attack that appears to be as strong as ever, what will separate these two powerhouses? Will one defense rise above the other?
With the stage set, let's get into who wins this game. We'll go over the NFL odds and give out our NFL pick at the top-rated sportsbooks.
Cleveland Browns vs. Los Angeles Chargers
Sunday, October 10, 2021 - 04:05 PM EDT at SoFi Stadium
Getting the Pass Rush Going
The Browns' front seven had a field day against Kirk Cousins in Week 4, hitting him 10 times and sacking him twice.
They'll be licking their chops entering a matchup with Los Angeles, which did win last week, but allowed two sacks and seven quarterback hits in Week 4 against Las Vegas — a pass rush that isn't as strong as the Browns'. This is a unit that has added Takk McKinley to great success and might be the best in football.
https://youtu.be/n-T9MCbDB4k
This defense has absolutely balled out so far in 2021. Through four games, Cleveland ranks fourth in points per game with just 16.8 allowed, second in yards per game allowed at 250.2, and second in yards per play at 4.5.
Last week, this secondary, which has ranked fourth in opposing completion percentage (57.72%) held Kirk Cousins to 5.3 yards per attempt and just a 66 QB rating. Coming into a matchup with the talented and exciting Justin Herbert, it'll be all on this secondary. The one thing you can knock this unit for is its lack of takeaways, ranking 21st in that category.
https://twitter.com/Browns/status/1444731117504978951?s=20
To no one's surprise, this rushing attack continues to light up the NFL. It sits first in rushing yards per game, racking up 177, and first with 2.2 rushing touchdowns per game. While this is expected with so many rushes (Cleveland has run on 52.83% of its plays, and leads the league with 35 total rushes per game), the offense has come through with 5.1 yards per carry. That's an incredibly good number.
Nick Chubb and Kareem Hunt simply continue to dominate, and this offensive line keeps getting a push.
Can Justin Herbert Keep This Up?
Justin Herbert has backed up his historical 2020 season with more stellar play in 2021. Week 4 was maybe his most impressive outing yet. No, not from a numbers perspective — he had 222 yards and three touchdowns with a 107.6 rating, something he's topped — but from a gameplan perspective.
https://twitter.com/chargers/status/1445207161060020224?s=20
The Raiders completely eliminated the biggest weapons that the young Oregon product has, taking away Mike Williams and Keenan Allen, and he managed to get the ball to his backs and his tight end, Jared Cook.
Herbert's adjustments keyed a long, sustained level of brilliance for the Chargers as they continued to hold off a strong push from Las Vegas. This team has ranked sixth in passing yards per game on the strong right arm of Herbert. He also didn't throw a pick in that Week 4 win on Monday Night Football, preserving the sixth-best turnover margin in the NFL for this team.
Penalties have killed the Chargers, and that is one area that could be testy. They rank dead last — 32nd in the NFL — in penalty yards per game. In a game with tight margins, it could make a huge difference.
I think the NFL odds on the Browns have been unfair for the better part of two years, but I'm finally starting to see some good spots to take them. This should be one, against a team that is still young and inexperienced, and with a pass rush that should make a real impact.
I think Herbert finally has a bad game, and I also see the Chargers' defense taking a step back playing a very, very strong offense.
NFL Pick: (visit our Sportsbook Review)
*The pick reflects the line at the moment the writer made the play, the odds at the beginning of this article show the live line movement. Since the lines might vary, don't forget to refer back to our live odds.