Broncos vs. Cowboys Week 9 Picks: Denver Snaps Dallas' Perfect ATS Record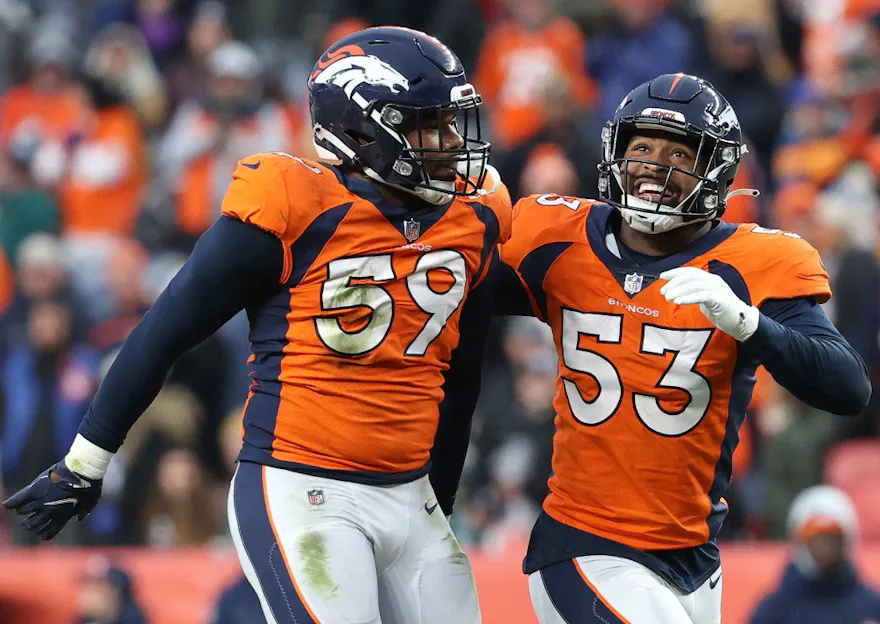 Denver needs a win, which will be a tough task on the road against first-place Dallas. But read why we think Dallas (7-0 ATS) will struggle to cover in our Broncos and Cowboys picks for Week 9.
The Dallas Cowboys have been one of the best teams in the NFC and are looking to continue their hot streak this week. Dallas won without Dak Prescott last week, improving to 7-0 against the spread on the season.
As a 9.5-point favorite looking to stay undefeated ATS, the Cowboys are up against the Denver Broncos. Denver (4-4 ATS), in need of a win to stay in the AFC playoff race, has a solid defense and Teddy Bridgewater has brought balance to their offense. But is it enough for the Broncos to keep up?
Here are my picks and predictions for the NFL Week 9 matchup between the Broncos and Cowboys (odds via FanDuel).
Broncos vs. Cowboys Week 9 Game Info
Date/Time: Sunday, November 7, 1 p.m. ETTV: FOXLocation: AT&T Stadium, Arlington, TXWeather: 75 degrees, no rain
Broncos vs. Cowboys Odds
The spread began at Dallas -9.5, showing the possibility of winning by double digits. Some sportsbooks have shifted the line to -9, and others have slightly moved the odds. With Dallas' insane ATS record, having a line approaching double digits can be expected.
The Over/Under number has stayed constant so far. It is currently at 49.5, and most sportsbooks have not shifted the odds associated with that line. Dallas is 5-2 O/U this year, but Denver is sitting at 2-6. The SBR consensus shows that most of the action is coming in on Denver and the Under.
Broncos vs. Cowboys Picks
Denver +9.5 (-110) ???Under 49.5 (-114) ???
SEE ALSO: Chargers vs. Eagles Week 9 Picks
Broncos vs. Cowboys Predictions
Denver +9.5 (-110)
Denver traded away Von Miller, and it will be interesting to see how that affects its defense. The Broncos still have one of the most underrated secondaries in the NFL, however, and if anyone can slow down Dallas' passing attack, it's them.
Also, you can't use Dallas' ATS record to predict the outcome of this game. The odds already reflect the likelihood of Dallas winning this contest outright.
Denver's offense is not explosive, but it is efficient. With Jerry Jeudy back, the Broncos have strong options in the passing game. Dallas likes to take advantage of turnovers, but Denver isn't likely to make them.
Will Dallas win this game? Probably. The question marks surrounding Dak's injury, however, are a red flag.
Prescott should play, but he may not be fully healthy after missing Week 8. Because of that, I like Denver to barely cover the spread in our Broncos and Cowboys picks for Week 9.
Under 49.5 (-114)
Prescott is one of the best quarterbacks in the NFL, but he may still be struggling. While likely to play, we can't guarantee that Dallas' offense will be as explosive as it has looked for much of the season.
Dallas is great at hitting the Over in its games, while Denver has routinely been cashing the Under. With an average-sized line, I like Denver's odds to dictate the pace. If the defense can limit the Cowboys in the red zone, the Under should certainly hit.
Pairing this with the Broncos spread makes sense. If Denver wants to keep it close, it will need long drives that chew the clock. That will limit the total number of possessions, helping the Under hit. This is a tag-team approach, so consider parlaying these two odds.
The Broncos can't win a shootout and will do whatever they can to avoid that scenario. With that happening, I expect this to be a slugfest that remains low-scoring for most of the game.
SEE ALSO: Raiders vs. Giants Week 9 Picks
Picks made on 11/04/2021 at 9:53 p.m. ET.