Bears vs. Buccaneers Week 7 Picks: Brady Carves Up Chicago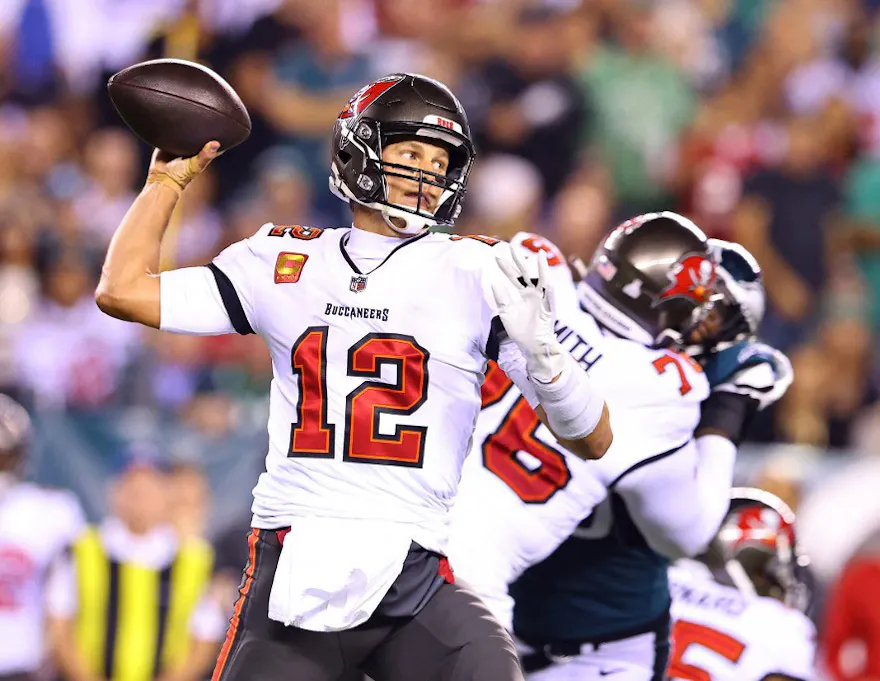 Tampa Bay is a large 12.5-point favorite in Week 7, but Tom Brady will have a field day against Chicago's secondary. We're backing TB to cover in a high-scoring game in our Bears and Buccaneers picks.
The Chicago Bears are 3-3 on the season with a rookie quarterback under center in Justin Fields. The offense has been stagnant at times and the reality is that Fields likely needs more time to develop himself and this offense.
Meanwhile, the Tampa Bay Buccaneers are 5-1 straight up this season and are looking like a potential Super Bowl contender yet again. They've put together three straight wins against the Patriots, Dolphins, and Eagles and will now look to continue that streak at home as a double-digit favorite against Chicago.
Here are my picks and predictions for the NFL Week 7 matchup between the Bears and Buccaneers (odds via DraftKings).
Bears vs. Buccaneers Week 7 Game Info
Date/Time: Sunday, October 24, 4:25 p.m. ET
TV: CBS
Location: Raymond James Stadium, Tampa, FL
Weather: 85 degrees, high probability of precipitation
Bears vs. Buccaneers Odds
The Buccaneers opened as a 10-point favorite and have now been bet up to a -12 against a struggling Bears team that can't seem to find consistency on offense. The SBR consensus is showing 75 percent of bettors getting behind the road underdogs to cover.
As for the Over/Under, it dropped from 48 at open to 47, and again, that's likely due to everyone's perception of the Bears' offense.
Bears vs. Buccaneers Picks
Tampa Bay -12 (-110)
Over 47 (-110)
Tom Brady Over 304.5 Passing Yards (-115)
SEE ALSO: Panthers vs. Giants Week 7 Picks
Bears vs. Buccaneers Predictions
Tampa Bay -12 (-110)
The Buccaneers have been incredible offensively, scoring 32.5 points per game this season. They have one of the best offensive lines in football and have a star-studded group of position players.
Tampa's offense is gaining 436.2 yards per game and 350.8 of that is from passing the football. Brady has thrown for 17 touchdowns and just three interceptions while attempting 267 throws.
But the team's defense has been a bit off this season. It's an average group that has allowed 24 points per game, despite surrendering nearly 350 yards on the defensive end. Still, against a rookie quarterback, the Buccaneers will find their way.
On the other hand, the Bears have been atrocious in the secondary and have allowed nearly 250 yards passing per game. They have missed plenty of tackles and can't stop the run all that well, either.
Chicago has always been known for its defense and while it has allowed 20.7 points per game this season, analytics show that the team probably should've allowed more points based on how it has played.
Against the Buccaneers, allowing more points will be inevitable. Back the defending champs on the double-digit spread for this Week 7 matchup.
Over 47 (-110)
This total has dropped from 48 to 47 and if it drops more, I'd highly recommend jumping all the Over. The Buccaneers' offense can score in a hurry, especially against a coverage unit that hasn't played well at all this season.
Chicago's defense has done well with the pass rush, but trying to get through Tampa's pass protection isn't going to be easy, as the Bucs have one of the better offensive lines in football. If you eliminate the pass rush from the Bears, that defense is toast.
The Buccaneers, meanwhile, have allowed 24 points per game, giving the Bears a good chance at contributing to this number hitting the Over.
If the Bears can get Allen Robinson involved more often, there's reason to believe that this offense will score points and can become dominant as the team's run game remains strong, even without David Montgomery.
Tom Brady Over 304.5 Passing Yards (-115)
The Buccaneers are averaging over 350 yards passing per game this year and that's all because of Tom Brady, who will carve up the Bears' secondary in Week 7.
As long as Brady has time in the pocket, which he should based on the strong protection he typically gets, then the passing game will have no problems getting down the field.
Brady's out here to prove that he's still capable of playing against the young guns, and he'll once again show as much this Sunday.
SEE ALSO: Week 7 Betting Trends to Monitor
Picks made on 10/21/2021 at 9:26 a.m. ET.