49ers vs. Cardinals Free NFL Picks for Week 5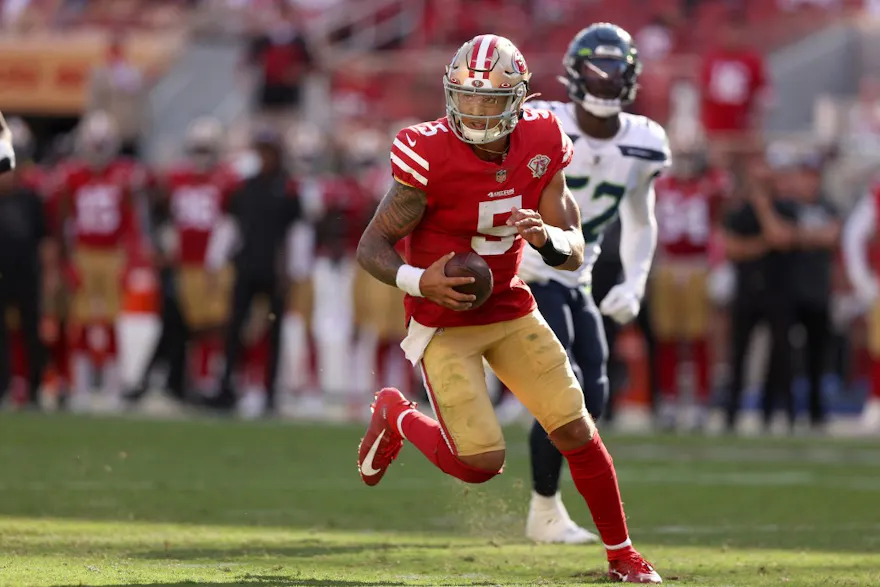 The San Francisco 49ers (2-2) hit the road to Arizona after two back-to-back home losses. Meanwhile, the Arizona Cardinals (4-0), remain the only undefeated team in the league after taking down rival L.A. Rams.
Below, we'll take a look at the early NFL odds and best sportsbook to bet with.
San Francisco 49ers vs. Arizona Cardinals
Sunday, October 10, 2021 - 04:25 PM EDT at State Farm Stadium
The Niners entered last week as 2.5-point favorites but are now the underdogs for this matchup. As for the Cardinals, they were 4-point underdogs in Week 4 and are favored this week. According to , Arizona is a 5.5-point favorite over San Francisco with the over/under at 49.5.
https://youtu.be/MH26J-rZP68
The Matchup
The Niners face a tough task on the road against the only undefeated NFL team left as they look to bounce back from a 28-21 home loss to the Seattle Seahawks in Week 4.
The 49ers allowed QB Russell Wilson to "cook" as he threw two touchdown passes and ran for another. Seattle finished the day with just 234 total yards on offense but scored four TDs on four trips to the red zone. As for Jimmy Garoppolo, he exited the loss early with a calf injury leaving rookie QB Trey Lance to relieve him. Lance ran for 41 yards on 7 carries and threw for 157 yards with 2 touchdown passes and zero interceptions, completing 9 of 18 passes in the second half of the game.
https://twitter.com/49ers/status/1445841586311467009?s=20
Unlike the Niners, it was a very good day for Kyler Murray and the Cards who took down the L.A. Rams in a surprising 37-20 road upset. Murray passed for 268 yards and 2 touchdowns and running back Chase Edmonds rushed for 120 yards on only 12 attempts.
This will be a very good matchup defensively since they're nearly identical. San Francisco is allowing 24.3 points and 316.7 yards per game. Fred Warner leads with 36 tackles, Nick Bosa has four sacks and Dre Greenlaw has added an interception. As for the home team, Arizona is allowing 23.5 points and 350 yards a game. Star defender Isaiah Simmons leads the team with 23 tackles, beast Chandler Jones has five sacks and Byron Murphy Jr. has two interceptions. Where Arizona really lacks is against the run so if the 49ers can take advantage of that, then they could be in good shape.
Prediction
With Garoppolo hurt and the severity still unknown, Lance is likely to get his first start of his rookie career in Week 5. While he's an extremely talented dual-threat QB, this is a bad time to get the start against a stingy Arizona defense and explosive offense. But his running backs could come in handy here.
https://twitter.com/AZCardinals/status/1445797953105317898?s=20
Where Arizona really lacks is against the run so if the 49ers can take advantage of that, then they could be in good shape. Their run defense has allowed 5.4 yards per rush entering Week 4 and allowed 5.3 yards per carry against the Rams.
So, can the 49ers break the Cards' perfect record with Lance at the helm?
For your NFL pick consider that they're going to put up a big fight, but expect Kliff Kingsbury's team to stay perfect––even if they don't cover.
NFL Pick: (visit our Sportsbook Review)
*The pick reflects the line at the moment the writer made the play, the odds at the beginning of this article show the live line movement. Since the lines might vary, don't forget to refer back to our live odds.