North Carolina vs. Kansas Same-Game Parlay: High-Scoring Final Expected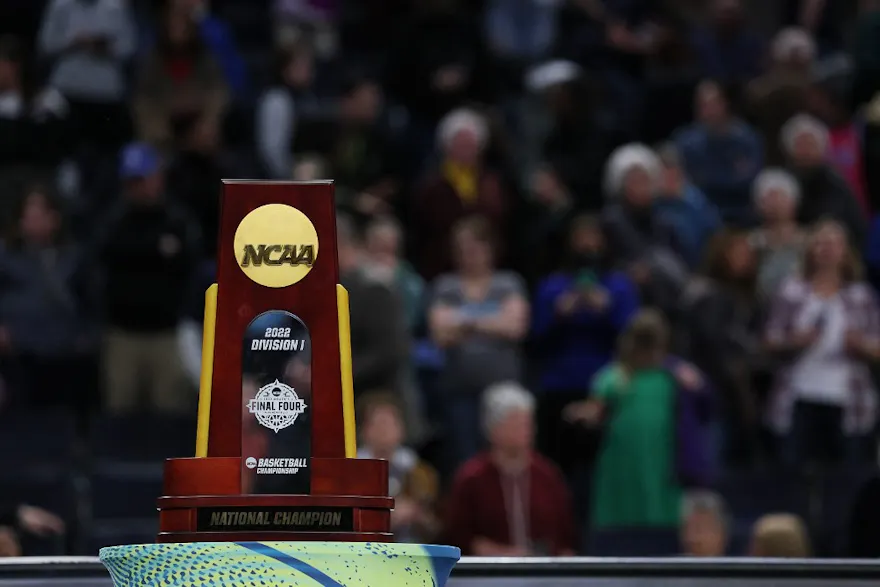 The National Championship game in college basketball is finally here, and it features two elite blue-blood programs vying for glory in New Orleans. We've scoured the listings at DraftKings to identify our favorite same-game parlay picks between North Carolina and Kansas for Monday night.
North Carolina may have vanquished Mike Krzyzewski, but the Tar Heels still have unfinished business in this NCAA Tournament. Kansas comes into Monday night's national championship game on a warpath, having dominated its last two opponents by 16 points each. Can the scoring prowess that UNC has shown throughout this tournament stack up to the high-powered offense possessed by KU? We've got a same-game parlay that suggests the Heels can do exactly that.
Here are my top parlay picks for the National Championship game between North Carolina and Kansas (odds via DraftKings Sportsbook; pick confidence based on 1-to-5-star scale).
North Carolina-Kansas Same-Game Parlay Picks
North Carolina +4.5 (-125) ????Over 152.5 (-105) ?????Brady Manek Under 6.5 rebounds (-115) ????Caleb Love Over 17.5 points (-105) ????
SEE ALSO: North Carolina vs. Kansas 2022 Picks and Odds
Top North Carolina-Kansas Same-Game Parlay Predictions
UNC +4.5 (-110)
Though there seems to be some sense from UNC circles that North Carolina treated its monumental win over Coach K and Duke as a moment more significant than any national championship ever could be, I don't think the Tar Heels players are going to view it that way. Though the memory of ousting the longtime Duke head coach from his final NCAA Tournament to send him into retirement is perhaps as sweet as it gets for longtime fans of the UNC program, these players came to Chapel Hill looking to win a championship. The Heels have the chance to do that against yet another blue-blood program and coach in Kansas and Bill Self.
I may be naive, but I don't expect what happened on Saturday night to bleed over into what the Tar Heels are looking to accomplish Monday.
Though the season-long metrics place UNC narrowly behind Kansas in terms of offensive and defensive efficiency, I can't help but be impressed with the way the Tar Heels have scored so consistently throughout this tournament. With the pace they run, with the numerous offensive contributors that line their roster, I have a hard time believing the Jayhawks will be able to dispose of the Tar Heels in the same way they've been rolling to victories through this bracket.
I like a close, high-scoring finish that sees things tighten up only in the final minutes of regulation. This is a one-possession game between two elite teams. You can't give UNC 4.5 points in this circumstance. The -125 odds on UNC +4.5 for this same-game parlay is a hint that you're on the right side. I'll gobble those points up and ride with Carolina.
Check out our top-rated sportsbooks here
Over 152.5 (-105)
Pretty much all we've seen from UNC throughout this tournament have been points on points on points. Take out the blowout win over St. Peter's in which the No. 15 seed's horse-drawn carriage turned back into a pumpkin to allow the Heels to coast to an easy victory and we haven't seen UNC score sub-70 points all tournament. What we have seen are two 90-plus point performances to go with the 81 the Heels hung on Duke on Saturday. This team gets after it with its pace and has the scoring acumen across its roster to beat its opponent in a variety of ways.
Then there's Kansas. The Jayhawks have shown no mercy throughout their demolition of this bracket, posting two straight 16-point wins in the Elite Eight and Final Four rounds. KU has averaged 77 points per game during the tournament, continuing to pour on points regardless of the stylistic preferences of their opponents.
Given the styles and scoring abilities of both teams, this is a matchup that could see 160 points without breaking a sweat. I like the Over quite a bit on Monday night.
Manek Under 6.5 rebounds (-115)
With Armando Bacot going absolutely nuclear in the rebounding category against Duke, Brady Manek was left to pick up the scraps, only mustering four rebounds in the game. That was only the second time in five tournament games that Manek failed to achieve the 6.5 rebounds prescribed for him on Monday night at DraftKings.
But then again, it's a trend that could stand to reason considering the overwhelming success that the Tar Heels have had with Bacot as the primary glass-cleaner. He's been out of his mind on the boards recently, leaving Manek to focus on contesting shots and pouring in his share of points throughout March Madness. Manek's line for the Final Four game was 5.5 rebounds. He fell short of the number in that one, but it rises to 6.5 for Monday. I like Bacot to continue in his role for one more game, leaving Manek to fall short of his total against Kansas.
SEE ALSO: North Carolina vs. Kansas Expert Picks
Love Over 17.5 points (-105)
Caleb Love put on a clinic in UNC's Final Four win over Duke, posting 28 points and draining a dagger of a 3-pointer in the late stages of the game. He's had somewhat of a hot-and-cold tournament run, clearing this 17.5-point threshold in three of five games. Against Baylor, he wasn't very involved in the scoring of a high-octane matchup, fouling out of the contest with just five points. He didn't quite get to the number in the Tar Heels' win over St. Peter's either, given UNC's lack of motivation to keep the pedal down in a lopsided affair.
When he's been in rhythm, though, Love's scoring prop hasn't been in any doubt whatsoever. He's posted scoring totals of 23, 30, and 28 in wins over Marquette, UCLA, and Duke. I'm mildly surprised DraftKings didn't go the same route it did with Bacot following his 21 rebounds in the Final Four round. Bacot's rebounding totals are heavily inflated for this game, with 16-plus boards listed at -140.
While that's a line designed to be avoided, Love's is still friendly at -105 odds on a number he's cleared with ease the majority of the time throughout this tournament. We'll ride with it to cap off this North Carolina-Kansas same-game parlay.
Combined Odds: North Carolina +4.5 (-125) + Over 152.5 (-105) + Manek Under 6.5 rebounds (-115) + Love Over 17.5 points (-105) = +850
Where to Bet on North Carolina-Kansas Same-Game Parlay Picks
Here are our top-rated sportsbooks:
FanDuel SportsbookCaesars SportsbookDraftKings SportsbookPointsBetBetMGM
SEE ALSO: All picks, odds, and sports betting news. Be sure to check out SportsbookReview.com's community forums and betting tools.
North Carolina-Kansas same-game parlay picks made 4/4/2022 at 1:06 p.m.