March Madness Top Picks and Odds Heading into Final Four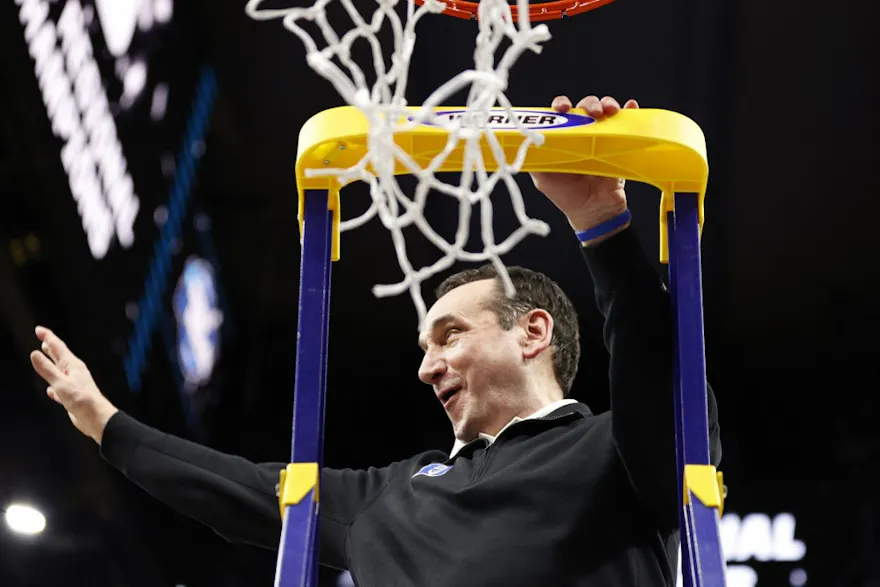 This page looks at the odds and discusses the favorites, contenders, and longshots for March Madness, along with our top NCAA Tournament picks.
Only four teams remain in March Madness. Villanova and Kansas, and North Carolina and Duke will clash in the Final Four on Saturday ahead of Monday's NCAA National Championship.
Below, we track the NCAA Tournament odds with our top college basketball picks and all the details for March Madness.
2021-22 March Madness Odds
(Odds as of March 28)
https://datawrapper.dwcdn.net/wtwH4/1/
March Madness Picks
Villanova to win NCAA Tournament (+475 viaBetMGM) North Carolina to win NCAA Tournament (+550 via Caesars Sportsbook)Armando Bacot to win Most Outstanding Player (+2000 via FanDuel Sportsbook)Jermaine Samuels to win Most Outstanding Player (+2000 via FanDuel)Caleb Daniels to win Most Outstanding Player (+5000 via DraftKings Sportsbook)R.J. Davis to win Most Outstanding Player (+6000 via DraftKings)
Check out our top-rated sportsbooks here
March Madness Favorite Picks
Duke (+160 via FanDuel)
What a week can do to a futures market! Before the Sweet 16, Duke could have been purchased at odds of + 1600 to win the NCAA Tournament. In the wake of two more victories and with Arizona and Gonzaga both eliminated, Duke finds itself in a strong position to win the entire tournament.
Is Duke the favorite because it is the best team remaining or because it represents the biggest liability for the bookmakers? Duke is BetMGM's biggest liability, and this will only increase as the Blue Devils are portrayed as a team of destiny.
Given that +160 is currently the highest number offered on Duke, I would recommend fading. As an alternative to backing Duke in the futures, you should wager on its moneyline against North Carolina and then roll the winnings over into a moneyline wager in the National Championship. As a result, this will offer you a much better value, especially if Duke plays Kansas in the final. This strategy will result in a price of anywhere between +180 and +200, depending on the odds.
https://twitter.com/DukeMBB/status/1507920719446876160
Kansas (+190 via Caesars)
Kansas was one of the short shots to win the NCAA Tournament prior to the Sweet 16 with a price of +500. It was mostly due to how easy its path was to the Final Four, and this ended up being a crucial factor in the Jayhawks' ability to avoid an upset. Gonzaga and Arizona, on the other hand, did not have the same luck when it came to their opponents.
In pricing Kansas at +500 before the Sweet 16, sportsbooks were able to avoid having a ton of action on the team going into the Final Four, even though it was likely that Kansas would be here. At BetMGM, Kansas accounts for only 5.6% of tickets and 7.6% of the handle. The decision proved to be extremely valuable for sportsbooks as Kansas' weakness was going to be its ability to win games in New Orleans once it arrived. Due to the elimination of teams such as Arizona and Gonzaga, this is no longer the case. Thus, the sportsbooks would have been in serious trouble if Kansas had been priced higher last week.
As Villanova's Justin Moore is sidelined by a torn Achilles, Kansas continues to benefit from some breaks on its way to a National Championship. I suggest playing Kansas' futures number at +190 if you like the Jayhawks to win the National Championship. In my opinion, I would not recommend using the moneyline rollover strategy with the Jayhawks since I strongly believe they will face North Carolina in the finals and they will be favorites.
https://twitter.com/KUAthletics/status/1508423420513554436
Villanova (+475 via BetMGM)
There is no question that Villanova is the best team in the field that no one seems to expect to win. All head coach Jay Wright does in March is win and he finds himself in another Final Four. It was not just any No. 5 seed that Villanova defeated in the Elite Eight. Houston is ranked as the second-best team on KenPom, and following the conclusion of the Sweet 16, KenPom had Houston as the favorite to win the NCAA Tournament. According to KenPom, Houston had a 23% chance of winning the title, while Villanova had only a 13.2% chance.
https://twitter.com/kenpomeroy/status/1507615499743494144
Moore, Villanova's second-leading scorer, tore his Achilles in the final seconds of his team's victory over Houston. Although this is unfortunate, I believe that it may open the door for some added value in Villanova's odds. The media will establish a strong narrative centered around the idea that Villanova cannot win this game without Moore. Kansas will begin to take a lot of money, especially when stories about how Coach K's first championship came in a win over Kansas in 1991 start running.
While Moore is an important part of what Villanova does, Wright has a replacement on his bench in Caleb Daniels. Daniels is already accustomed to playing 30 minutes or more per game, and, by the way, he is from New Orleans. The injury to Moore also ruins a lot of the Villanova film that Kansas will watch this week.
Villanova is catching 4 points on the spread, but KenPom has Kansas winning this game by only one point. Give Wright a week to prepare for the matchup with Kansas, and I think Villanova has a good chance. I would wait to purchase Villanova's futures number until closer to game time; with the Moore and Coach K narratives out there, Kansas money could make the Villanova number longer.
North Carolina (+550 via Caesars)
In the last month, North Carolina defeated Duke and Baylor, which were not lucky victories. The Tar Heels dominated in both games, and they would have blown out Baylor if it weren't for some suspect officiating. In the Sweet 16, North Carolina defeated UCLA, a team that many, myself included, thought could compete for the title. Possibly Saint Peter's ran out of steam, or head coach Hubert Davis had his team prepared to not treat the Peacocks as a No. 15 seed, and they stepped on their throats early, something Kentucky and Purdue should have done.
North Carolina is not the same team that lost at home to Pittsburgh on Feb. 16. It is a team that is cohesive, having fun, shooting threes, and playing excellent basketball. Davis has added his own mark to this team, and the Tar Heels are playing their finest basketball at the right time.
Since North Carolina's power ranking is based on the team's performance over the course of the season, I believe it is undervalued. The same reason prompted me to place a wager on the Tar Heels at +390 to make the Final Four prior to the Sweet 16. This version of the North Carolina team is being offered at a higher price based on metrics that were established back in November when Davis was coaching some of his first games.
I do not believe the 13-point victory over Duke at Cameron Indoor Stadium on March 5 was a fluke by any means. There were four players on North Carolina that scored over 20 points, as Duke had no answer on defense for the high ball screen. Based on the value of these numbers, I am inclined to favor North Carolina in the futures market, especially since we are receiving a price of +550.
https://twitter.com/UNC_Basketball/status/1508459821313544195
Most Outstanding Player Futures Market
As this award is based upon your performance in the two games played in New Orleans during Final Four weekend, I would not bet on any favorites in this market. Due to the small sample size, this is a very volatile market, so I would only buy value plays or longshots. An investment in Paolo Banchero at +275 or Ochai Agbaji at +500 is not worth the potential return. I would rather wager on Duke or Kansas to win the National Championship in those situations. Additionally, there are several players on each team who are capable of winning the award, which makes the short shots even less appealing.
Keeping this in mind, let's examine some value and longshot plays in the Most Outstanding Player futures market.
https://datawrapper.dwcdn.net/XBwKi/1/
Most Outstanding Player Value Picks
Armando Bacot Jr. (+2000 via FanDuel)
It was initially my intention to place Brady Manek in this spot at the same price point of +2000, but then FanDuel updated the odds and decided to price Bacot at +2000 as well. This is not what I expected in the movement. My expectation was that FanDuel would have numbers similar to DraftKings, where Manek was +2000, and Armando Bacot Jr. was +1000.
Having been named the East Regional MVP and averaging 16.5 points and 15.7 rebounds per game, Bacot has already attracted the attention of the voters. The +2000 odds are far too high to be offered on Bacot and this is my favorite bet in this market.
https://twitter.com/UNC_Basketball/status/1508242781650698243
Jermaine Samuels (+2000 via FanDuel)
Jermaine Samuels averages 17.5 points and 8.5 rebounds per game in the NCAA Tournament. The Wildcats will need some big performances from him to win the title, especially in the absence of Moore.
In the market for Final Four Most Outstanding Player futures, Samuels offers a tremendous opportunity for price shopping. Currently, he is trading at +2000 at FanDuel, but he is as short as +800 at DraftKings. There is a substantial difference in opinion between the two sportsbooks. I would consider buying the +2000; however, I would absolutely not purchase Samuels at +800.
https://twitter.com/NovaMBB/status/1508249966166392832
Most Outstanding Player Longshot Picks
Caleb Daniels (+5000 via DraftKings)
Daniels will replace Moore in the starting lineup for Wright's team. If Villanova were to win the National Championship, Daniels offers an intriguing longshot opportunity. As he led the Wildcats with 16 field goal attempts in the Elite Eight against Houston, he has already established that he is not intimidated by the spotlight. In addition to scoring, he also rebounds and has averaged 6.5 rebounds per game in the NCAA Tournament. If he is able to score more than 20 points in one of these games, the combination of these two stats could be quite impressive. Moreover, he was born in New Orleans, so he will be motivated to perform in front of his hometown fans.
R.J. Davis (+6000 via DraftKings)
R.J. Davis offers an interesting longshot opportunity since he is able to fill the stat sheet in multiple categories. Davis had 12 assists in the first round against Marquette. Following this game, Davis scored 30 points against Baylor. In addition, he is averaging five rebounds per game in the NCAA Tournament.
Despite carrying a price point of +6000, Davis has a legitimate chance of winning this award due to how much he hurt Duke on the high ball screen in their last meeting. Davis was able to consistently penetrate Duke's defense and score 21 points. There should be plenty of opportunities for him to score and make assists against Duke. I love Davis at +6000 as a longshot play. I believe he is being overlooked because guard Caleb Love scored 30 points against UCLA.
Davis is priced at +6000 at DraftKings, while FanDuel has him at +4500.
March Madness Betting Strategies
When deciding who to bet on to win the National Championship, there is also the KenPom trend to consider. Among the last 19 champions, 18 finished with offensive and defensive efficiency inside the top 20. The only team to break this trend was the 2014 UConn Huskies. The following remaining teams fit this trend this season:
KansasVillanova
NCAA Tournament History
https://datawrapper.dwcdn.net/Ktcm0/1/
When/Where is the 2021-22 NCAA Tournament?
https://datawrapper.dwcdn.net/N5JWP/1/
Where to Bet on March Madness
Here are our top-rated sportsbooks:
FanDuel SportsbookCaesars SportsbookDraftKings SportsbookPointsBetBetMGM
SEE ALSO: All picks, odds, and sports betting news. Be sure to check out SportsbookReview.com's community forums and betting tools.