Top College Basketball Picks for Saturday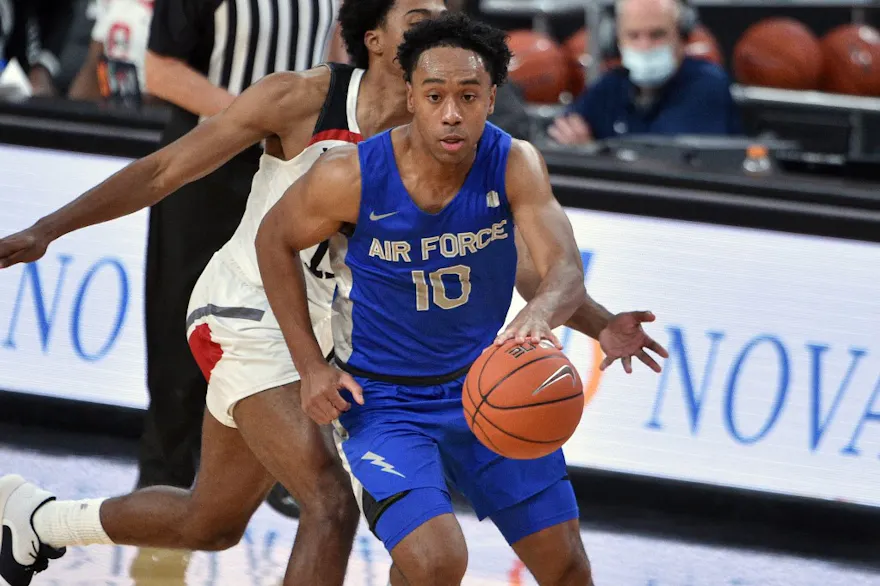 There's plenty of college hoops action on Saturday. Read on for our top college basketball picks amid a busy slate.
College Hoops returns after a fantastic Feast Week tournament schedule, with 61 games to satiate our desire for Thanksgiving leftovers.
Here are my top picks for Saturday's college basketball clashes (odds via DraftKings Sportsbook, and pick confidence is based on a one-to-five star scale).
Top College Basketball Picks
Delaware +3.5 vs. Temple (-110) ????Wake Forest +7 vs. LSU (-107) ???Air Force -3 vs. Idaho State (-110) ?????
SEE ALSO: All College Basketball Odds
College Basketball Predictions
Delaware +3.5 (-110)
The Blue Hens have impressed with neutral-court wins over Appalachian State and Fordham before losing a close battle to a well-coached Oakland team. Martin Ingelsby's squad has also logged a dominant 83-63 victory on the road against Siena, which is always a tough place to play.
Now Deleware takes a short trip to Philadelphia to battle an inconsistent Temple squad that isn't defending well. The Owls are allowing opponents to shoot 38.5% from deep, which ranks 308th among the 358 Division I teams.
Temple (2-3) has put together two wins, which have come against Maryland Eastern-Shore and Elon. But the Owls have also benefited from incredible luck, with teams shooting only 60.9% from the free-throw line against them.
Delaware's offense is strong, and the team hits its free throws (80.7%). The Blue Hens struggle to guard the arc (40.1% allowed), but Temple only generates 29.3% of its points from deep.
I'm grabbing the 3.5 points with a well-coached Delaware team on a short road trip.
Wake Forest +7 (-107)
Wake Forest avoided an epic meltdown last night against Oregon State while winning 80-77 in overtime. The Demon Deacons lost a 20-point lead before surviving to advance to the championship game of the Emerald Coast Classic.
The foundation of head coach Steve Forbes' squad has been its efficient offense, and the team has surged to a perfect 6-0 record. Wake Forest ranks third-best in the country while shooting 61.3% from inside the arc.
Meanwhile, LSU's offense can struggle, as it relies on defense and rebounding to limit opponents. The Tigers barely survived last night's contest against Penn State, winning 68-63 in overtime. I trust the trio of Alondes Williams (20.2 points per game), Davien Williamson (14.8), and Jake LaRavia (14.7) to provide consistent offense despite LSU's pressure. Those three combine for over six steals per game, which will disrupt a limited Tigers attack.
Last night's game was a character-building win, and this is too many points to lay to an undefeated Wake Forest team with an explosive offense.
Air Force -3 (-110)
The Falcons are tough at home, especially against nonconference opponents. Air Force is 25-19 (56.8%) against the spread in these situations since the 2005-06 season. The team is on a roll after starting the campaign 5-1, including a very impressive true road win at Tulsa.
Air Force's interior offense is among the country's most elite while averaging 59.1% from 2-point range, the 13th-best rate in the country. That's bad news for an Idaho State team that ranks 348th in the nation while allowing opponents to shoot 60% from inside the arc.
Senior guard A.J. Walker (18.7 points per matchup) has scored 22-plus points in each of his past three games, and he leads a Falcons defense that only allows opponents to shoot 29.4% from three. That will limit an Idaho State attack that generates 36.7% of its points from deep, despite only shooting with 27.5% efficiency.
Idaho State has done nothing to fuel confidence it can take this game, and the school is coming off a 74-58 blowout home loss to UMKC.
I'm backing a sneaky tough Air Force squad at home to comfortably win against an inferior Idaho State.
SEE ALSO: All picks and odds. Be sure to check out SportsbookReview.com's community forums and betting tools.
College basketball picks made on 11/27/2021 at 11:54 a.m. ET.